Okay, it didn't try to kill me, but I think it made me try to kill myself. Some of these roads and trails are the most insane I have ever seen. Just amazing, beautiful and terrifying. I want to move up there, but I'm fairly confident that I would need to take up drinking heavily just to deal with the emotional issues created by driving these roads. Somehow, I think that those two would not mix well. Lets just say that its the most fun you can have sitting down... with your clothes on... in your car. (stop trying to think of something better, you can't)
We started off the trip as normal. Loaded down car, clean, gassed up, maintanence done etc.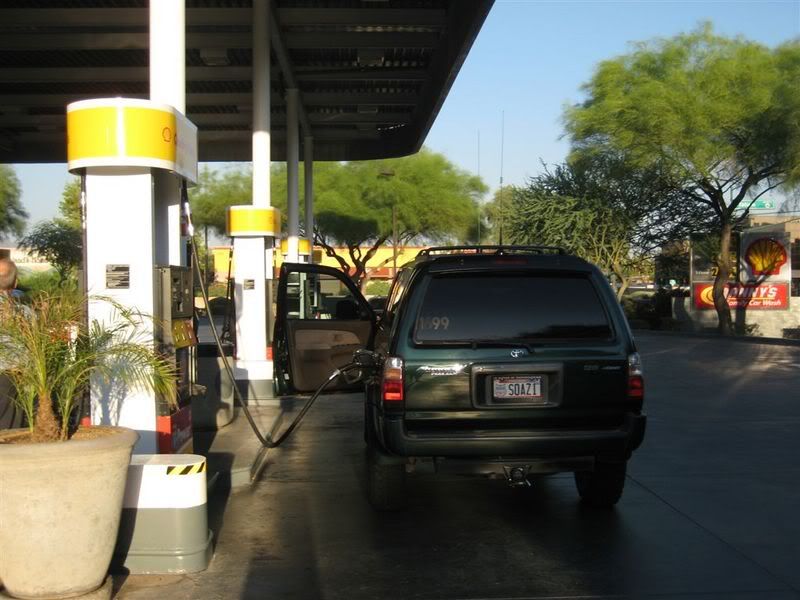 Saw a cool bug on the highway... HEY its the little things that make a trip neat!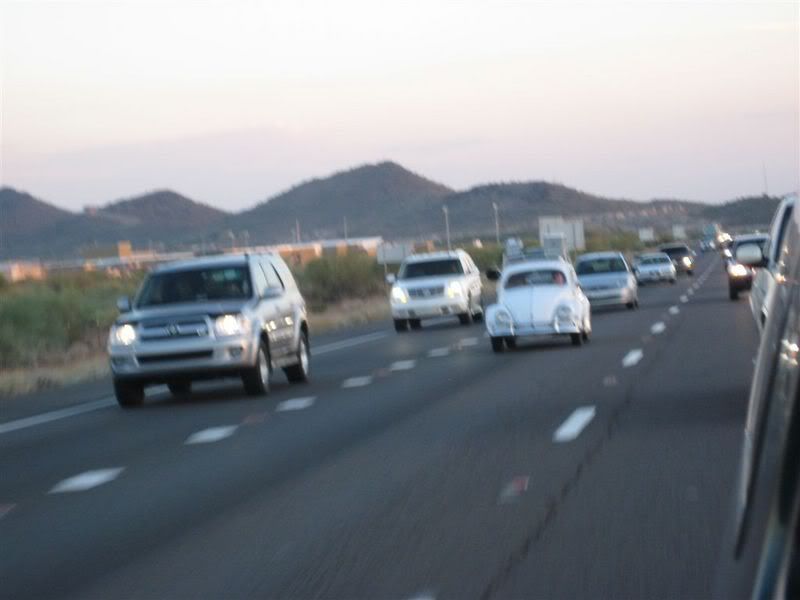 It was not that colorful at night... If you look closely you can see me hanging from the sign. This sign is about 100 yards from the entrance to four courners which was locked up. I guess they don't want people vandalizing the site and moving the states around...
We woke up to a beautiful Colorado view.
Well, sorta. We made it to cortez and slept in a parking lot...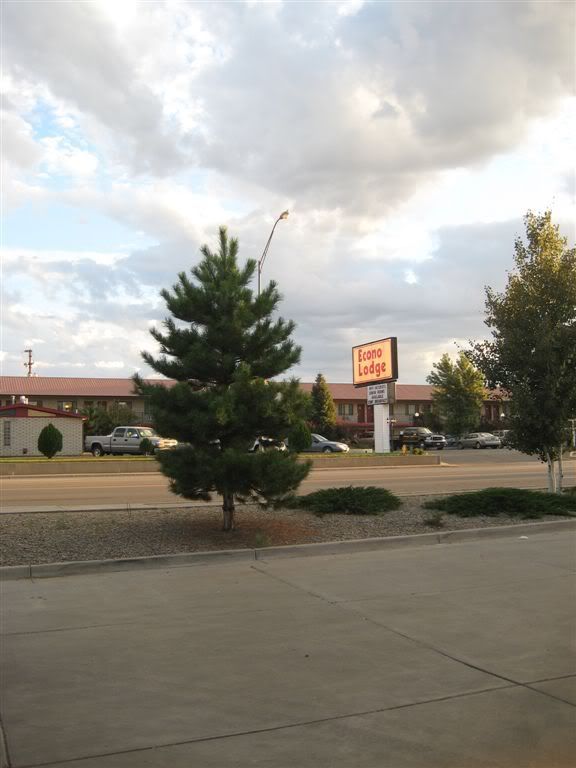 In the back of the 4runner of course.
Even boring old highway is beautiful in Colorado.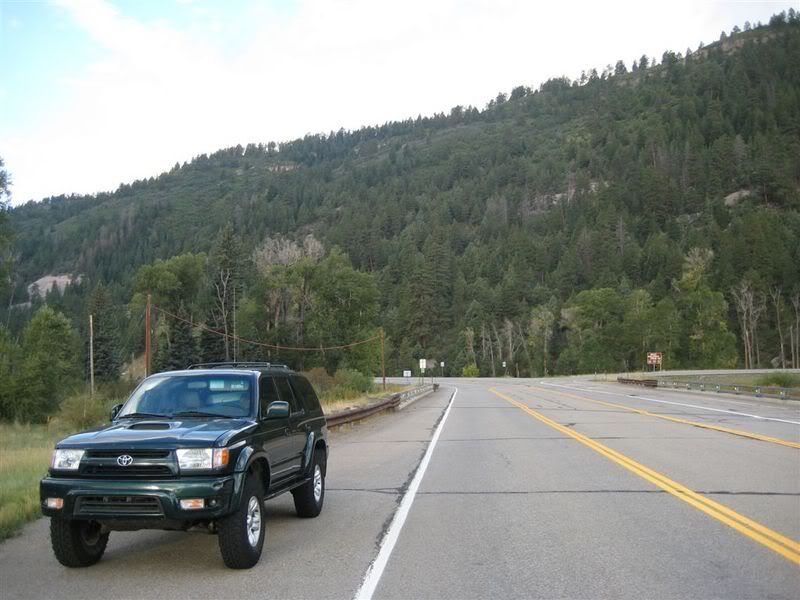 I noticed something amazing! This must be what it looks like when one of those dry sand washes in Arizona has water in it.
They have huge bushes here that are green, even in summer!
Their road signs have some sort of communist flag on them.
And with this view I was ready to move there comrad.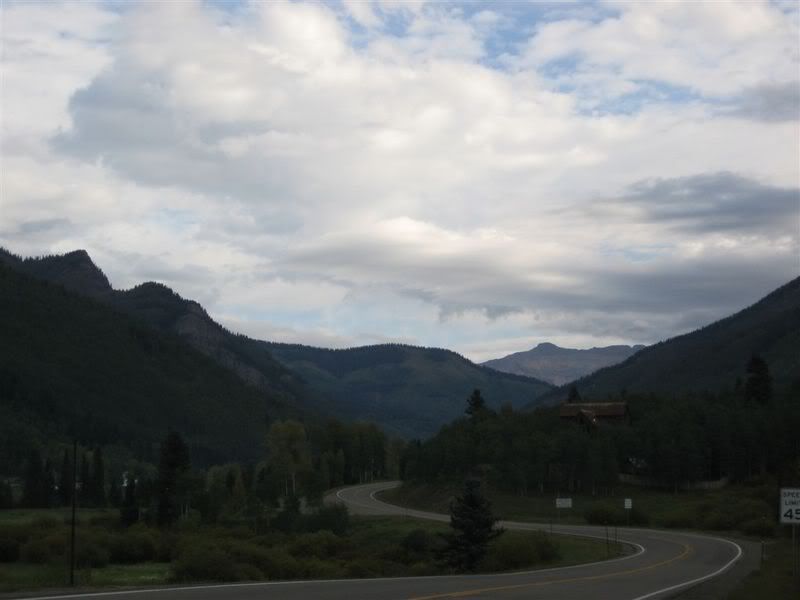 The little mining town of Rico has a sense of humor and has been struggling to survive for the last 70 or so years. Good looking little town.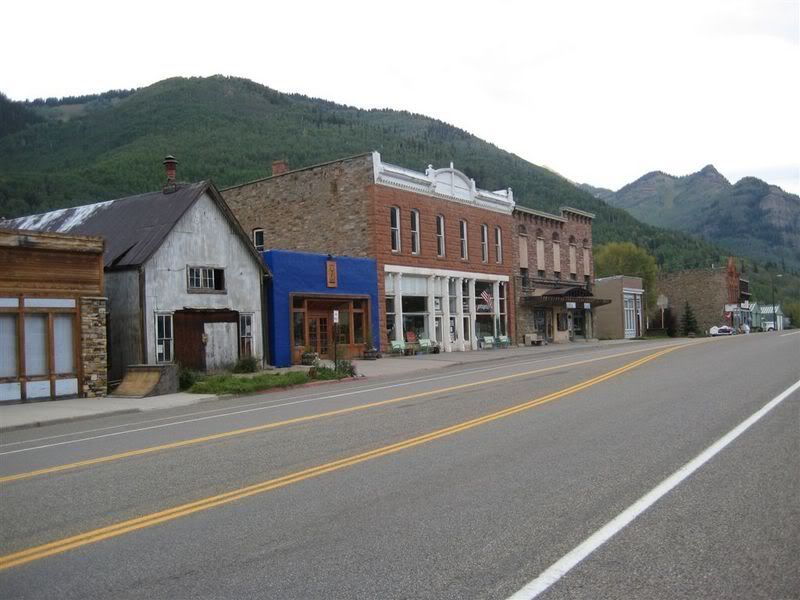 We made it to the road for Ophir pass. I was excited to hit dirt. We aired down to about 20 which is good for a little highway and mostly offroad.
This town is gorgeous and I think every person there was between 23 and 39. I've never seen so many people outside smiling at 8 in the morning!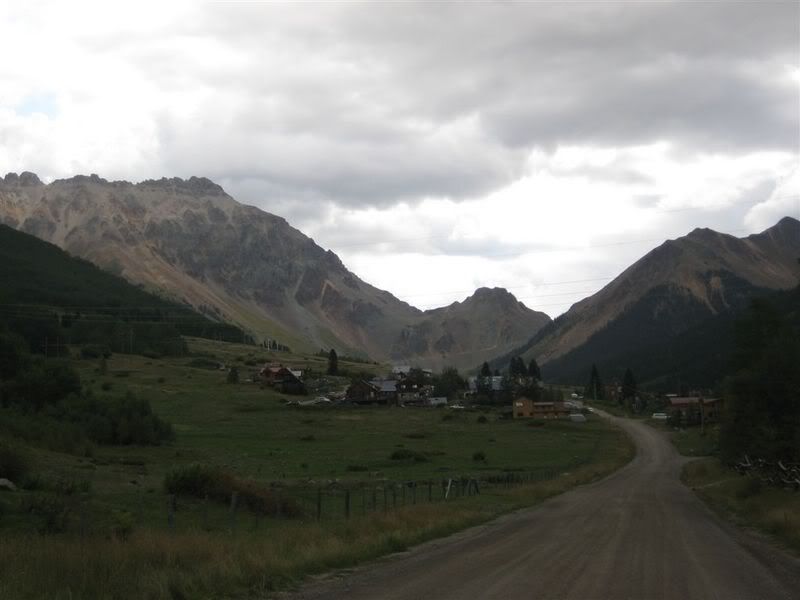 Ski fence!
Ophir appears to be where the true ski bums live since telluride is so expensive.
Up we headed.
Take note, at the beginning of this trip almost no trees were changing colors. Wait till you see the end of this 4 day trip!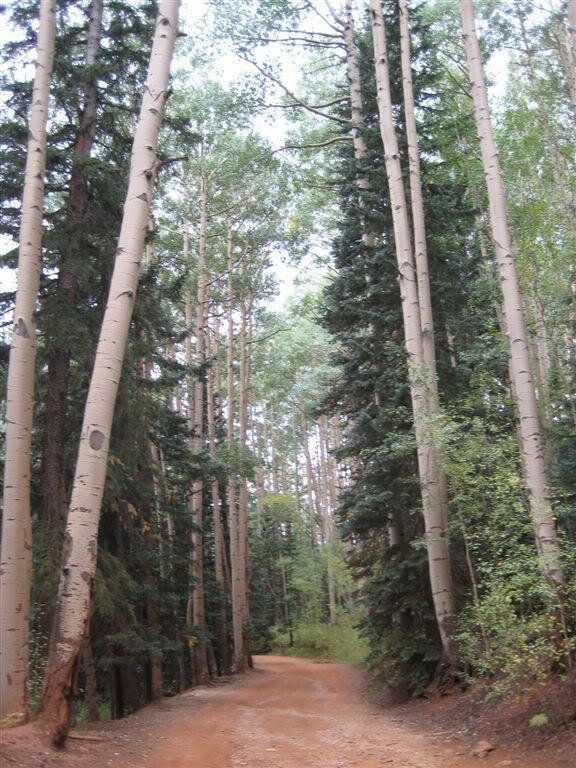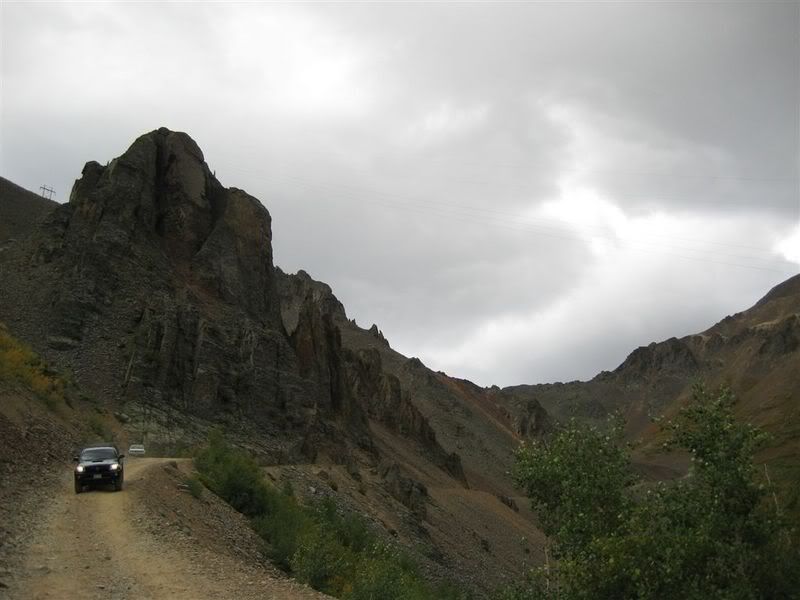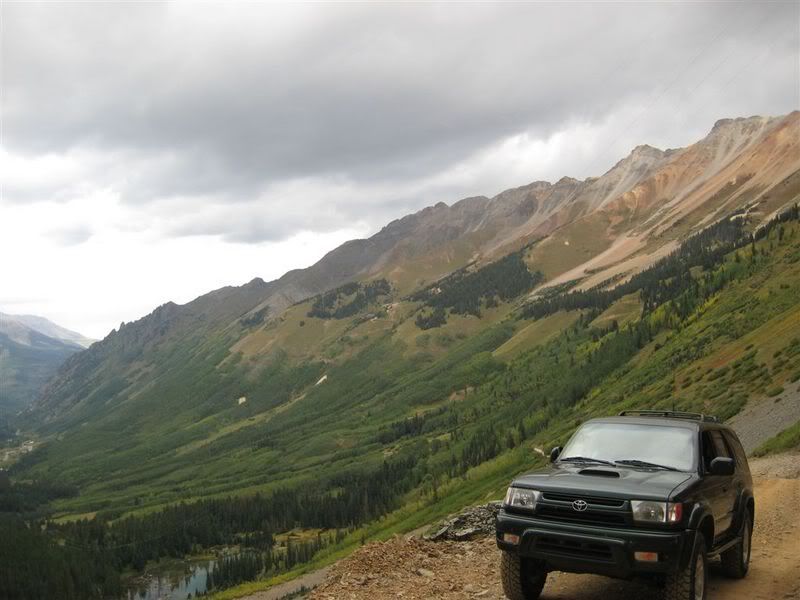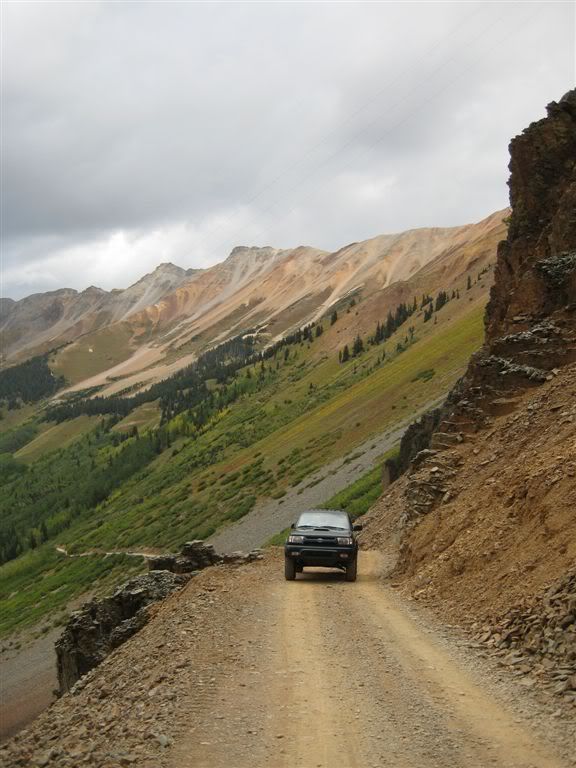 Yes it was scary, but invigorating. I was starting to forget that I am a desk jockey and started to think I was just another ski bum headed over the pass to visit Ouray...
The air is thin, but SO clean and refreshing! Feel free to use the amount of clothing I am wearing to judge the temperature. I add some shoes in this photo.
Lets see. How should I start of a trip to a place I've never been. There are lots of hard trails. What if I go do the hardest within about an hour of waking up on the first day. Okay, lets do it.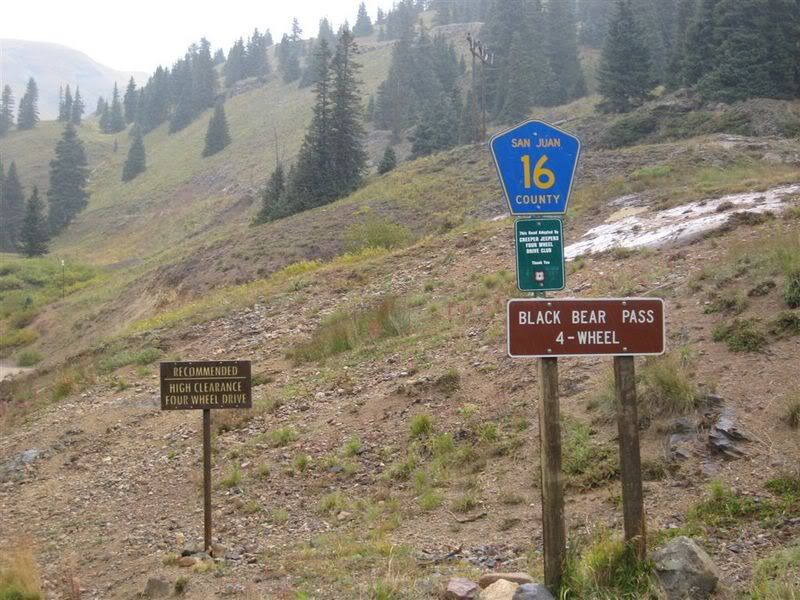 It's dark, ominous, my first day in CO and there is no one on the trail...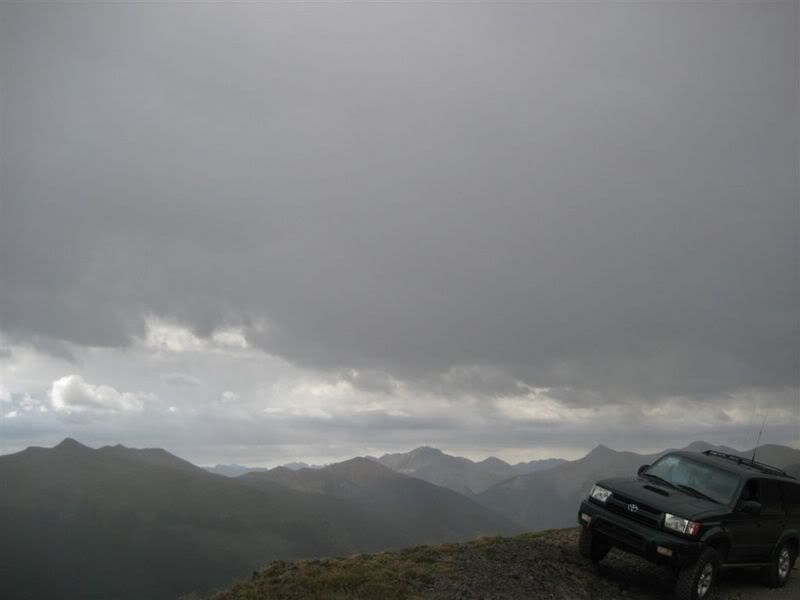 Now its going to rain and make this trail slippery...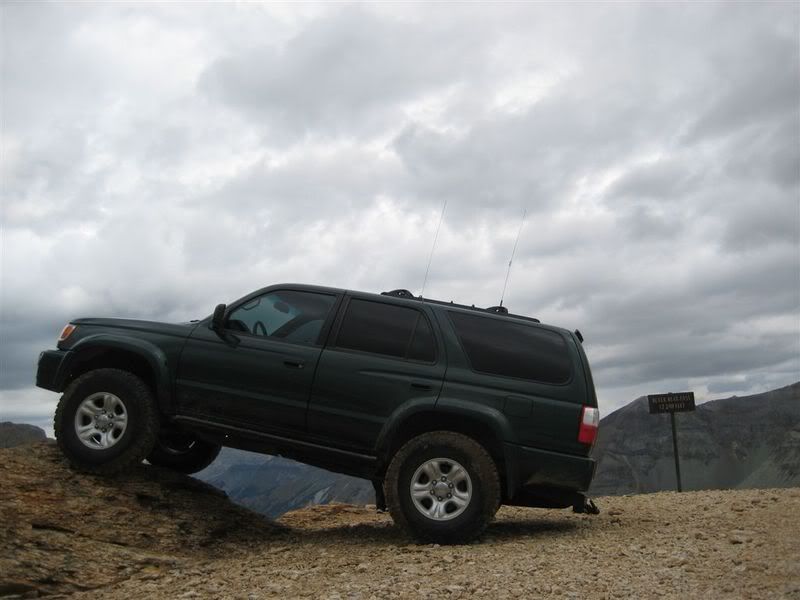 Made it!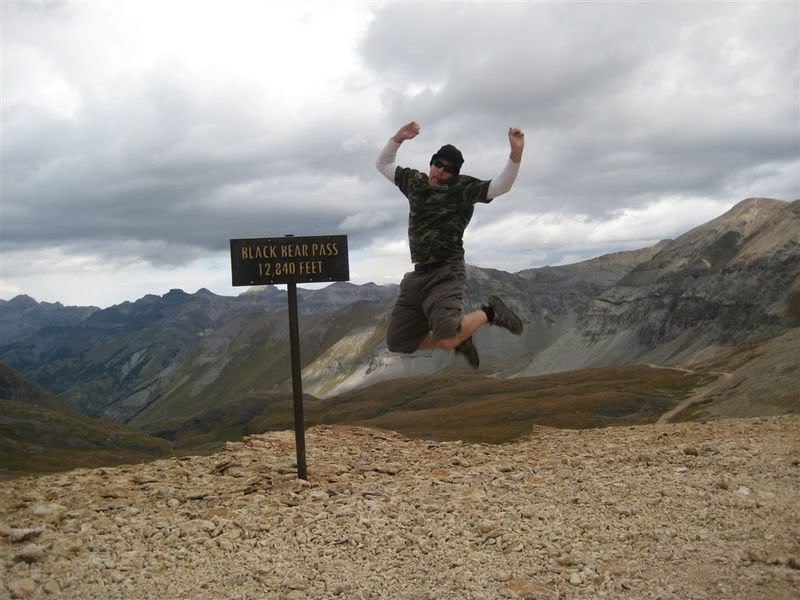 That wasn't so bad. I'm shaking a little. Not from the cold, but fear. Seriously, I was.
Getting colder and our face thermometers show it. Clothing increasing...
And we promptly drop. The lack of humans... anywhere is getting a little ominous.
Yes, thats the trail. Actually in all of my pics you can usually find the trail we just went on or where we are about to go...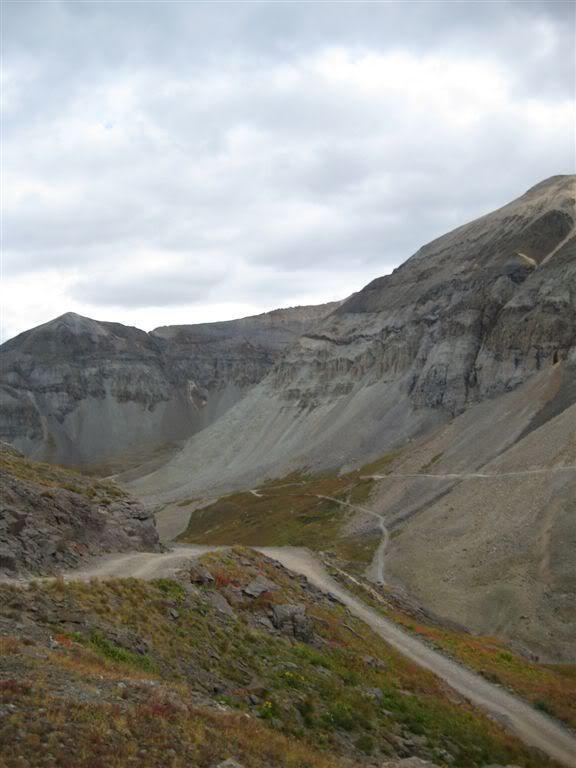 down and down we went. Hey this isn't THAT scary. I'm just shaking a little.
Its so pretty you start to think about the sites, but the thought of what is to come NEVER leaves your mind.
Some power lines from the mining days. Ghostly... Ominous level hitting critical mass.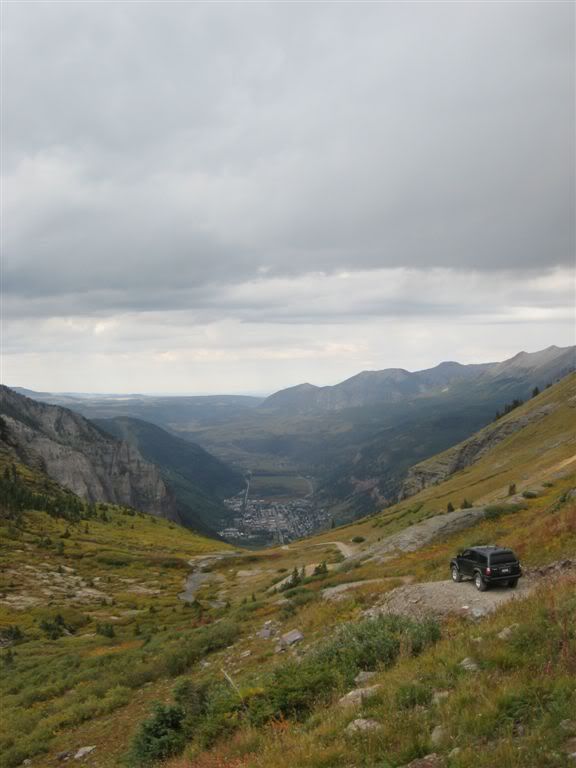 The photo below shows the road. It doesn't LOOK like it goes into nowwhere or off a cliff. It does! Your not missing some of the road in the photo. It is there and that is it turing around that bend down there. It is steep! and to add to the panick you can not turn around. Forget that its supposed to be one way. I mean you can't turn around if you wanted to. Its to narrow and steep.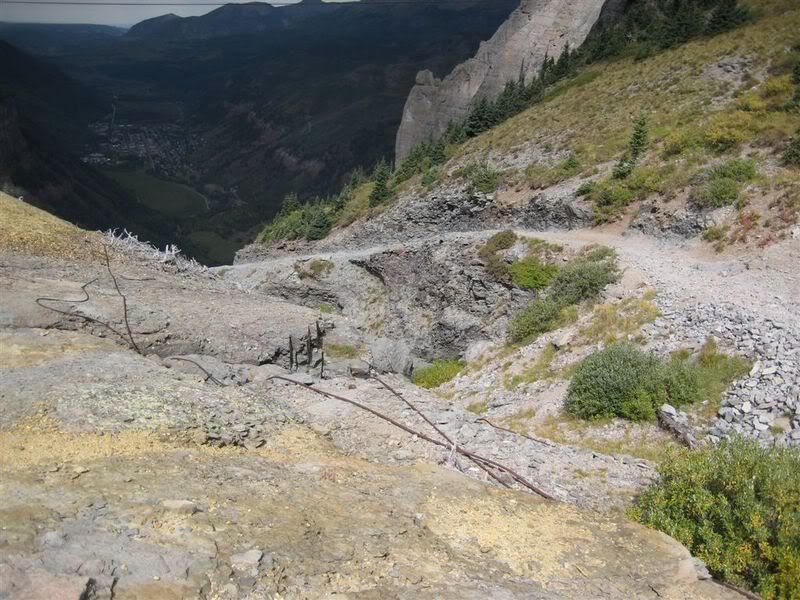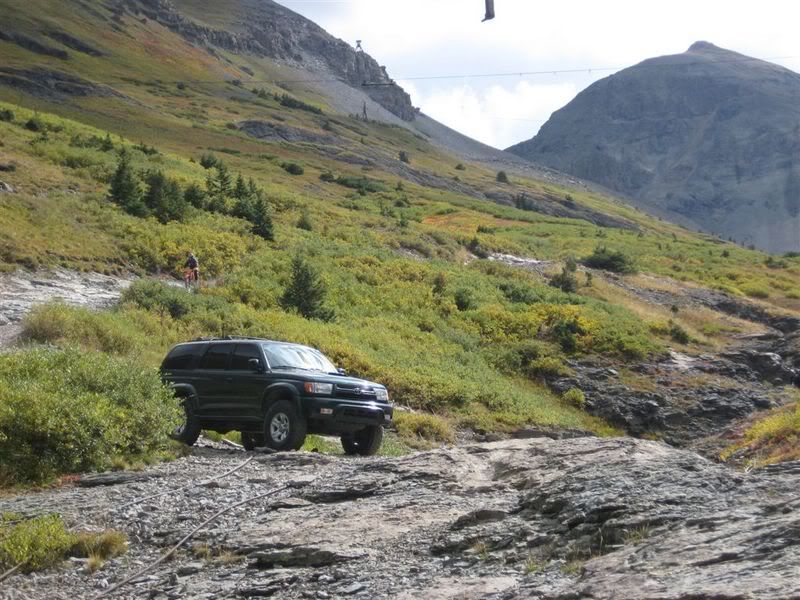 Then out of no where a lone dirt biker rides down it. He was taking it easy and slow and his track width is 3 inches. Mine is a bit more...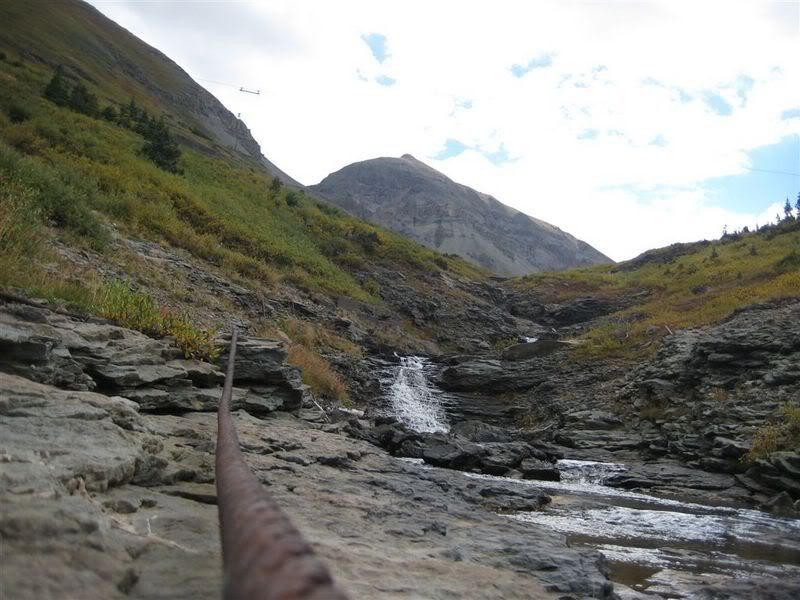 and here we go.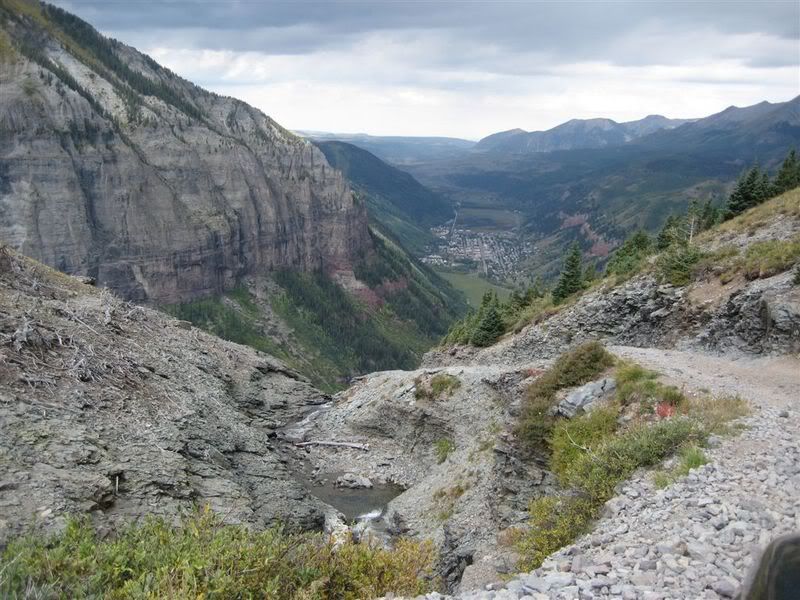 This picture shows how truly skinny this is. As an added bonus you tilt out to the cliff.
We had quiet time in the car while rounding this corner. I am a very mellow guy, but I would have shot anyone who talked to me for these horrible 30 seconds that lasted a good year.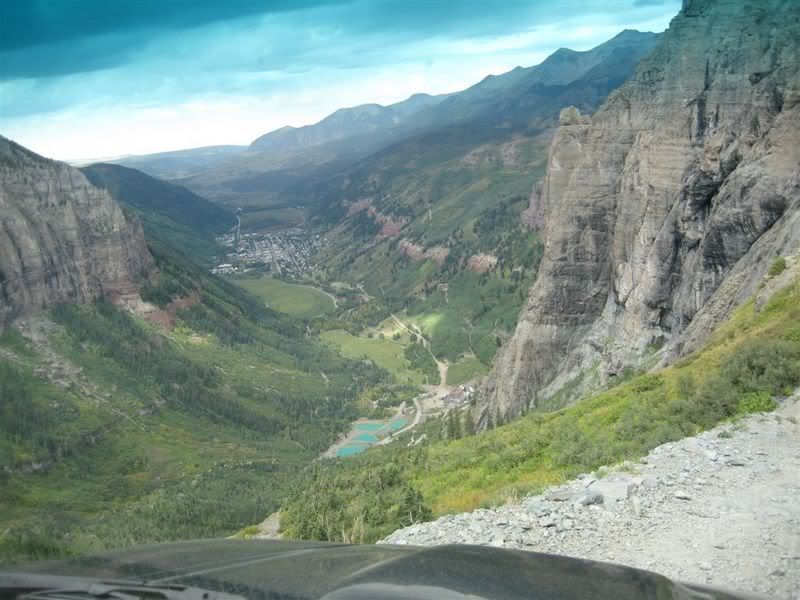 Oh dear. People. Right where I need to turn.
More of them!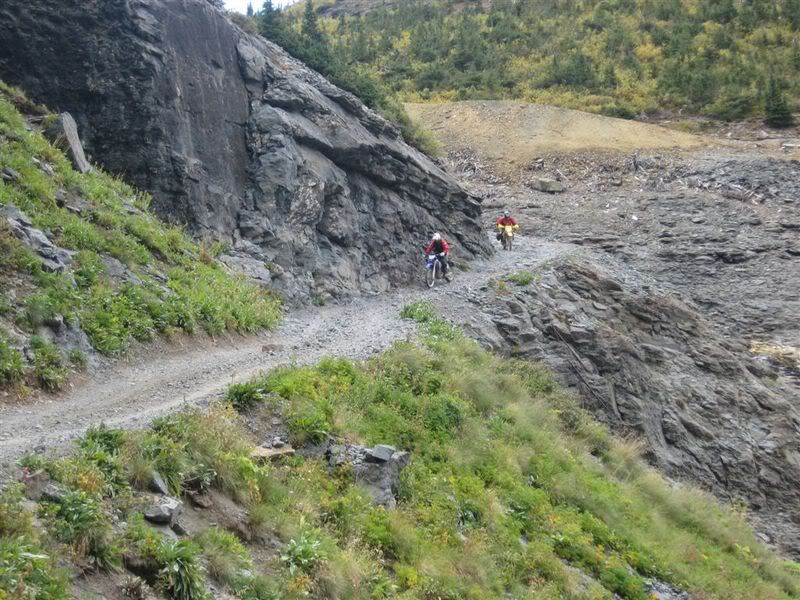 I found myself pissed that I didn't get to do it on my dirt bike. They have no idea how hard it is! Those bastards. Yes, I was a little emotional at this point.
It looks so easy from down here.
You drive right along the ridge above the beautiful waterfall.
They say about 1 vehicle slides off of this road a year... I was thinking I could be one...
Looking down at Bridal veil falls.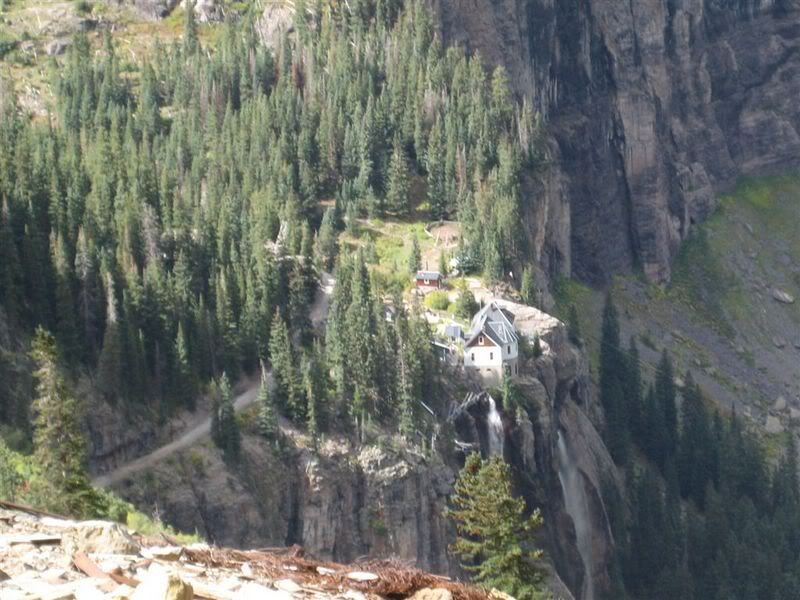 And down to telluride. Somehow I was getting down there via some very tight switchbacks.
Some mine ruins right at the top. I don't even remember looking at them because I had just passed the most terrifying part and had the second most left to come.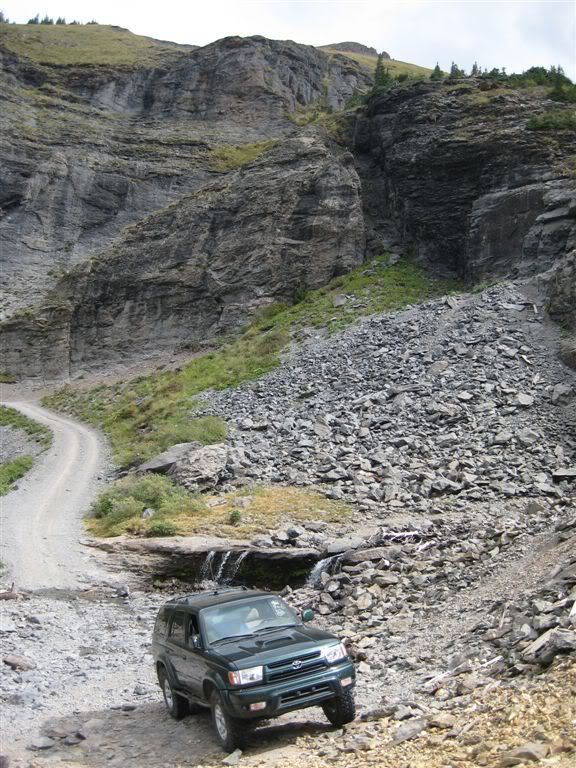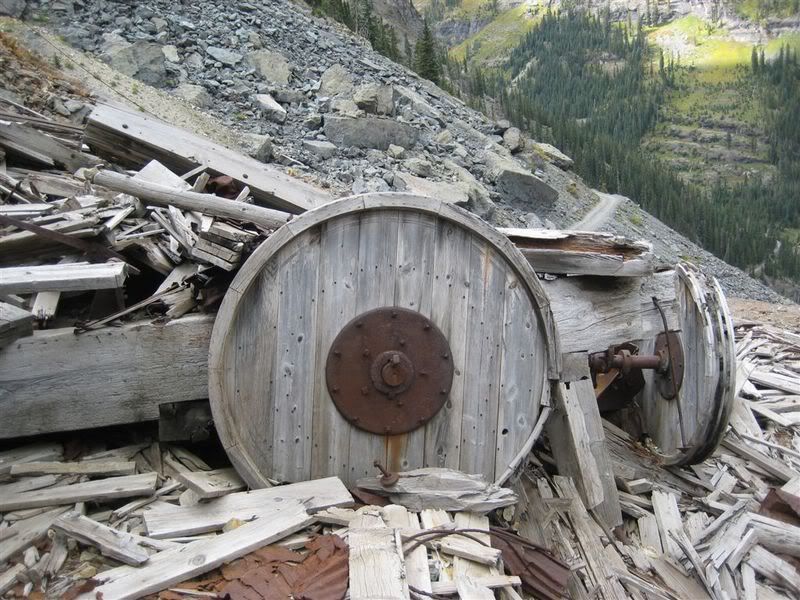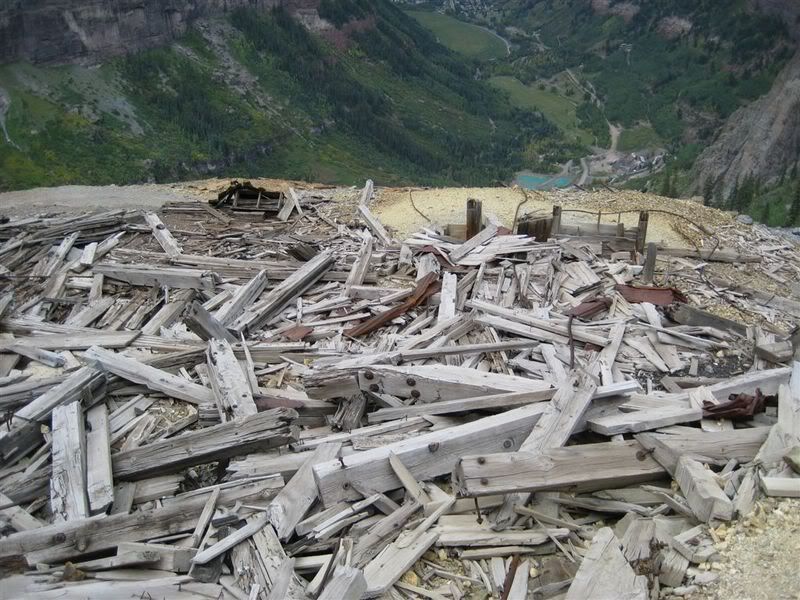 The first and most notorious switchback. Damn mountain bikers were right where I needed to pull. Its okay... maybe.
No problem...
We got down to Bridal veil falls where they were having some visitors.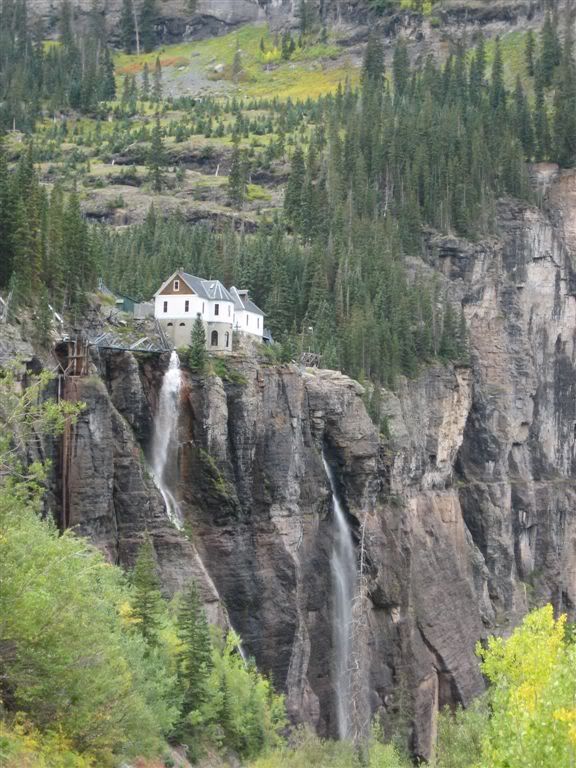 Nice jeep visiting.
We made it down the switchbacks with only one point where my right front tire was at the edge of the cliff at a turn and I was backing up and lost traction. I can't explain the puckering I did. The seat is still attached to my rear...
looking up to the bridal veil power generating facility that is over 100 years old.
How do you get there in the winter? The ONLY way for the caretaker and his family to get there is via this little rickety cart!
We just went over the top of this mountain and right down this face... Yikes!
Some mine buildings at the bottom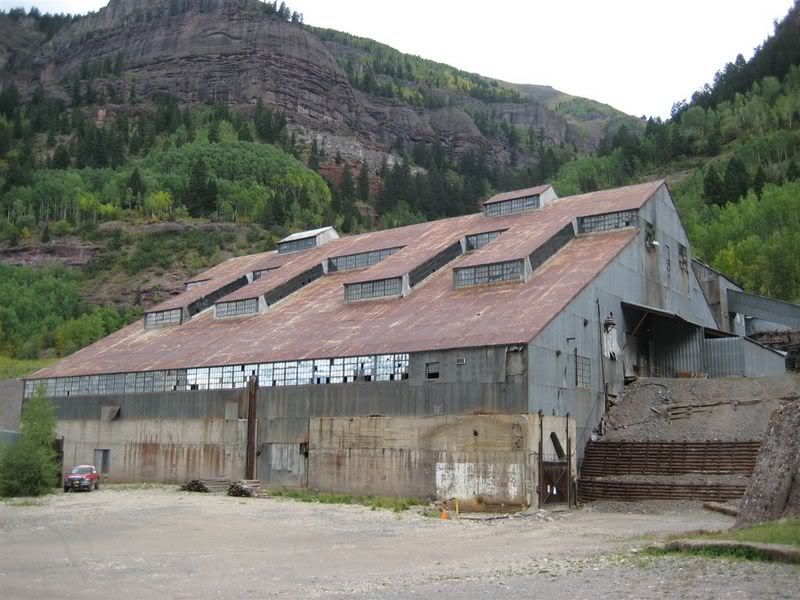 And this sums up how I fealt... Happy to be alive. Already bullshitting that it wasn't that bad to myself... I was ready for bed... Problem was. It was about 10am and I had a lot planned.