D and I did this ride last year on the Suzuki:
1-1-10 New Years Ride
This year we wanted to make it out again. There were so many great vintage bikes that we wanted to see again and new ones surely to be seen. On New Years Eve things weren't looking good. D was sick as a dog and the weather report called for it to be in the mid twenties... yes 20's that's Fahrenheit at 7 the next morning. I decided to let our friends know that we were pushing the start time to 9 hoping it would warm up by then...
9AM rolls around. D is still sick and in no shape to ride. It's still 29 degrees out...
I waited until just after 10 and it was still in the low 30's. We were having a record breaking freak cold front. I suited up with as many layers as I could find without resorting to wearing my snowboarding pants and jacket and headed for Jons. I made it to his house without loosing feeling completely. I mean, my hands and face had lost feeling, but at least not my whole body.
I drank about 5 cups of coffee as we waited for GingerFire to show up. After killing an inordinately large amount of time chatting (I think we were all just trying to stall) we suited back up and headed for Tortilla Flats.
BamBam Jon has a 50 foot wind fairing and hand guards so he thought it was nice out. We were jealous. I was just glad I wore my super 70's mad max bubble shield.
Not a bad view to start out a desert morning.
The excuses to stop were nice just to move the fingers and try to regain feeling.
Here's Gingerfire on her DRZ400.
BamBam on his Vstrom 650.
And some guy that should either be in a Bowie video or mad max.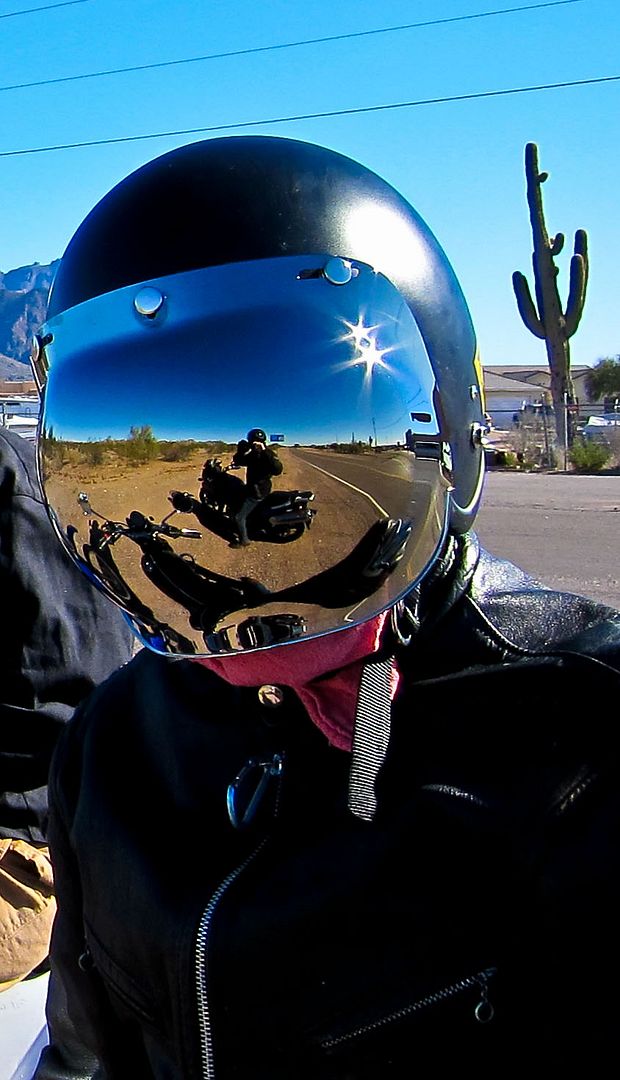 There were still quite a few bikes there, but I'm guessing that a lot of the classics didn't make it out, had already left, or just wouldn't start on such a cold morning!
Gingerfire wanted a picture of her bike next to the garbage trucks and land yachts.
An old timer came over and remarked how silly it was that triumph made the fuel injection look like carbs on my bike. Silly rabbit, those ARE carbs. I got the feeling he didn't believe me, but oh well. Everyone knows only the new ones have Fuel Injection. For the rest of us, it's simple, reliable, and finicky carbs. :-)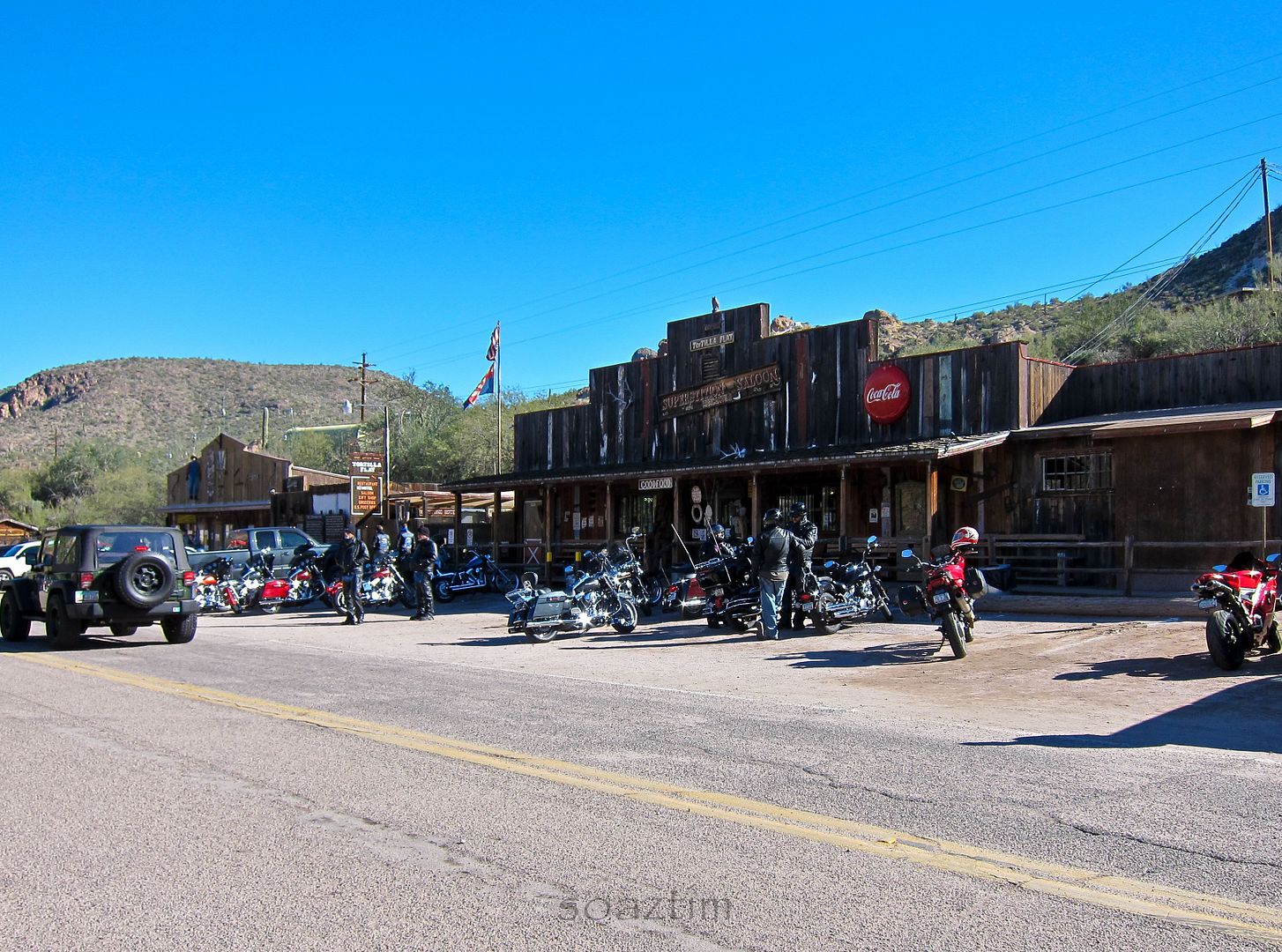 Moto Guzzi! Nice Guzzi dual sport.
A nice new Duc, but any bike that you feel the need to put a little kick stand puck under should just be left at the track or in the garage. Haha.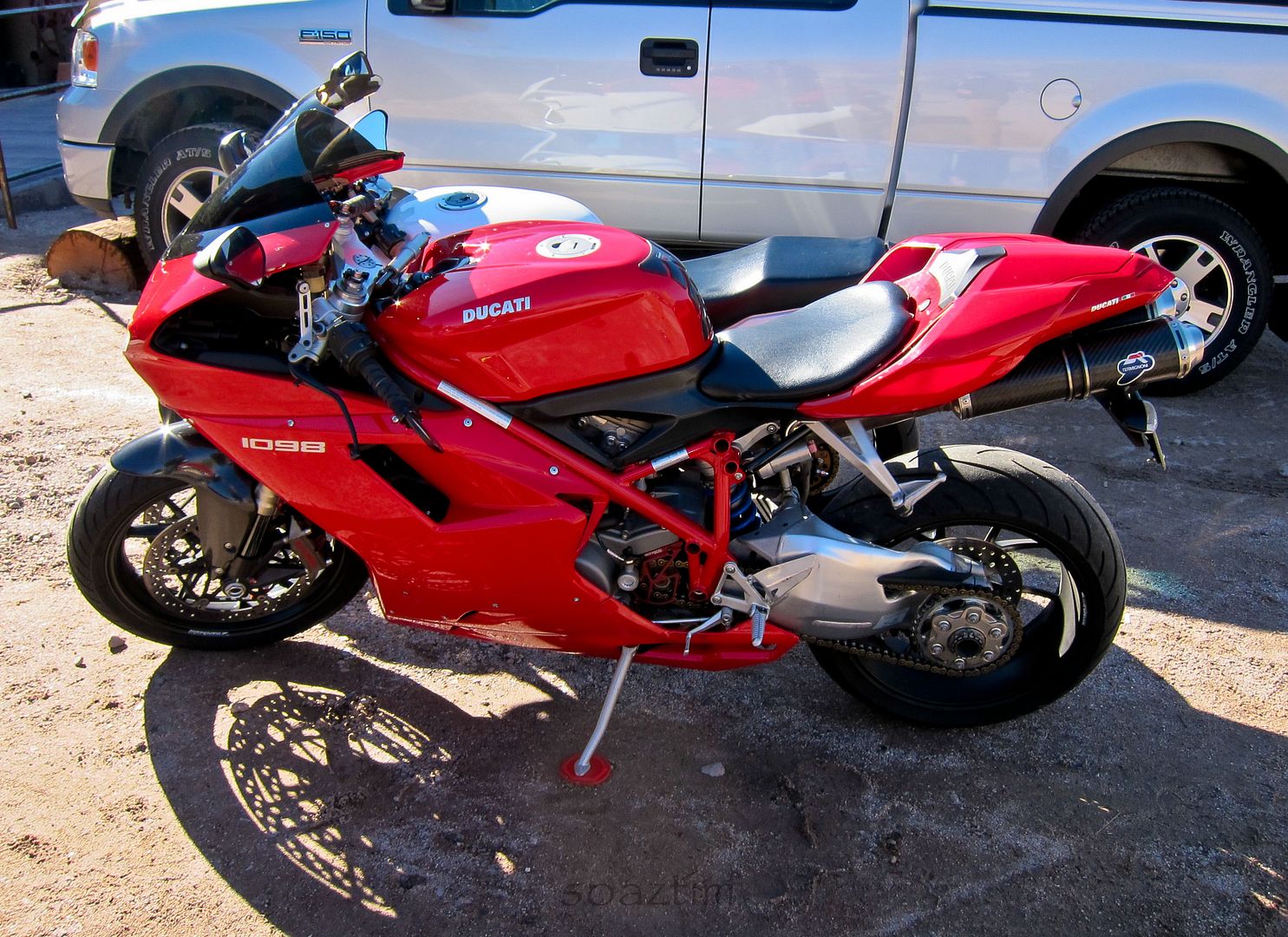 More nice Ductatis! I am a big fan of the GT1000 Sport Classic. Sort of Ducati's version of a RetroMod bike like the Bonneville. Of course they kept the motor, suspension and general set-up very modern and performance oriented. Good for the rider that still wants to go with the best of them, but with a little style.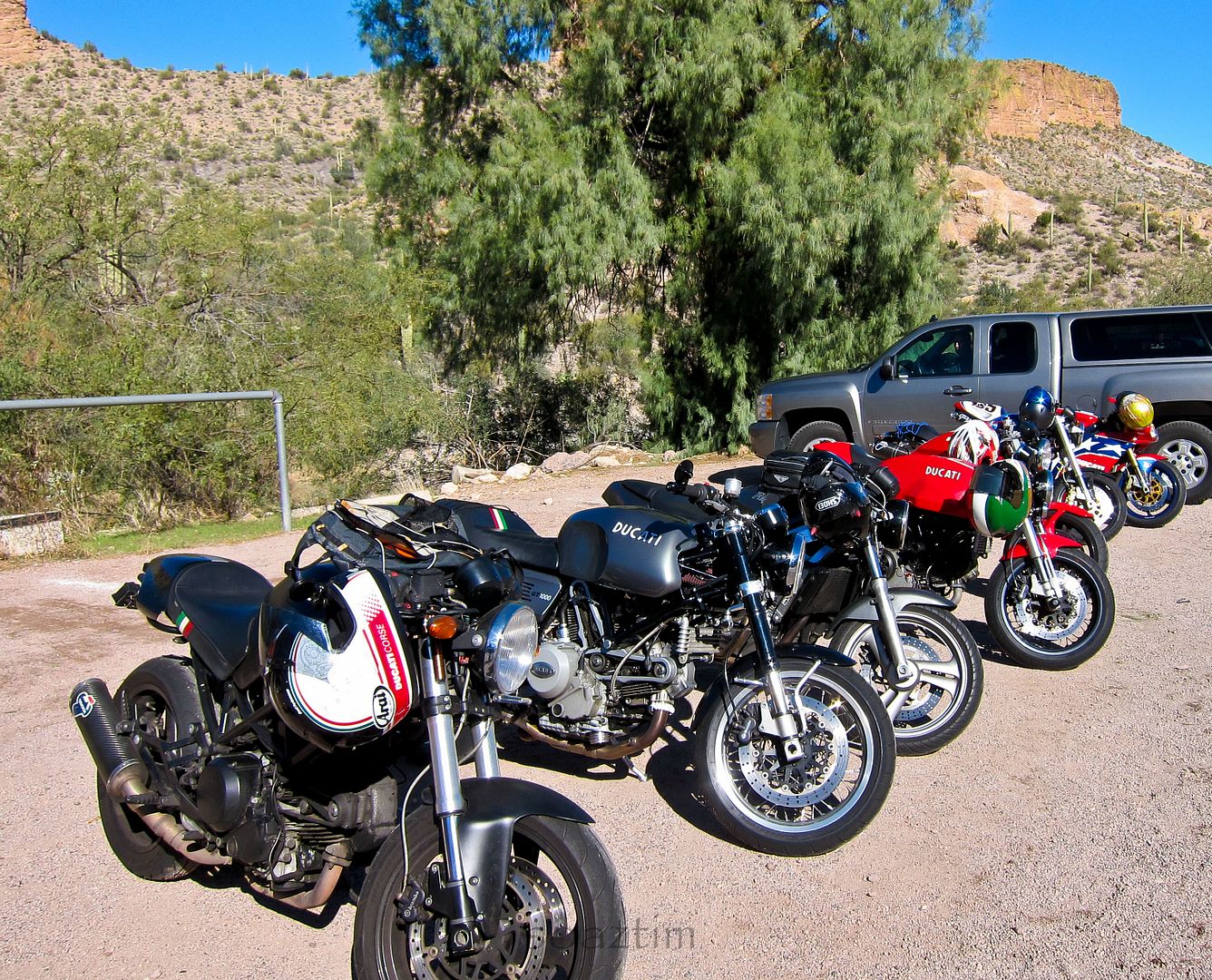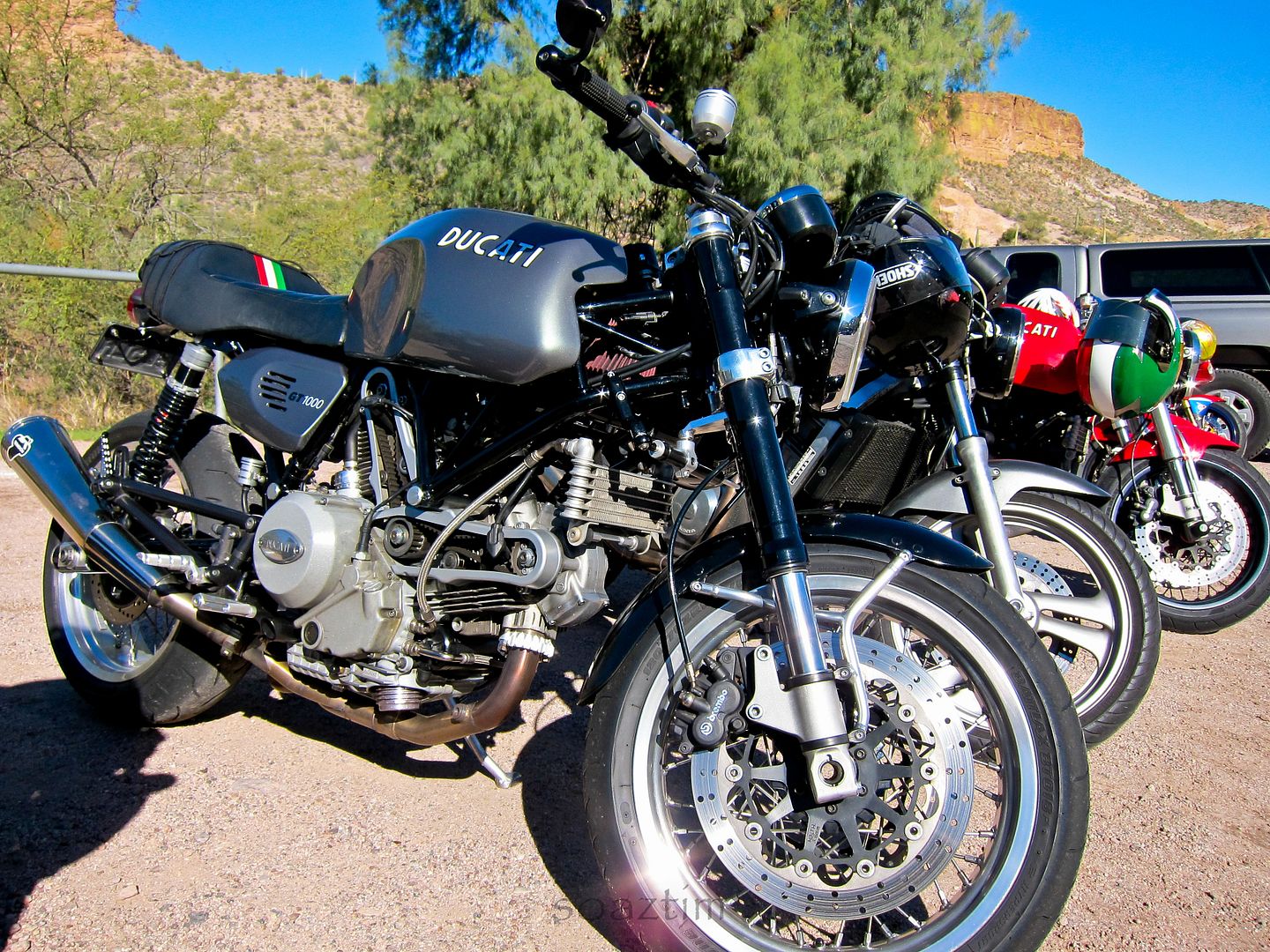 So enough looking at bikes. We were freezing so we went inside for some grub!
The duke guards the bathroom. I felt safe.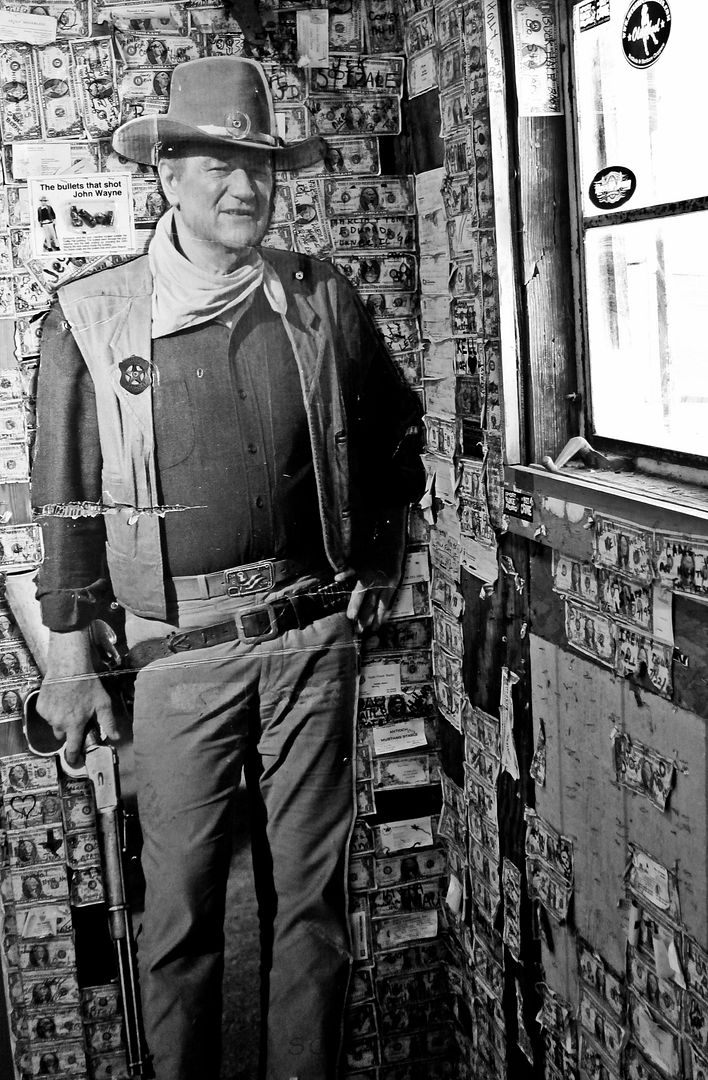 You can bet if they have a tough year, the walls will get some fresh paint...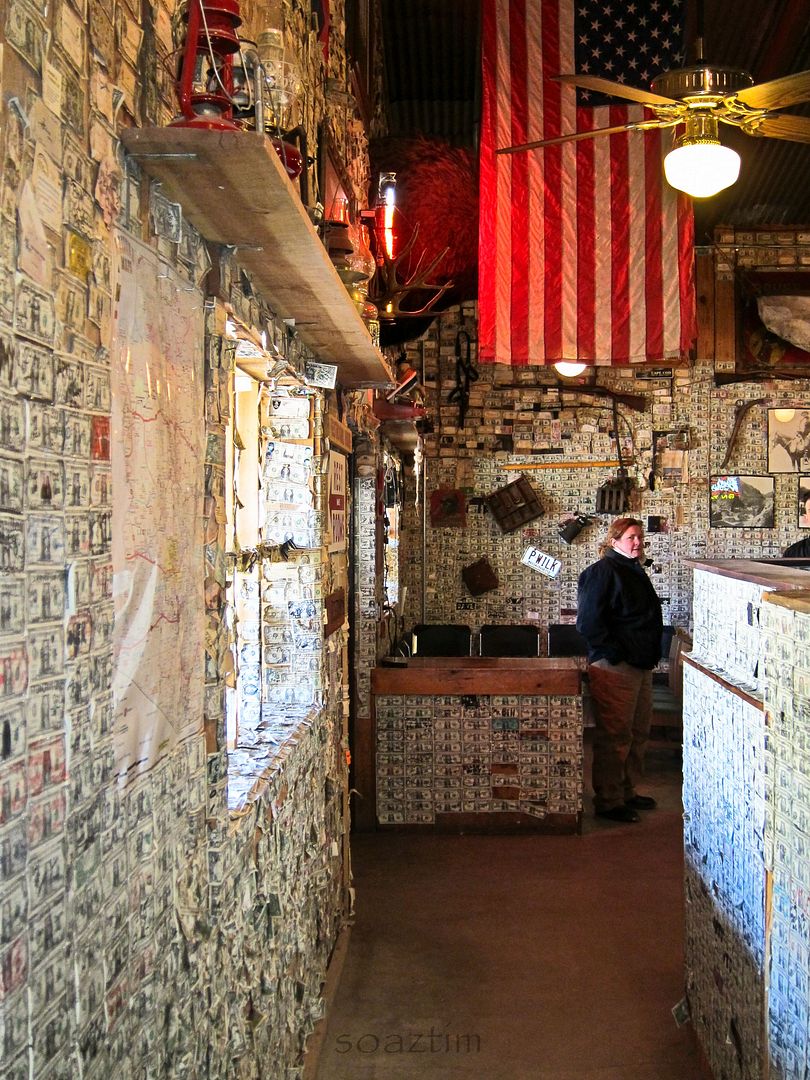 Waiting for a table.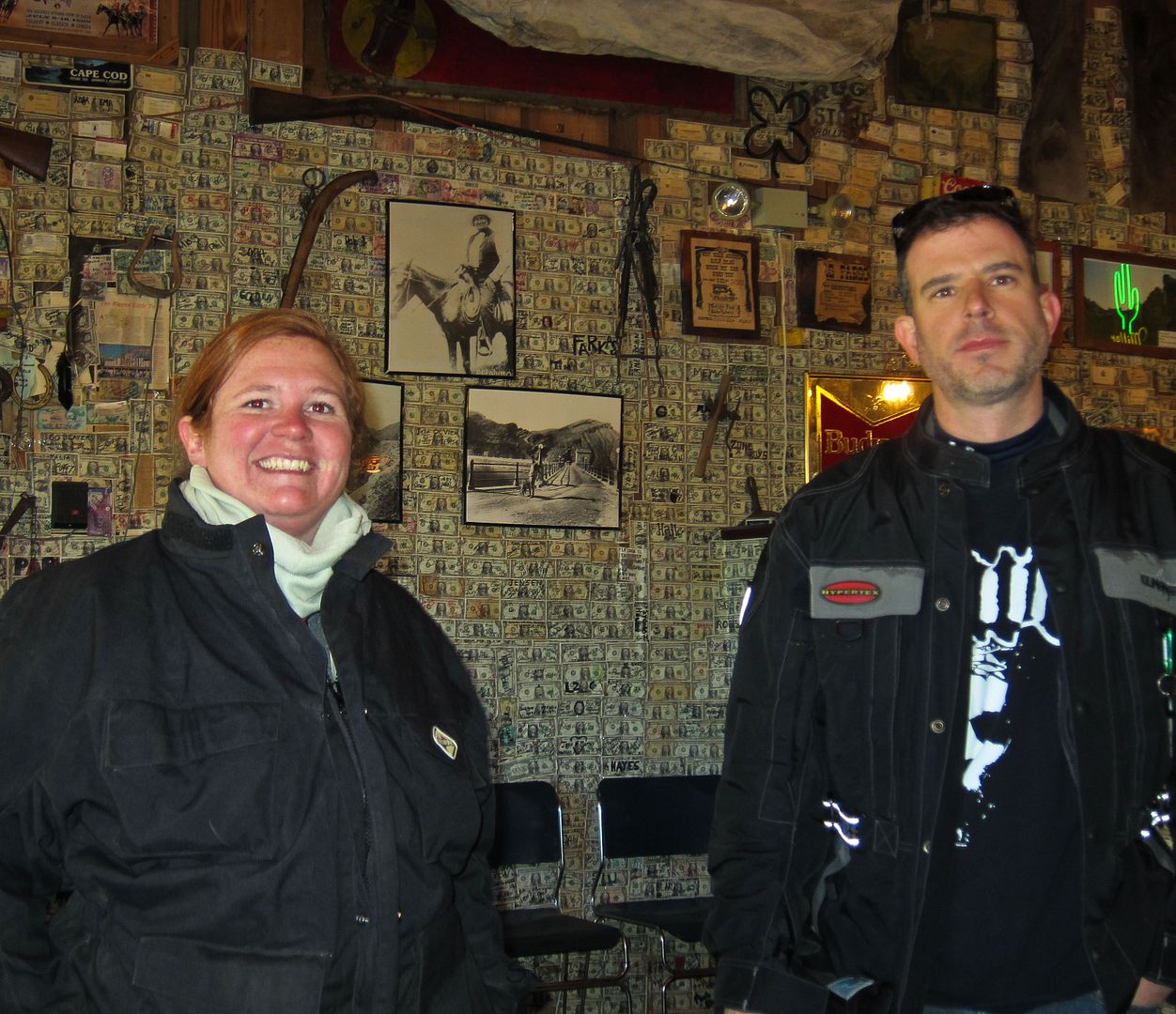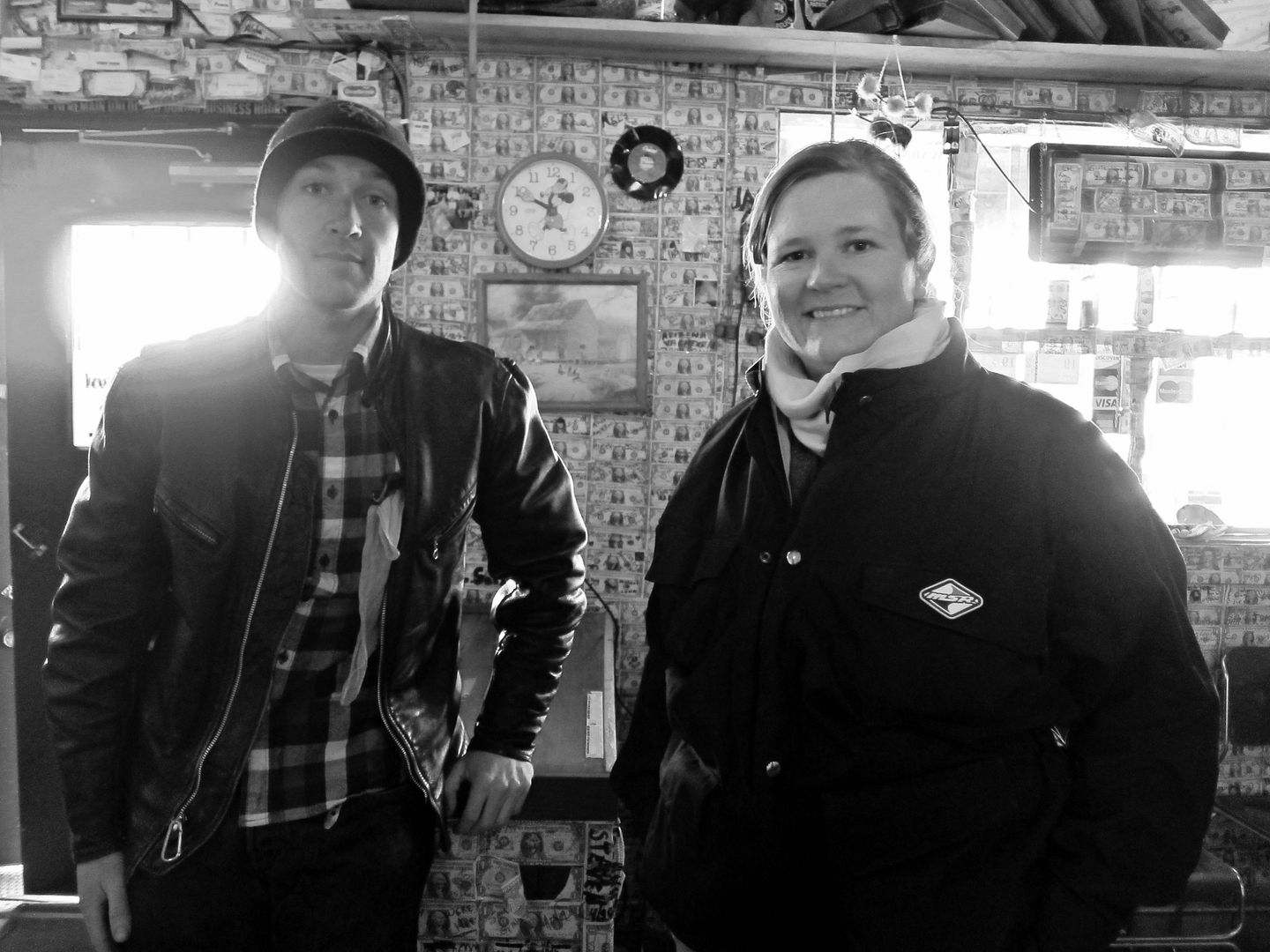 Sure Tortilla Flats plays up the old ghost town vibe a bit, but it is a legitimate piece of Arizona pioneer and mining history. Also, most of the items placed around the bar are real relics... Most of them.
Only after a motorcycle ride can food look so amazingly good and then when you look at the picture you yourself took only hours ago say... "ugh. That looks nasty." It was good though. Hot and good chili!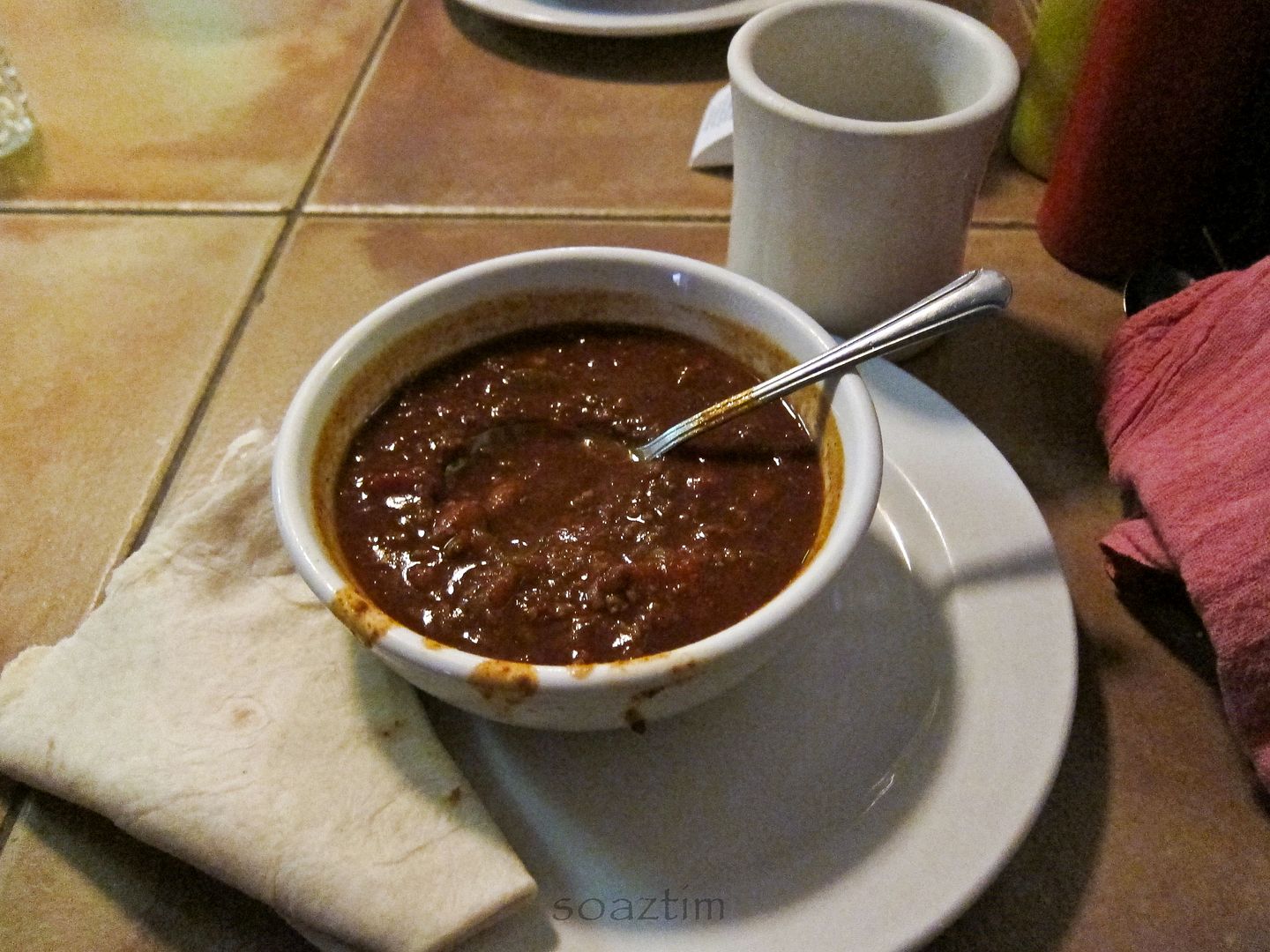 You could see the fear in their eyes as a lone member of the Moped Militia road through town.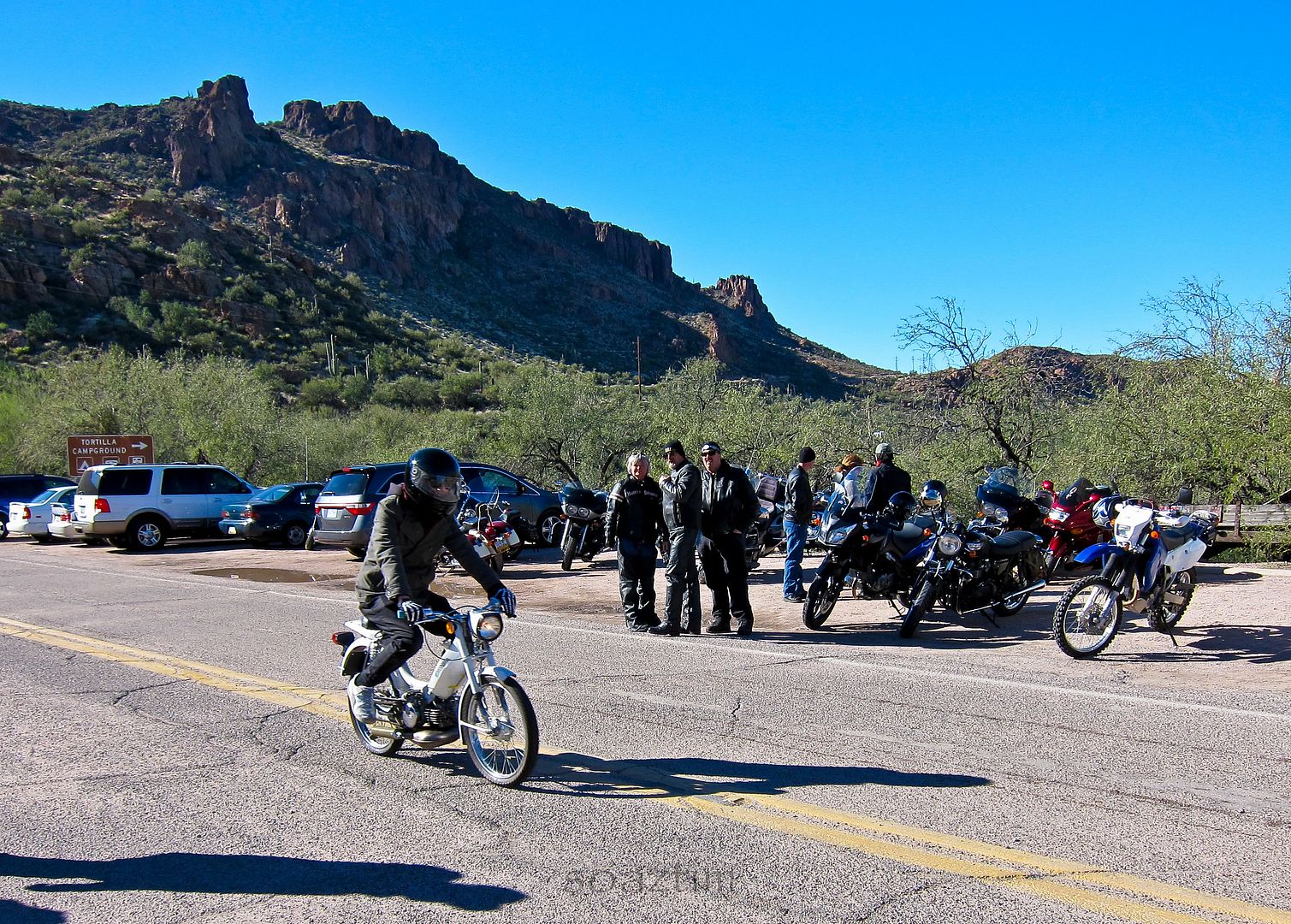 I was happy with the brit bike as usual. It plucked along nicely!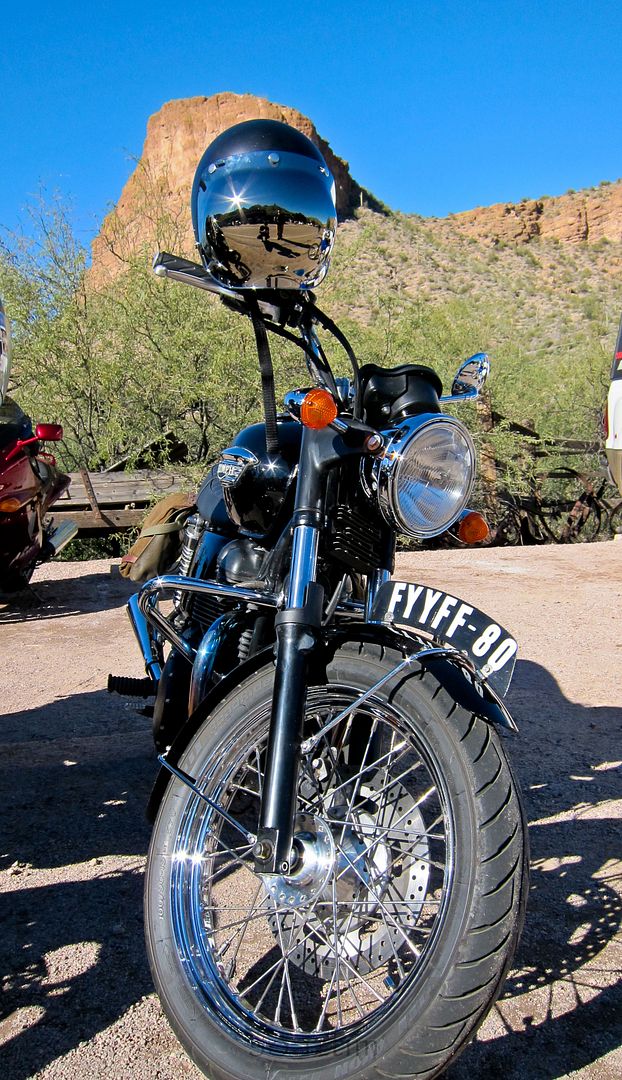 The creek next to Tortilla Flats was running pretty good which is rare, but nice to see.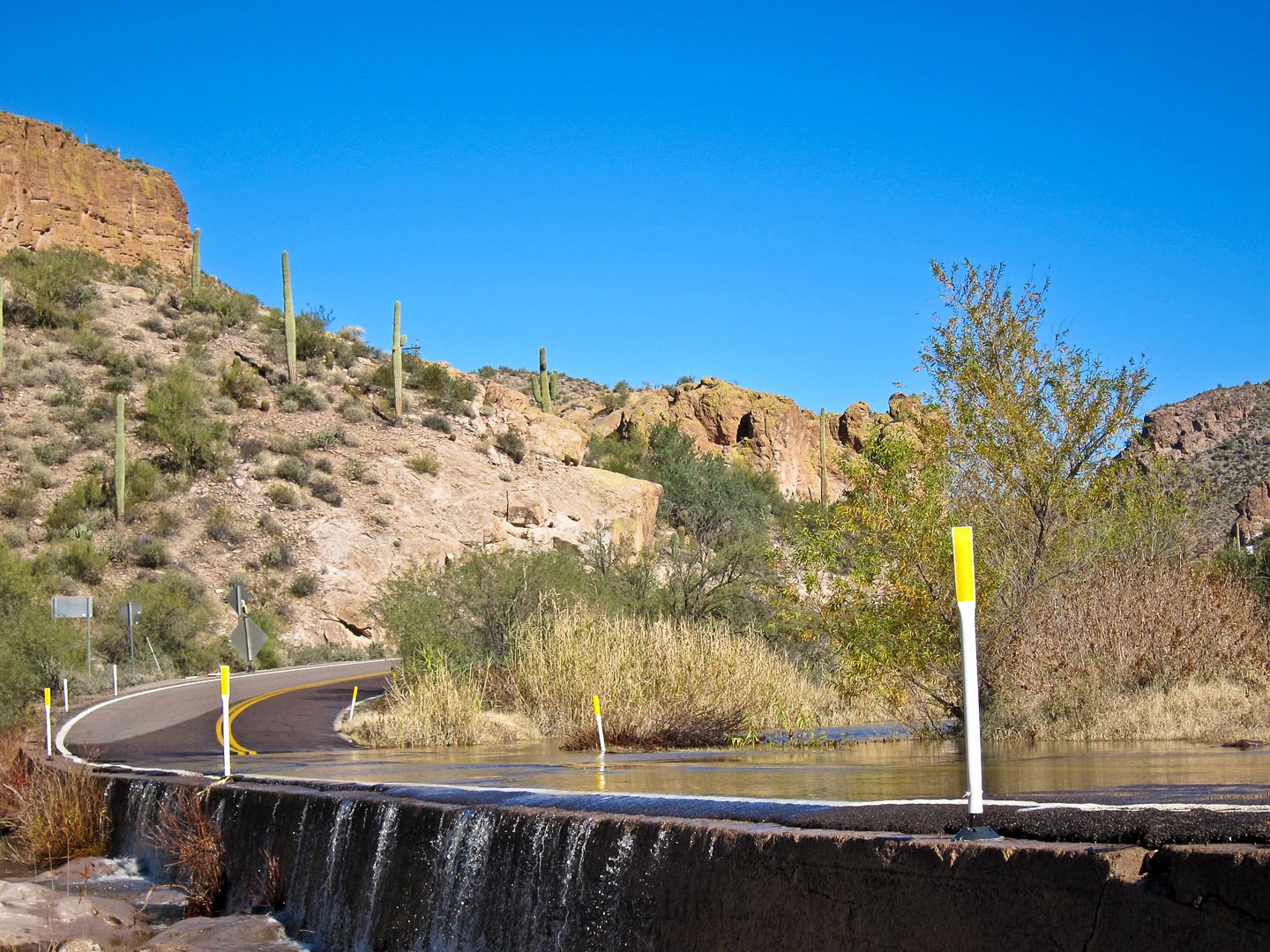 BamBam working on his modeling career.
Just before we left, but just after Gingerfire pointed out a guy in an electric warmer jumpsuit complete with cord that plugged into his BMW... Yah, Wow... we saw this beauty pull up. A nice 1940 Indian. Of course the whole town walked over to take a look.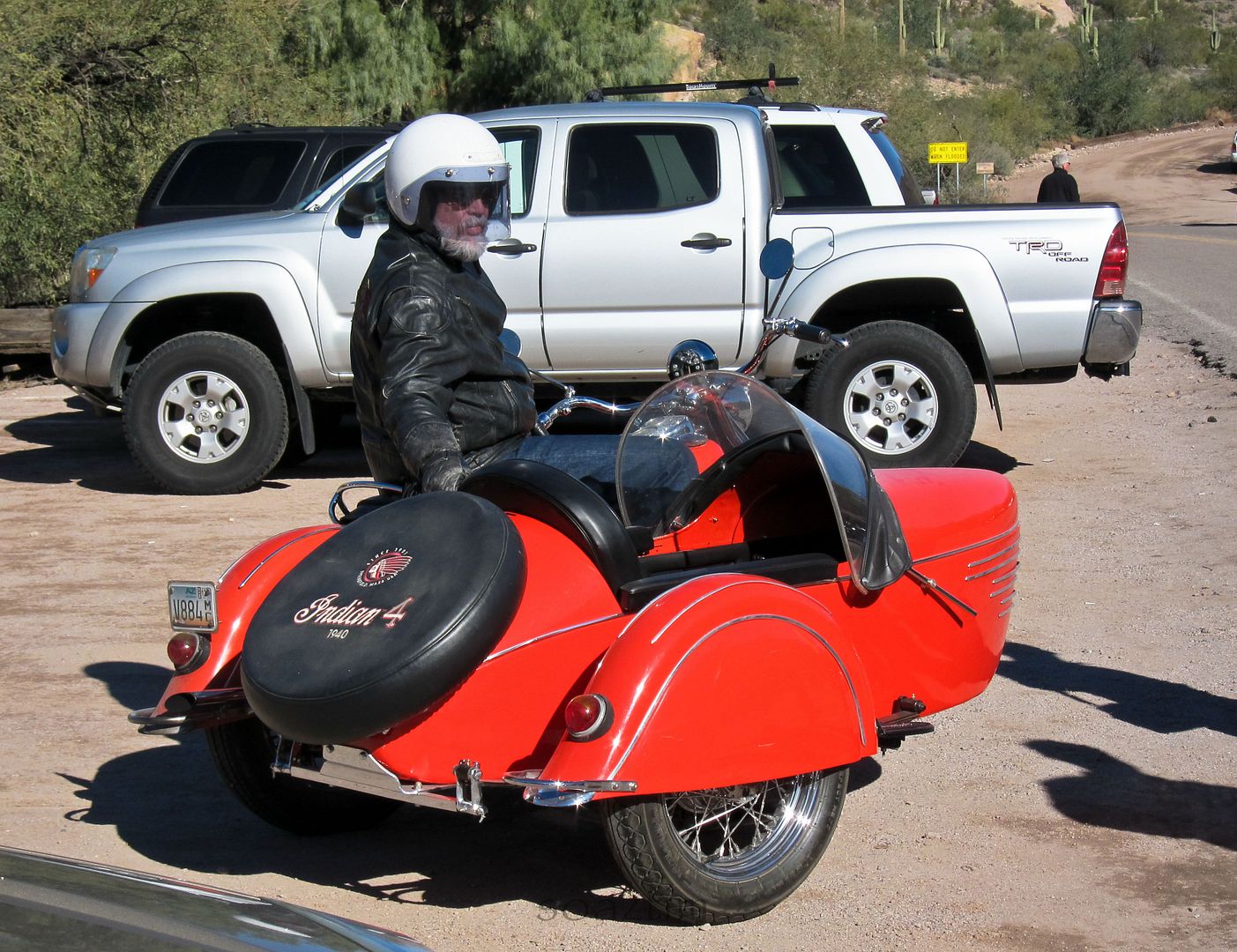 "Leaf" springer front fork.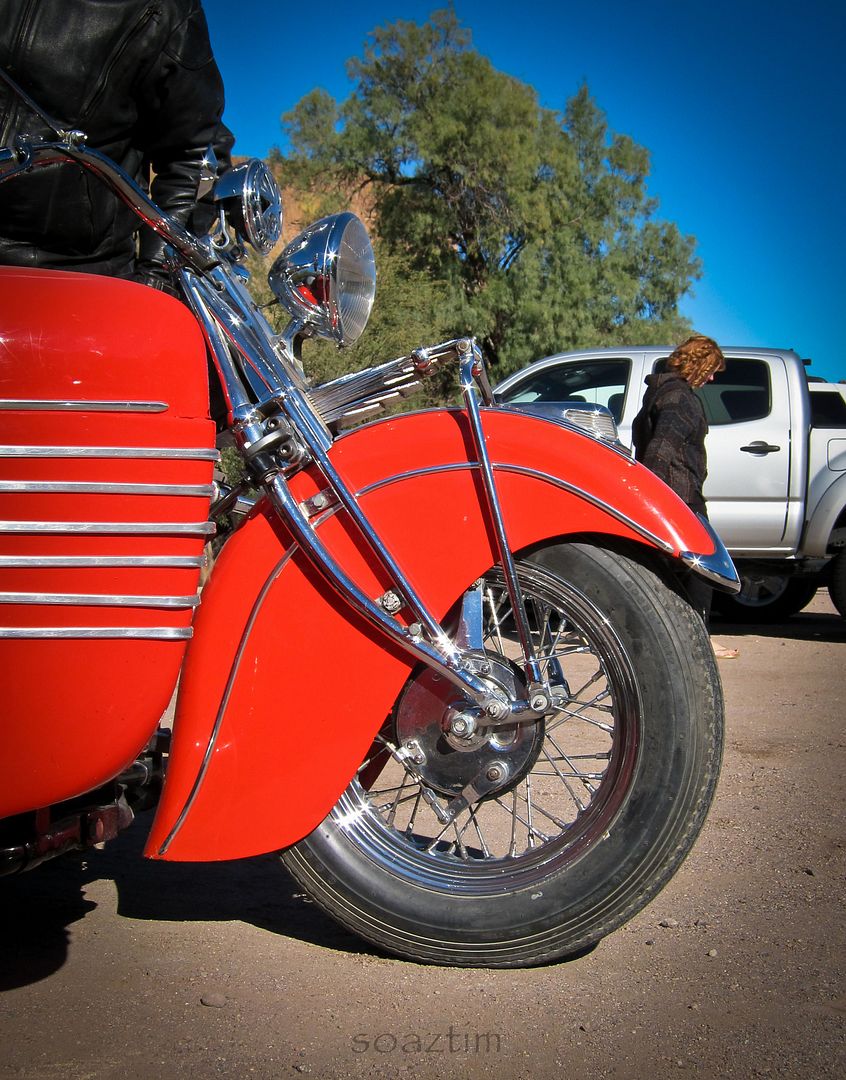 4 Cylinder.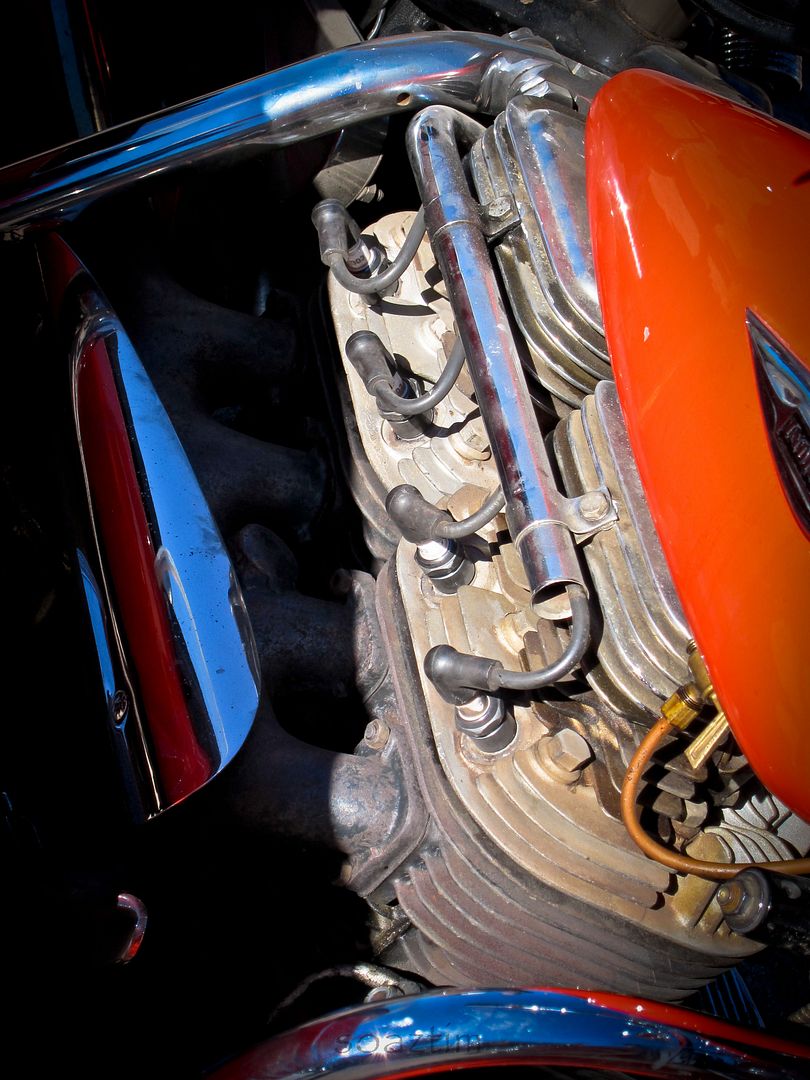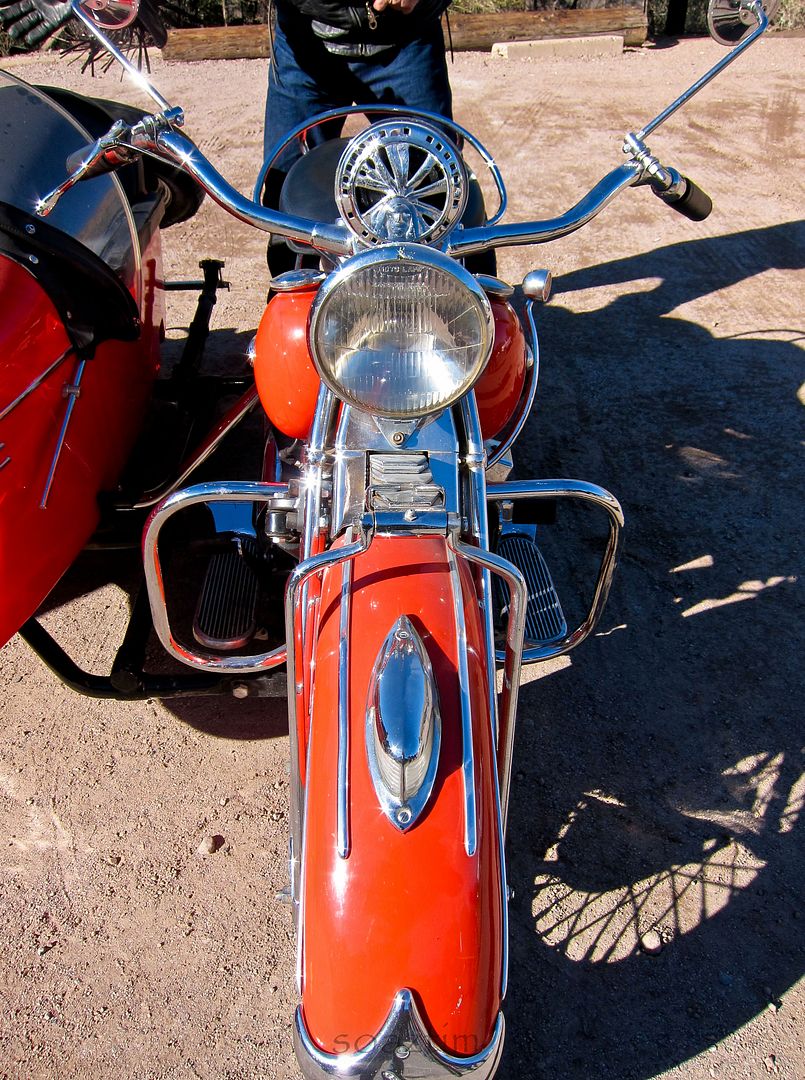 Just the chrome work alone would cost so much to have done today that I'm sure you could buy 2 modern China made Harleys. (yah yah Harleys are "assembled" here, but so is my dining room table. Doesn't change that they are "made" in China.)
We stopped to "take some pictures and take in the view" on the way back. Really I just wanted to warm up a bit.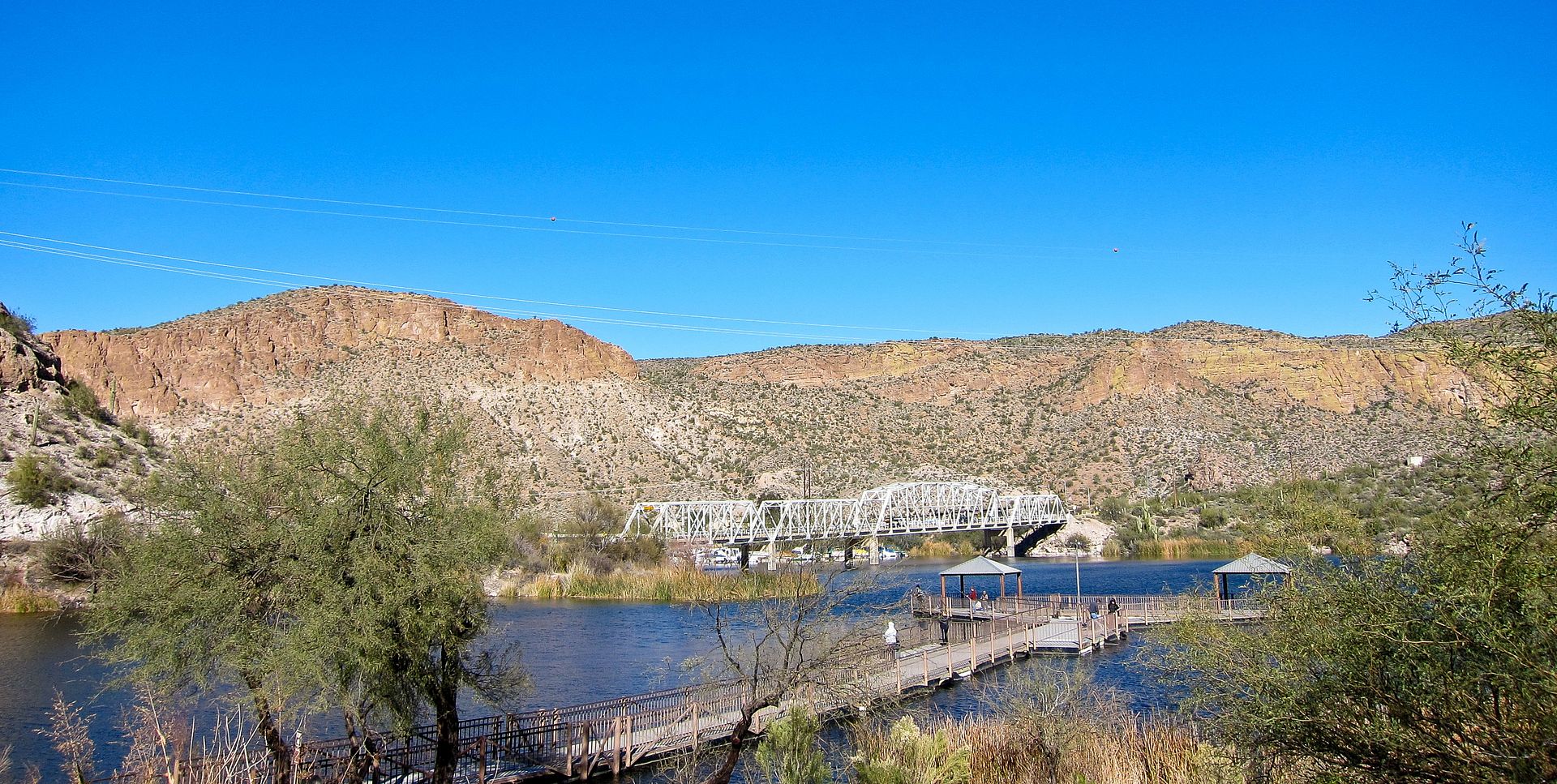 Even in the desert Algae can grow making some green rocks. (I assume it's some sort of algae, but ask bill nye the science guy if you want to know)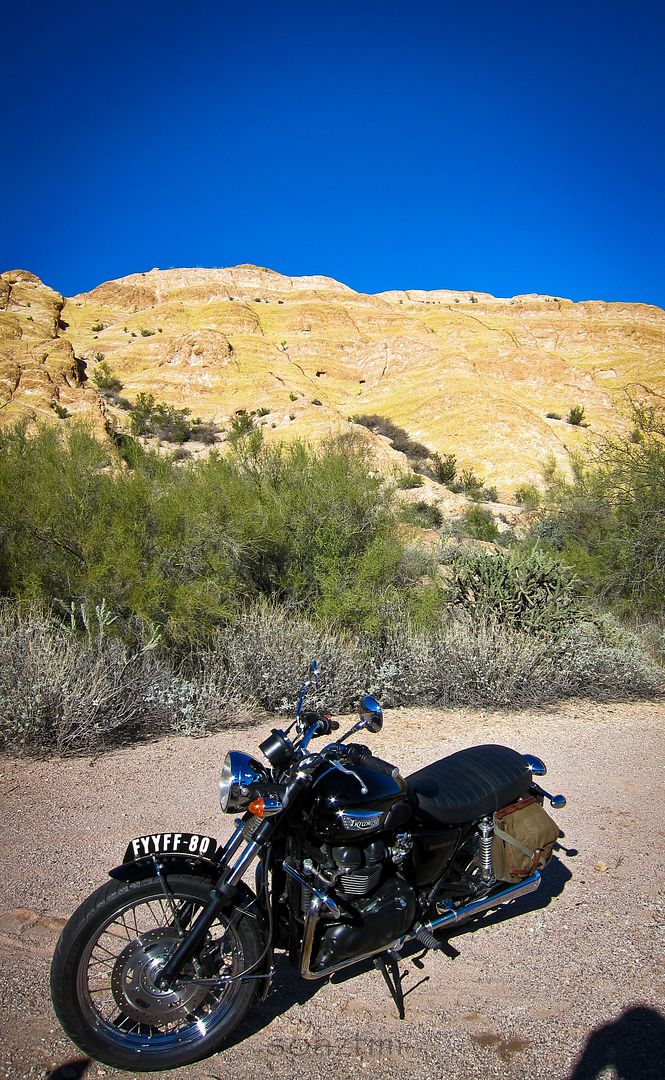 We parted ways and the lucky friends were home in minutes. I continued to ride another 30+ miles to my house. Darn Phoenix is a big town! Along the way I had to stop and grab one last shot of Four Peaks.