So, we do the California trip each year, but it was about time for the Cactus Cup.
I made up a loose plan and invited my bro and some friends.
We started on a Tuesday after working a long day. I was headed from Phoenix to Blythe to meet the boys at the border. I wasn't willing to cross it into Kalifornia, but the least I could do was take the super slab to the border along the Colorado.
The ride out.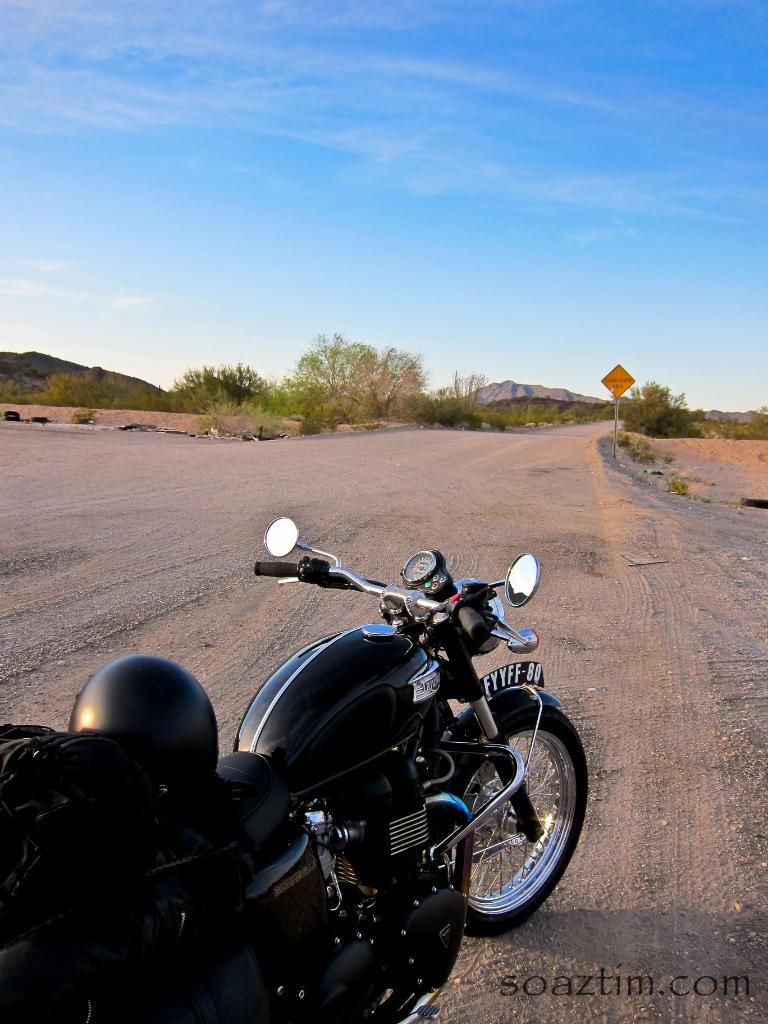 Then there were three...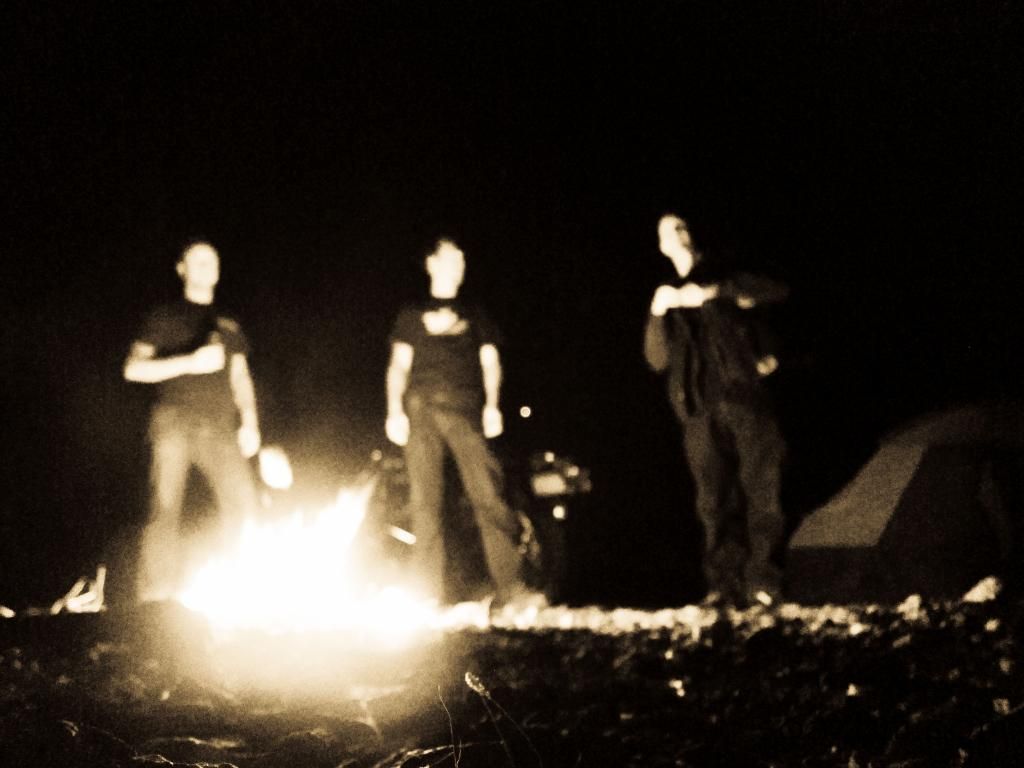 I made it to the double wide known as the river run sports bar and grill early. I watched the locals get loaded and had a great little pizza and a few beers. When the boys showed up I had a couple beers ready for them.
After dinner we decided that sleeping along the river lost it's luster next to mobile homes and a fog of mosquito's.
So, we headed 1 exit into AZ and some higher desert.
Monkey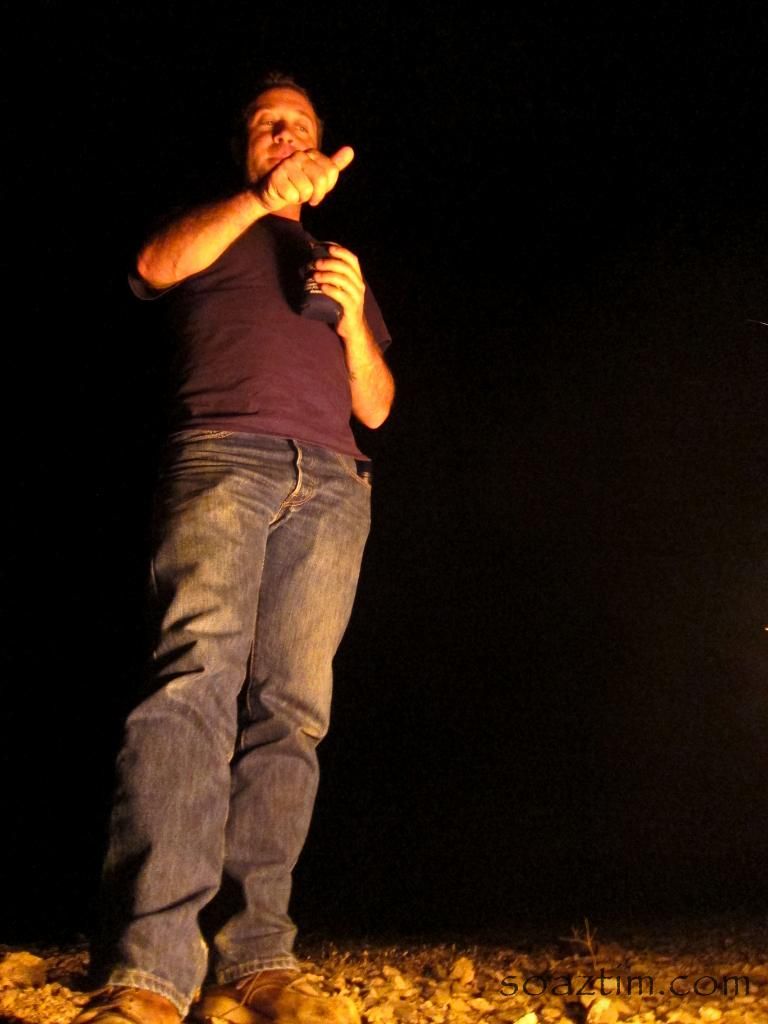 Stevil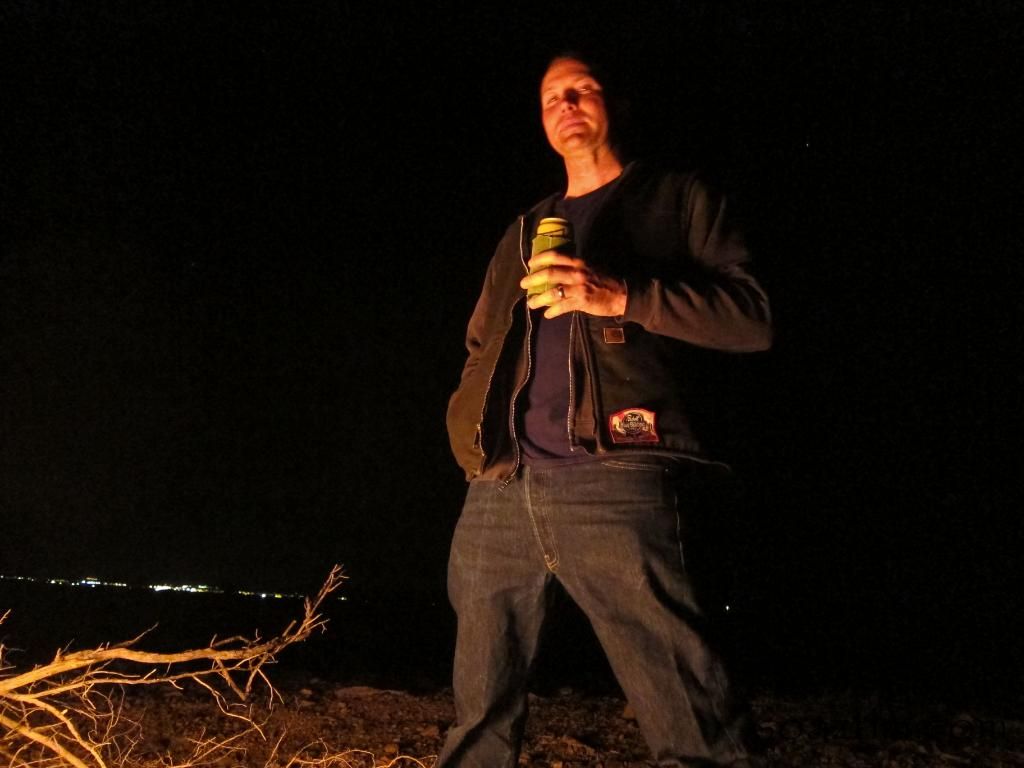 Camp.
Fire good!!!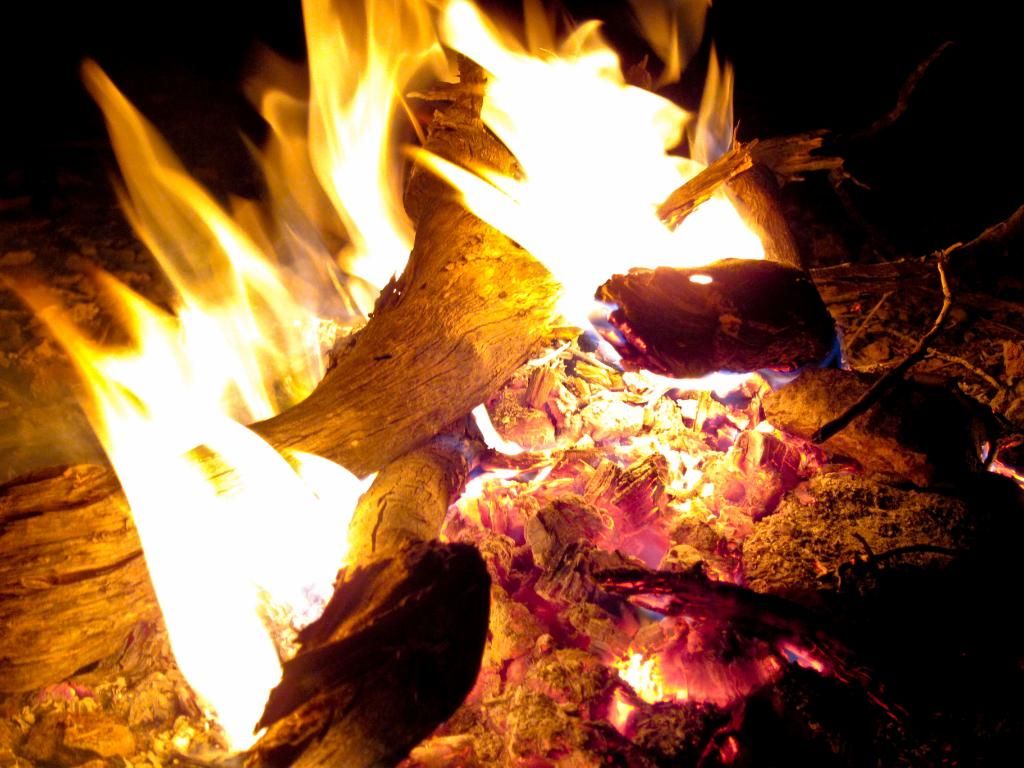 It's all about the simple things. These trips are about turning off the GPS or leaving that crap at home entirely. It's about riding and riding some more. Eating some good food and drinking too many beers at camp. It's simple. It's not high end, but it's good.
Especially when you look out of your sleeping bag since no tent was necessary and see this...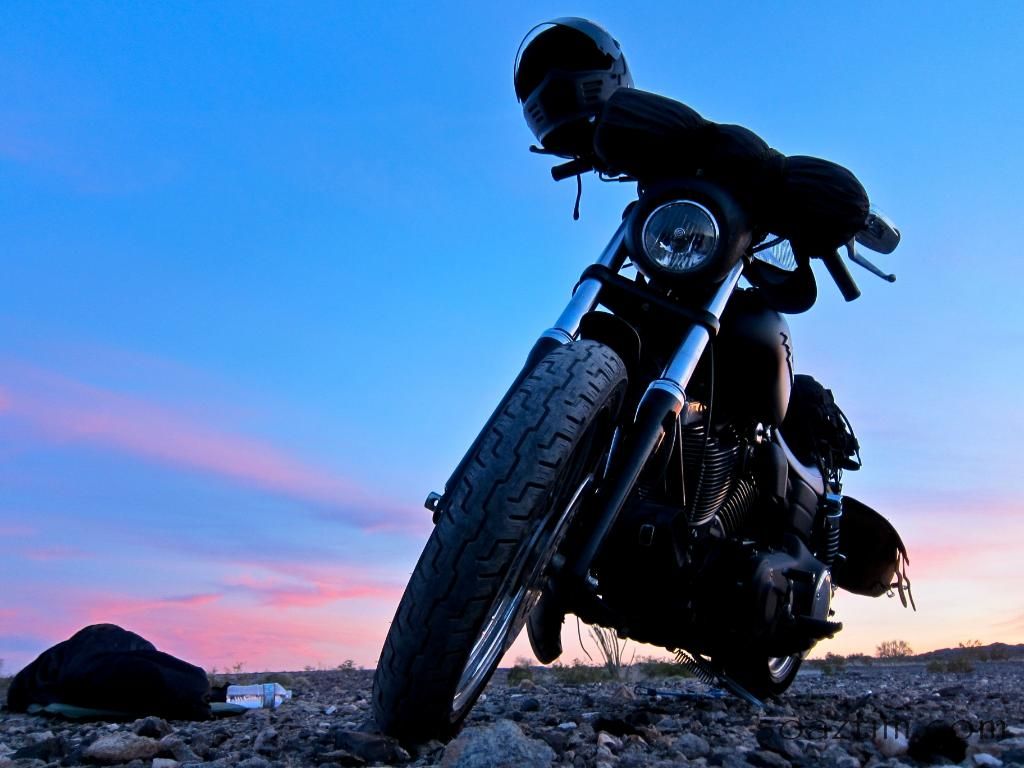 Scorpion proof those boots soldier.
Gotta love the morning light!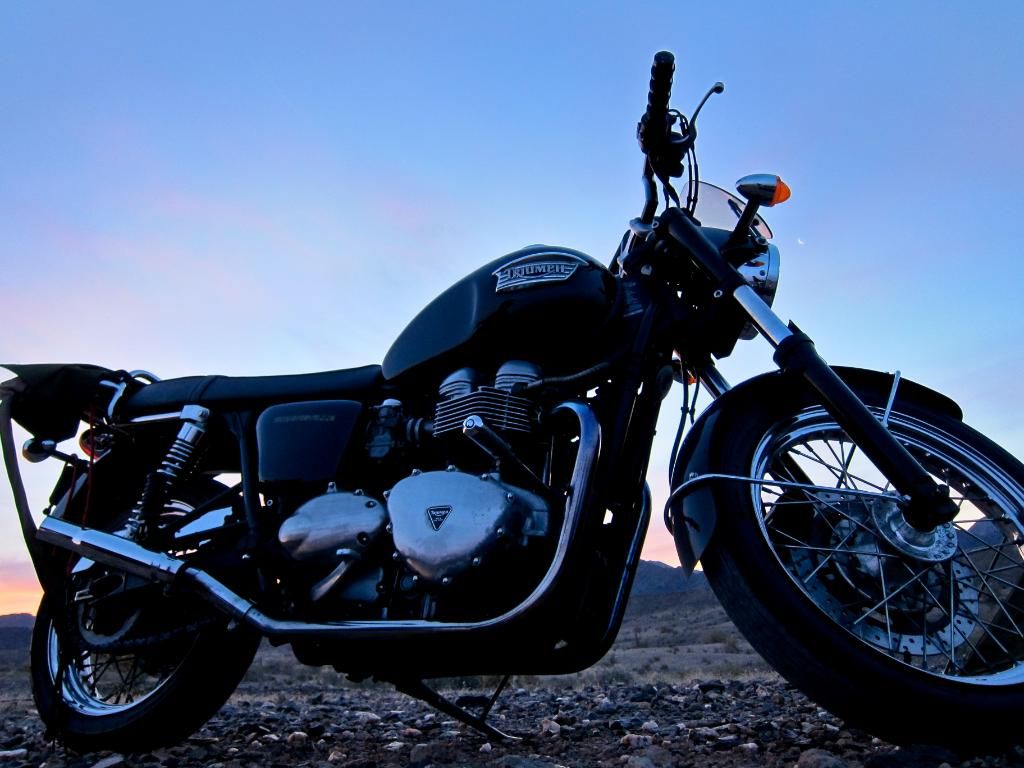 Just a few years ago... okay last summer, that water bottle would be a handle of something less seemly.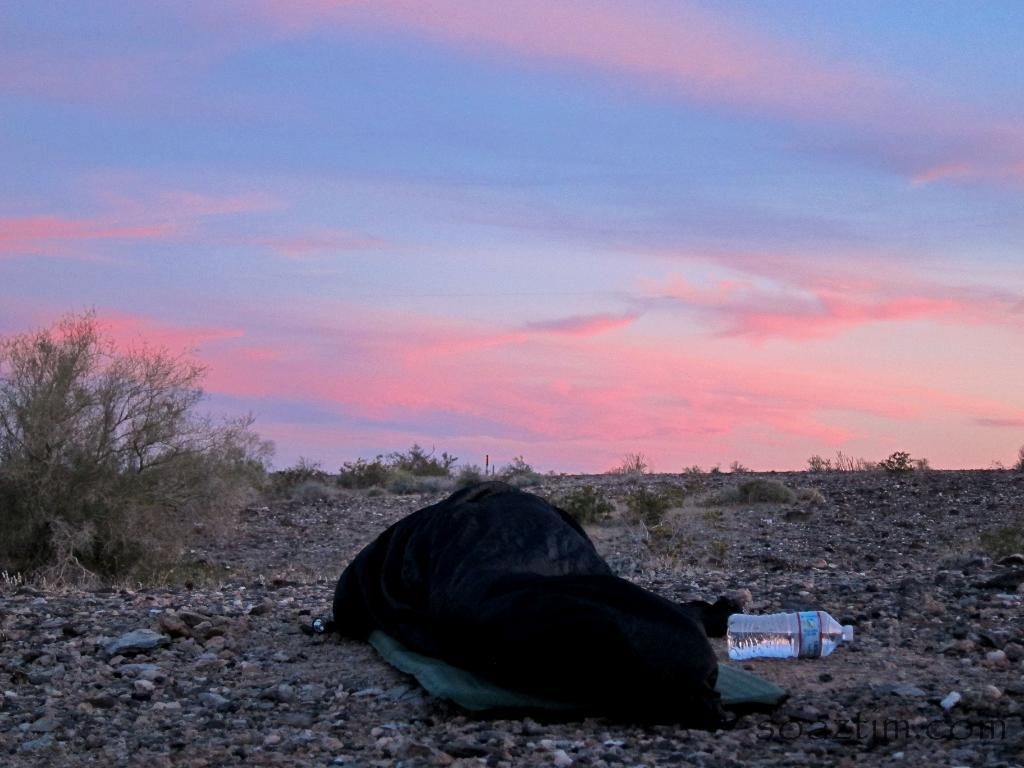 I do love AZ.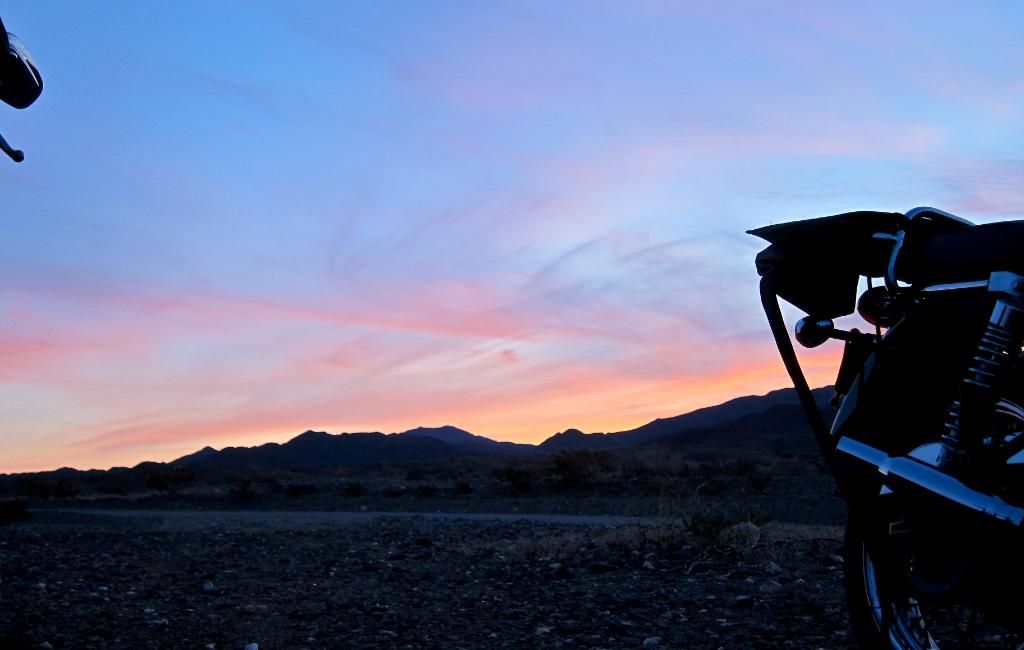 Those were great shots, but by the time we woke up and headed out... Scary!!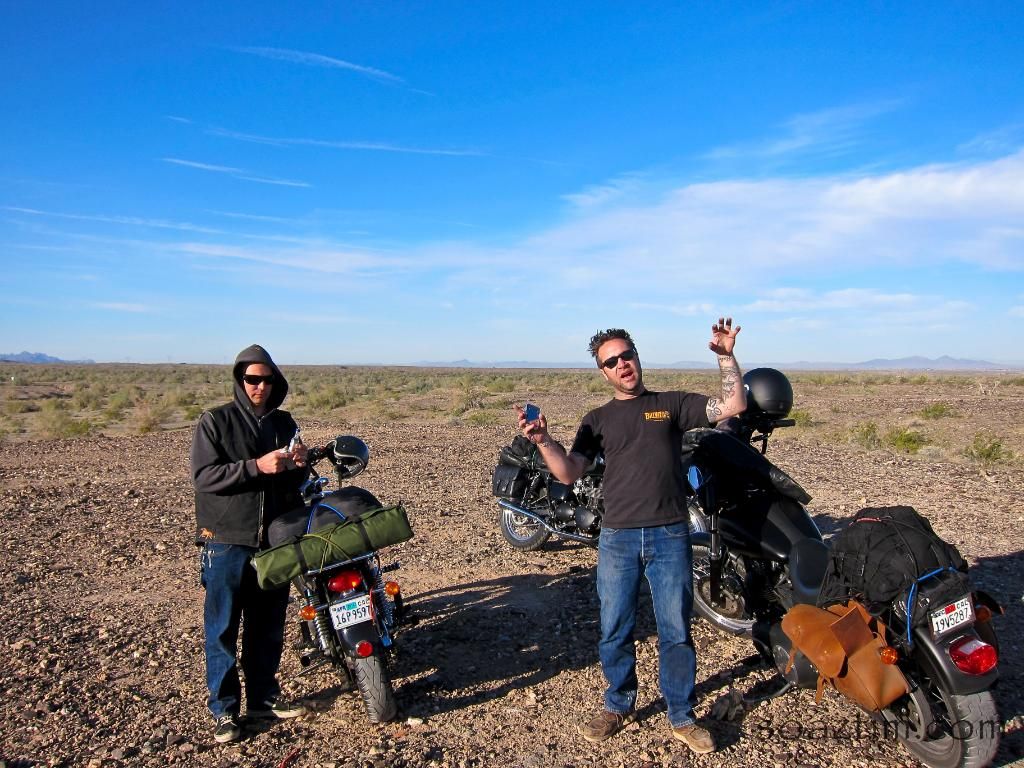 Time for some good warm grub and conversation in Quartzite, AZ. Not much here, but the food was plenty good!
This was the hang out for the snow bird rock hounds that are still living here for just a few more weeks before the temp hits triple digits.
We kept progressing to Phoenix. Took at stop to piss on the powerplant. Whoops.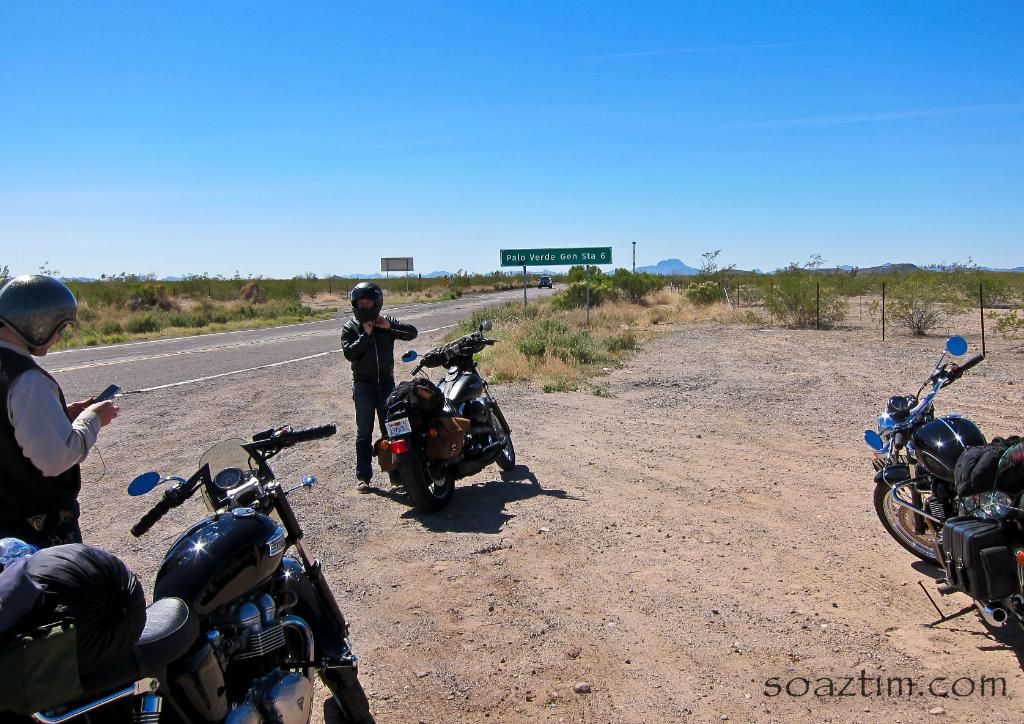 Well, we made it through Phoenix with at stop off near Arizona State University campus to grab some Carne Asada. Thoroughly fed up with crowds and street light we headed for Tortilla Flats. Now, Tortilla Flats has some genuine history like many places in AZ, but it's a little too close to Phoenix so it can get ruined easily. On a quiet weekend the bar/restaurant is fine enough and not TOO cheesey. Today however the whole ride out was at 10MPH as the tourists and blue hairs stopped in the middle of the road to see a cactus. The bar had a line wait for an hour so we took our tourist photo and high tailed it for higher and further from Phoenix, ground.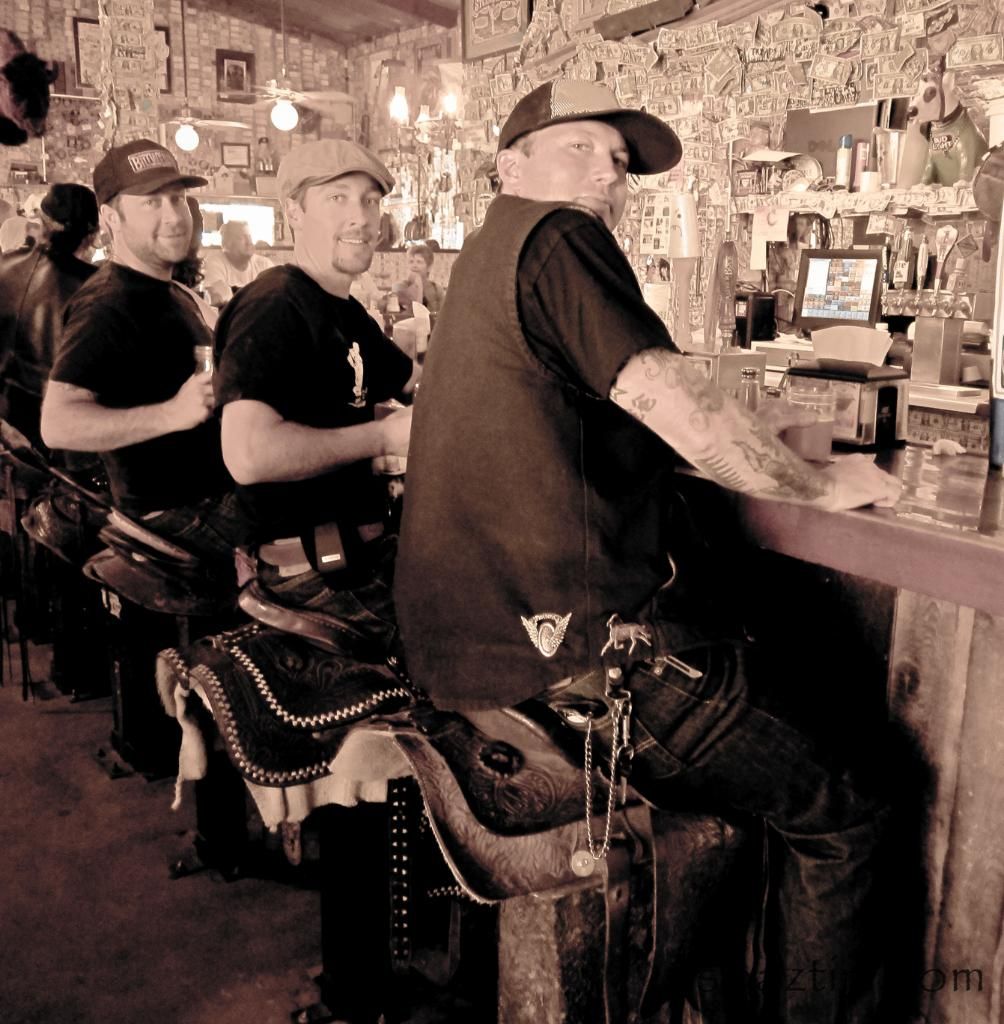 Once we... well slowly made it back out the 2 lane road from Tortilla Flats, we headed for Superior.
Even just as far as the town of Superior it was clear we had hit a better area.
"What kind of beer do you have here." The bartender answers. "All kinds. Domestic and imported." "Do you have hefeweizen." One of us asks. "What's HefeWeizen" she replies.
Hmm. We decide to ask, what is "Everything" The answer was Bud, miller, coors with the associated light versions. Along with dos equis, tecate, and Pacifico... So, clearly, everything. Somehow, I love the simplicity of this place.
So did Stevil.
From Superior it was time,
to run,
to the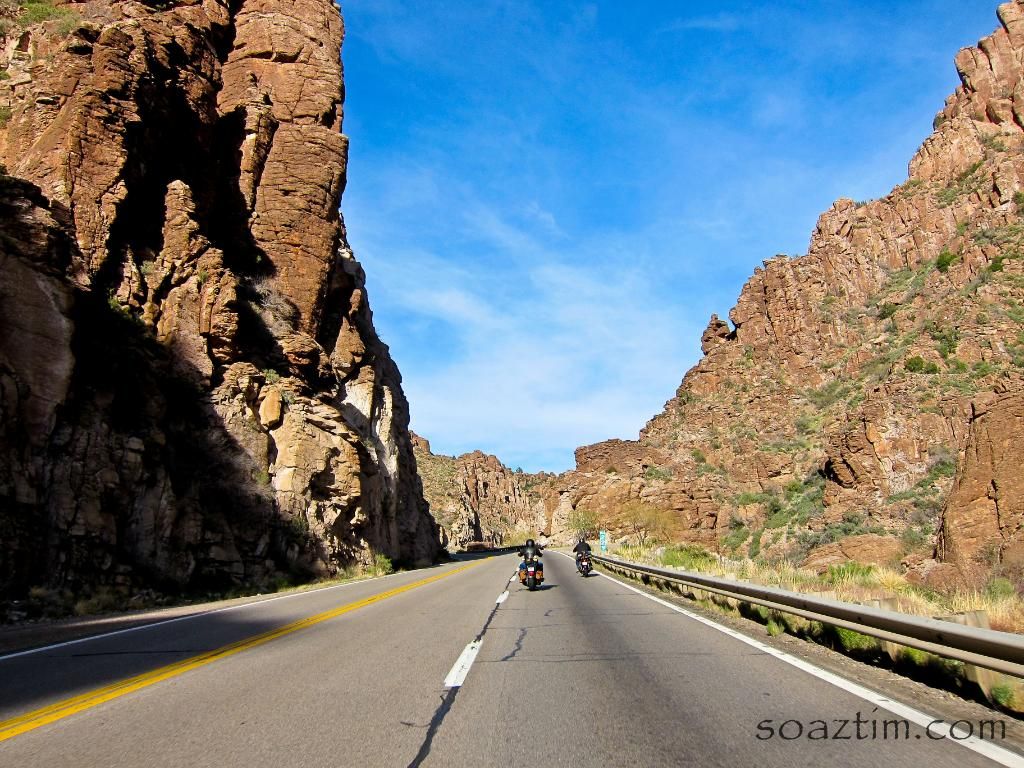 Hills!
We made it to Globe and dropped into the Drift Inn. Established in 1902.
It was food time and the bacon, jalapeno burger was epic.
Old copper ceiling.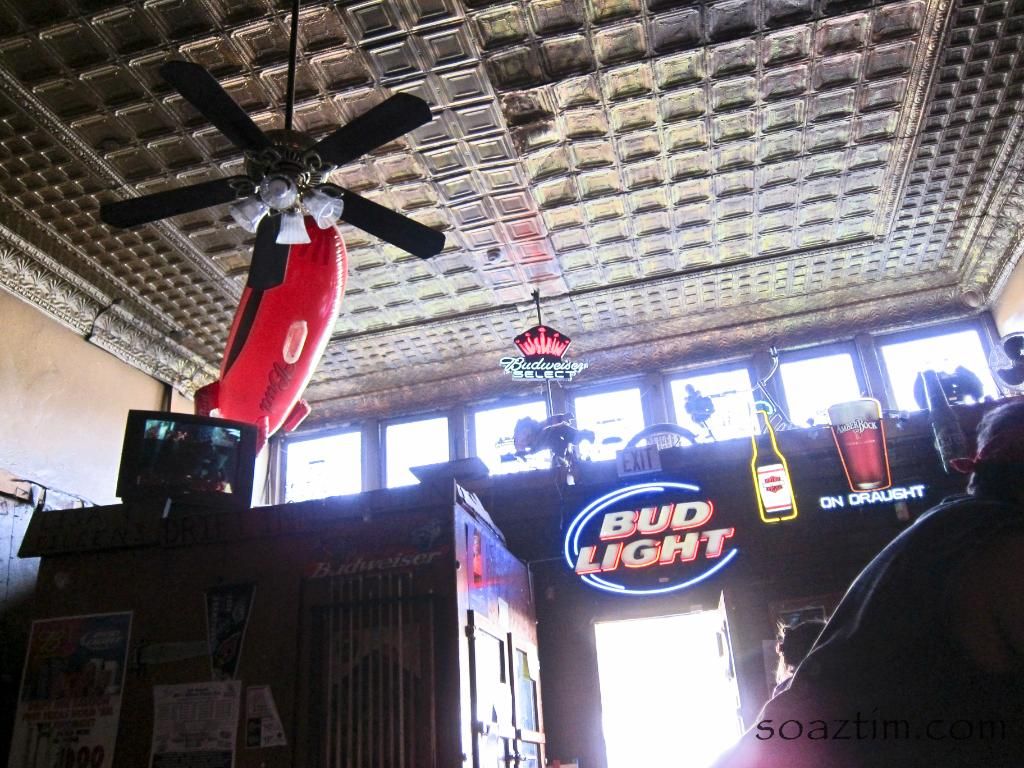 time to keep on keeping on.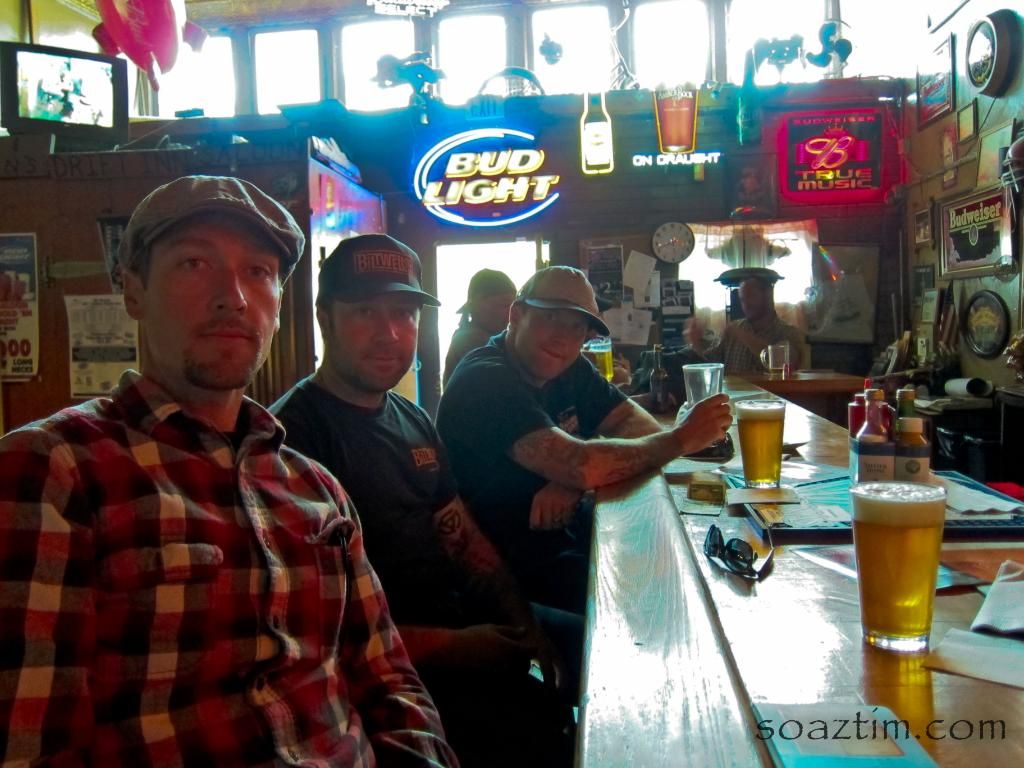 Good by Globe.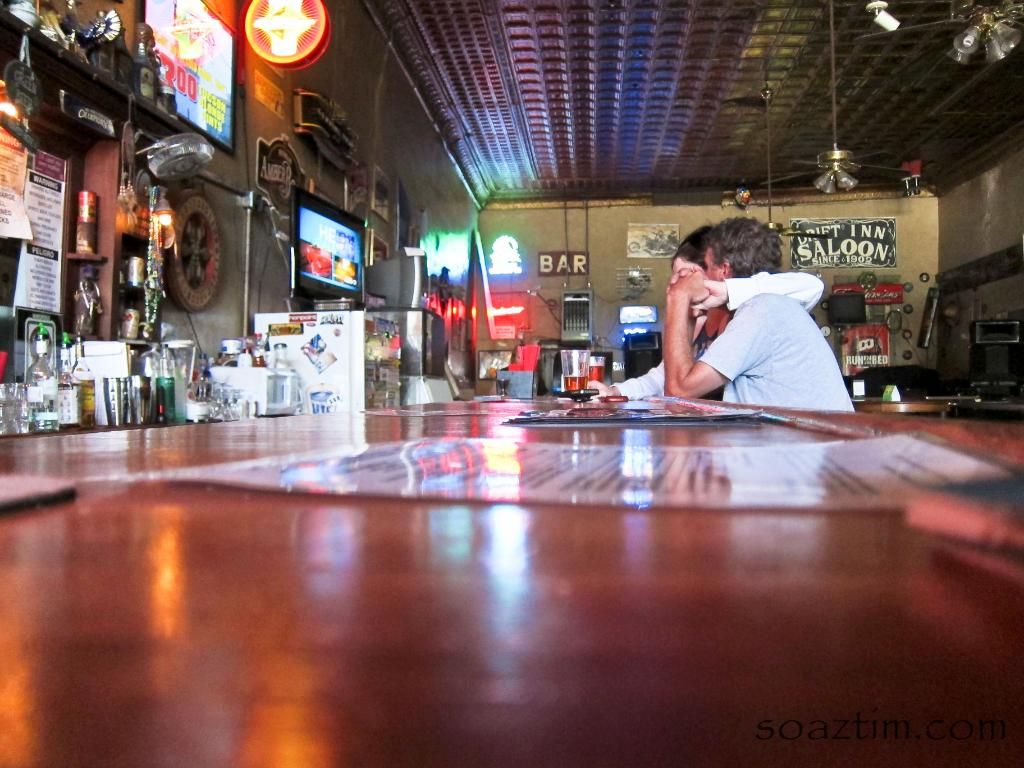 We putt down the road to a good and empty campground except for a loan Earthroamer that was de-stickered. Didn't recognize the truck although there are only 100 of these trucks out there. http://www.earthroamer.com/
Offroad Dyna.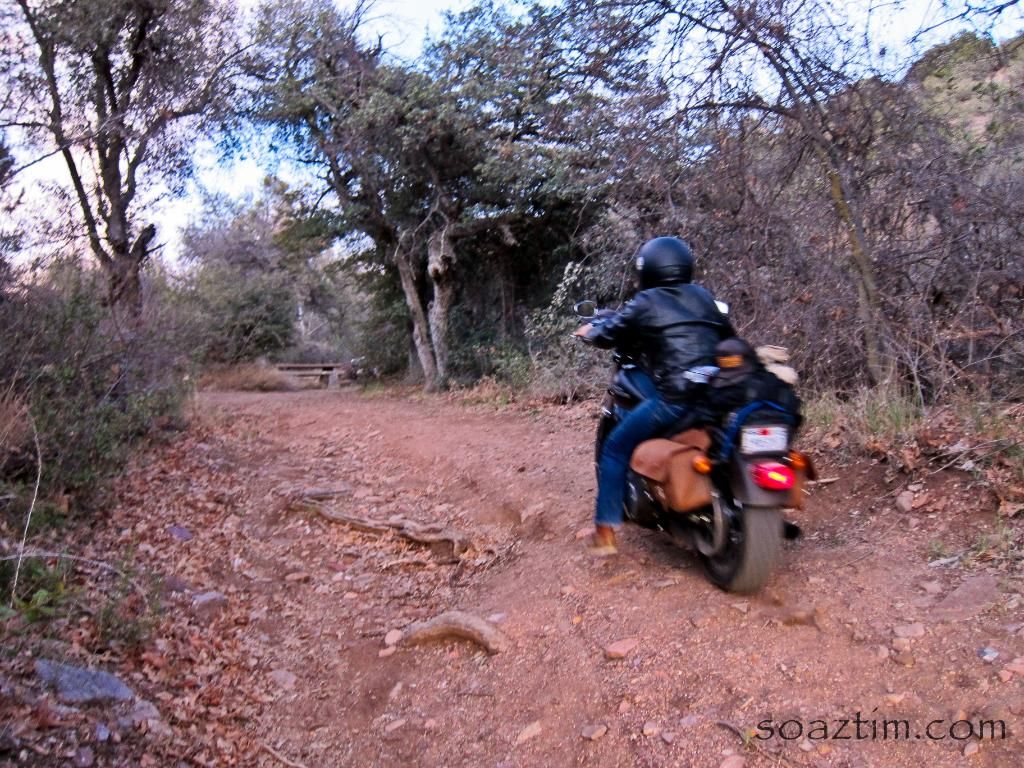 Up the hill on a Trump.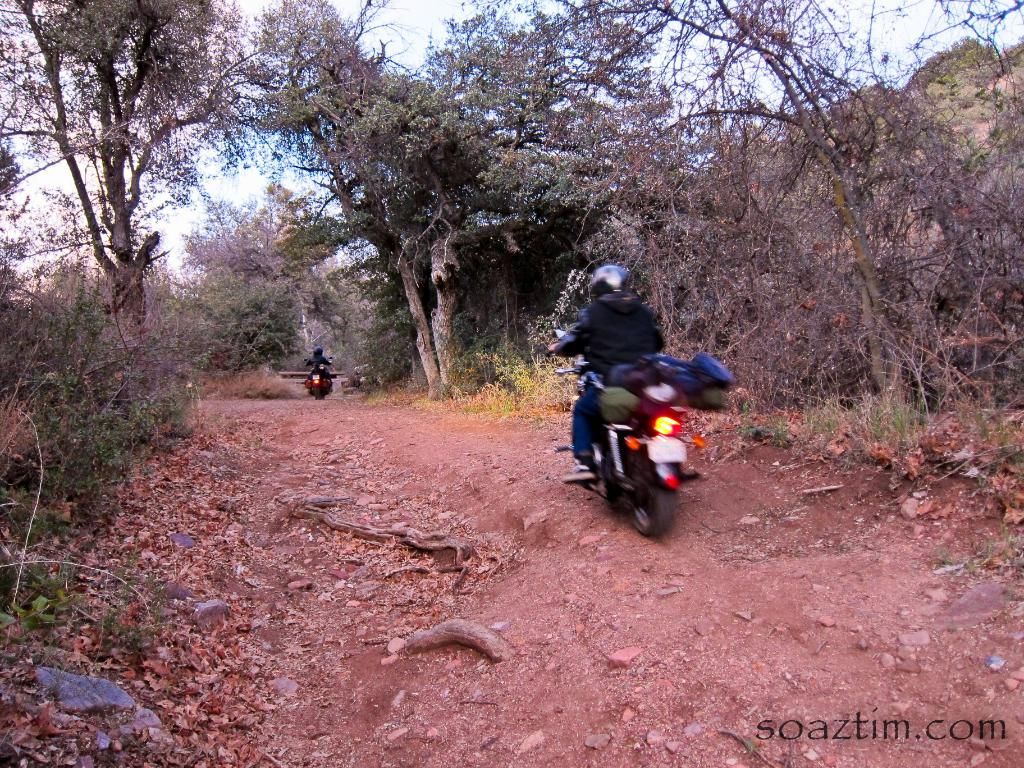 New tent, pad and bag are working great! Gotta love ebay and Big Agnes!!!!!
Monkey brought a lightweight "jungle bag" sleeping bag, but it wasn't all too warm. So he made an eagles nest on top of the table.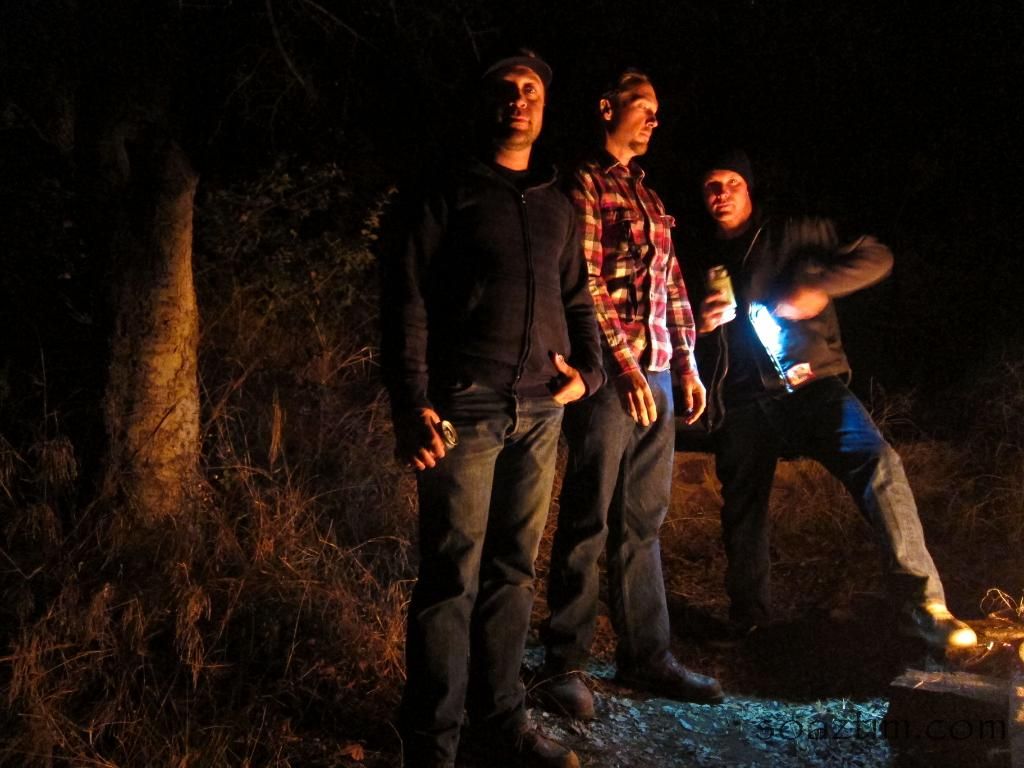 There are videos and a map, but those will have to come at the end because, I'm beat. It's late. Good night.