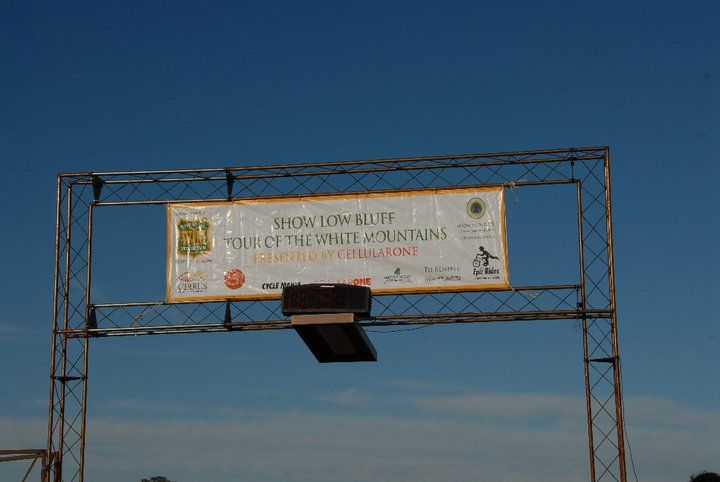 So I trained for the Whiskey Offroad in Preskit, Arizona. I got sick a week before and rode the event feeling barely alive. I was SO happy to finish.
Fast forward a couple weeks. I kept hearing all about the 29er fad and the Single Speed fad. What better way to try them, than both at once!
So I looked on Craigslist and found a cheap single speed 29er to try out. I WAS HOOKED. It was just so simple. I could ride and do the thing I like most, living in the moment and not thinking at ALL! haha. On a single speed there is nothing to think about besides pedal, turn, lean, pedal more!!!
I entered the Tour of the White Mountains race and figured, why not go for the gusto, so I entered the single speed 60 miler.
What luck I was number 29 on a 29ER!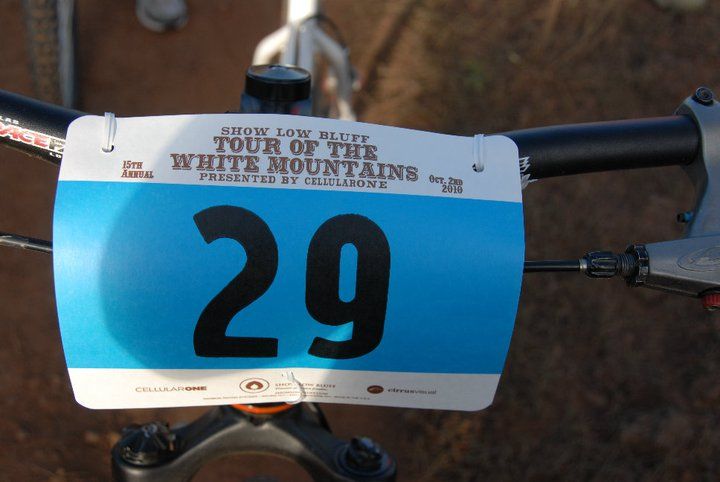 Camp Grounds!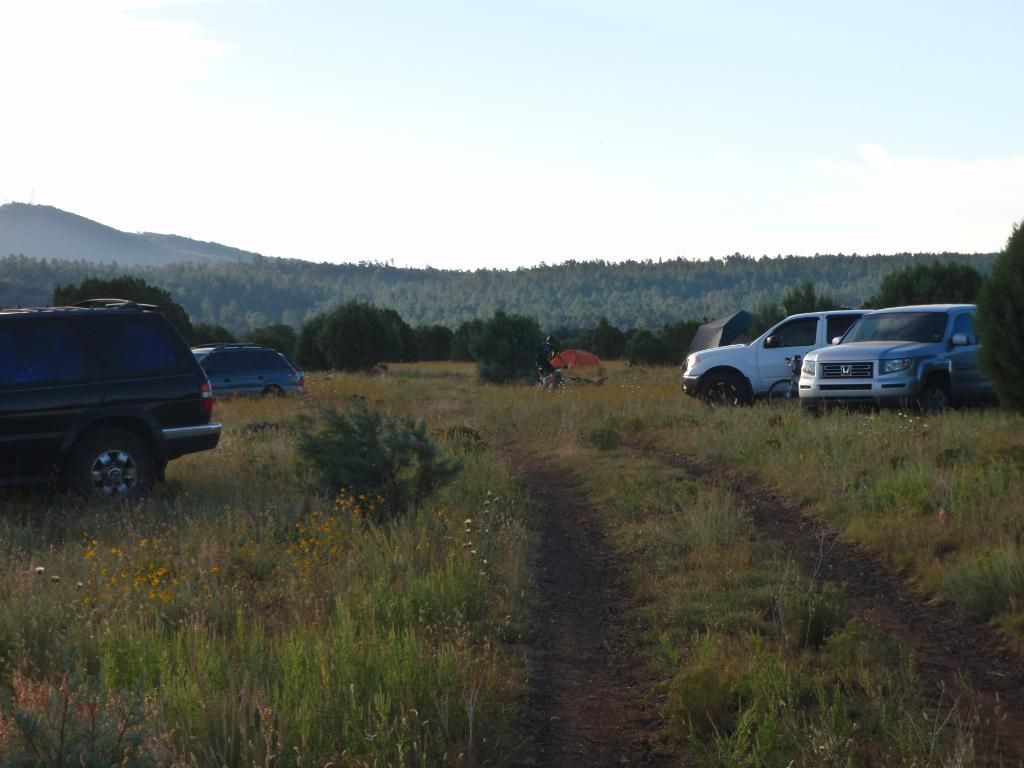 I "planned" on training, but you know how that goes. My big yearly motorcycle trip came up and I spent the month before the race working on a motorcycle or riding it around eating greasy spoon food and drinking copious amounts of beer. (yes it was as fun as it sounds), but it didn't do much for my training.
A buddy from the 24 Hours in the Old Pueblo team said he was up for it so we decided to ride together.
Jeff and I later at the start line.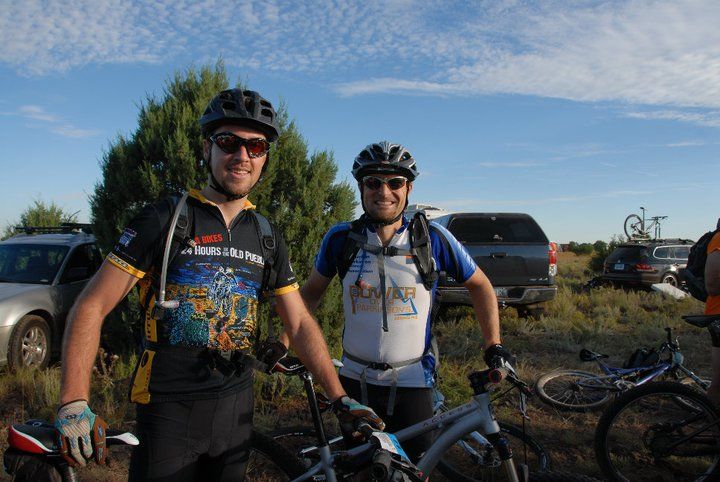 D and I escaped the Phoenix heat on Friday and headed for the hills! Friday night we hit up the riders meeting and got a giant pasta dinner! Todd, the founder of Epic rides who puts on these events, told us about the course and I couldn't help, but think that what he explained in ten minutes would seem so different the next day over 6 or so hours.
We met up with Heidi (who was riding her new bike or any MTB for that matter for the first time in many years), Damion (who is a road biking master, but a MTB newbish), Brandt (who is training for a marathon so his legs were mush starting out) and Jeff (who was on my 24 Hour team captain and has raced every endurance race I've heard of on MTB or Roadbike many times.
So, Jeff, Damion and I were the only ones brave enough (Stupid enough) to do the 60 miler of the group. We got up and met, well 2 of us met, at the start line.
Heading off! sloooooowly. (You'll not see Damion here as he missed the start of the race, but he got going just a little after. Oops!)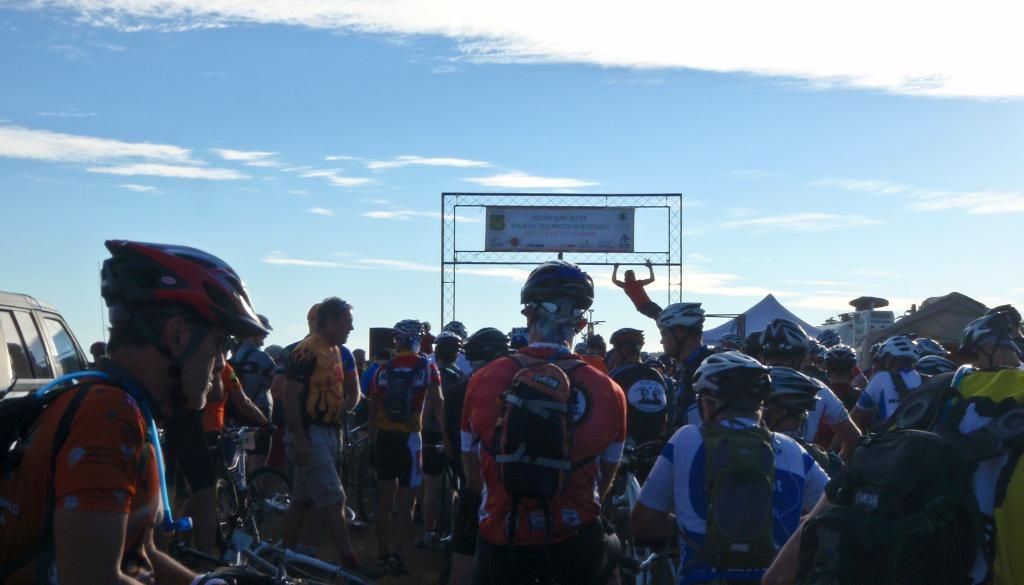 When you start everyone rides oddly slow, but we had a long way to go. As we made the first climb my front tire skewer was coming loose and so I pedaled ahead and got it tightened before the other riders caught up. (loosing my front tire would make for a difficult ride!)
We hit the fire road section that seemed to go on forever and Jeff and I had a bit of a scary moment when we both admitted that our legs already hurt just a bit. I was glad that I wasn't the only one, but yikes it was early to feel any pain.
We kept it slow and easy and eventually seemed to go about the same pace as a guy named Rich on another single speed.
We road together and chatted away the miles. We'd catch the geared guys on the slight up hills and then they'd say hello as they passed on the downhills. It was actually pretty entertaining. We enjoyed the aid stations and shoved as much food as we dare in our faces for energy. There were hills that were so steep that hiking up it was almost impossible let alone riding. We just kept plugging away!
The single track was great! We had a huge mountain storm looming above our heads which was great motivation to KEEP PEDALING DAMNIT!
We went through many miles of lava rock. These sections were like mine fields. Pick a perfect line dodging them and it was smooth, get off that line even an inch and BAM you would case your pedal or chainring or time into a rock the size of a head of lettuce. As we got tired we'd hear the metal noises ring out more often. Fortunately none of us went down. I did watch two people just in front of me go down. No injuries except to skin and pride.
Somehow, for some reason, the later in the race it got the better I felt. Well, not exactly, I was in a ton of pain, but somehow the energy was there. I credit Oreos and animal crackers at the aid stations. We kept plugging along and passing other rides. My hamstrings got so tight I could barely move my legs. I would try to stretch while riding, but it proved a little to risky when every time I'd try to stretch a errant rock would "jump" in my way!
After what seemed like a lifetime we started to get within earshot of the finish line. In a sick way I didn't want it to be over and on the other hand I wanted to stop right then and just sit down!! A bit conflicted you could say...
We pulled up three abreast and finished the race side by side. I can't tell you how good that felt. What a long day. What a great day.
We sat around and ate, drank free beer from New Belgium brewing and listened to how much faster the pro's were than us.
Filthy and happy!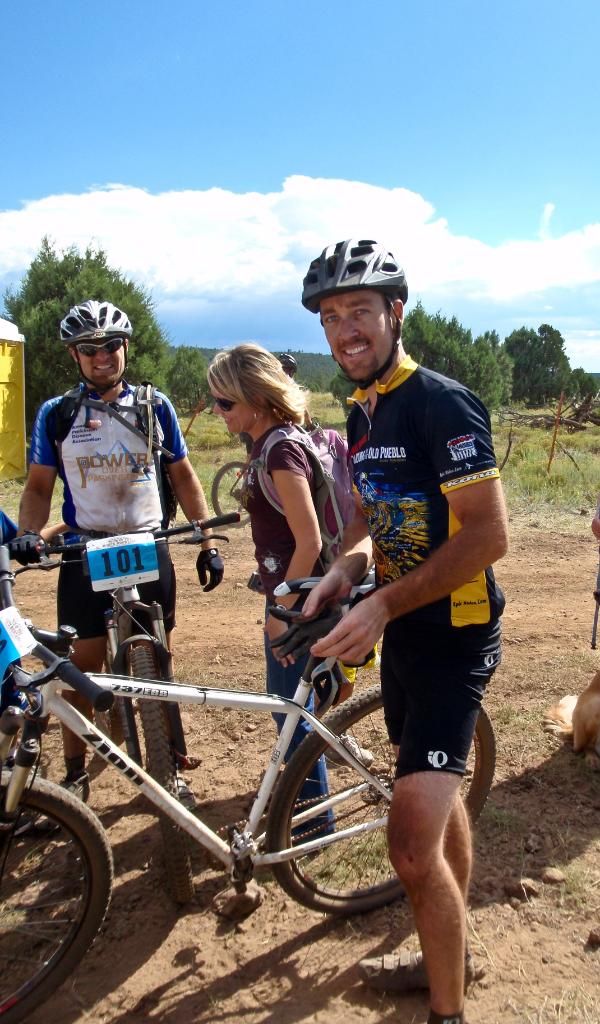 Danica's not scared of some dirt!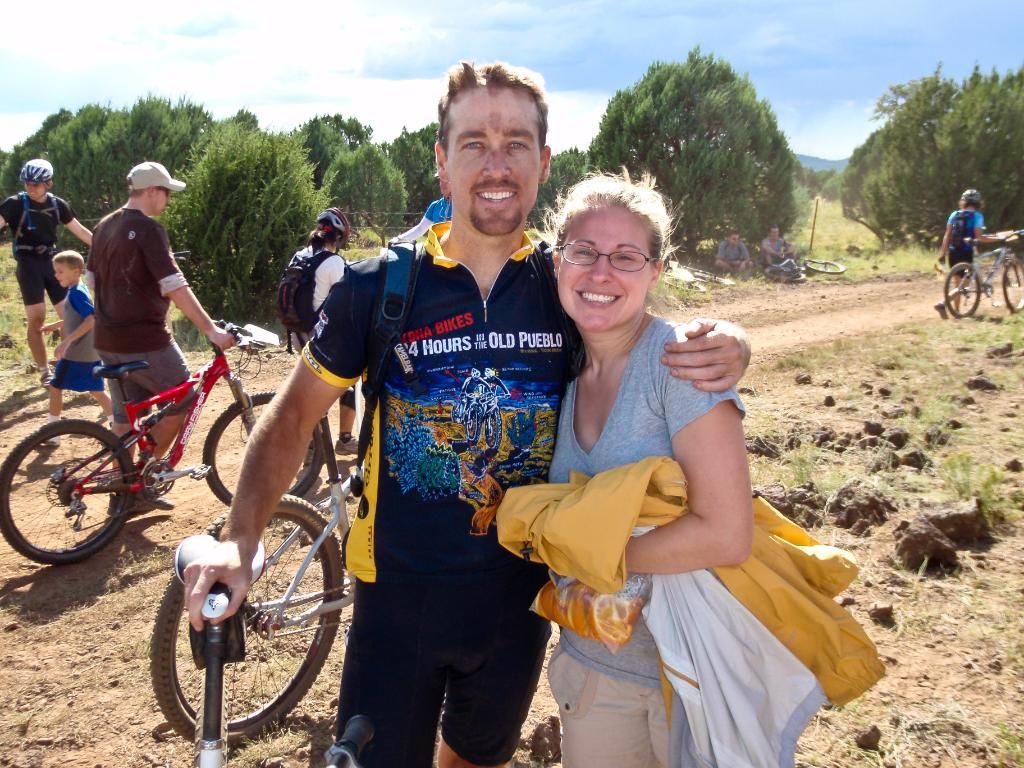 The story sort of ends there, but that's not quite it. Here are some pics of what I missed. Danica took some pics of the other folks getting ready.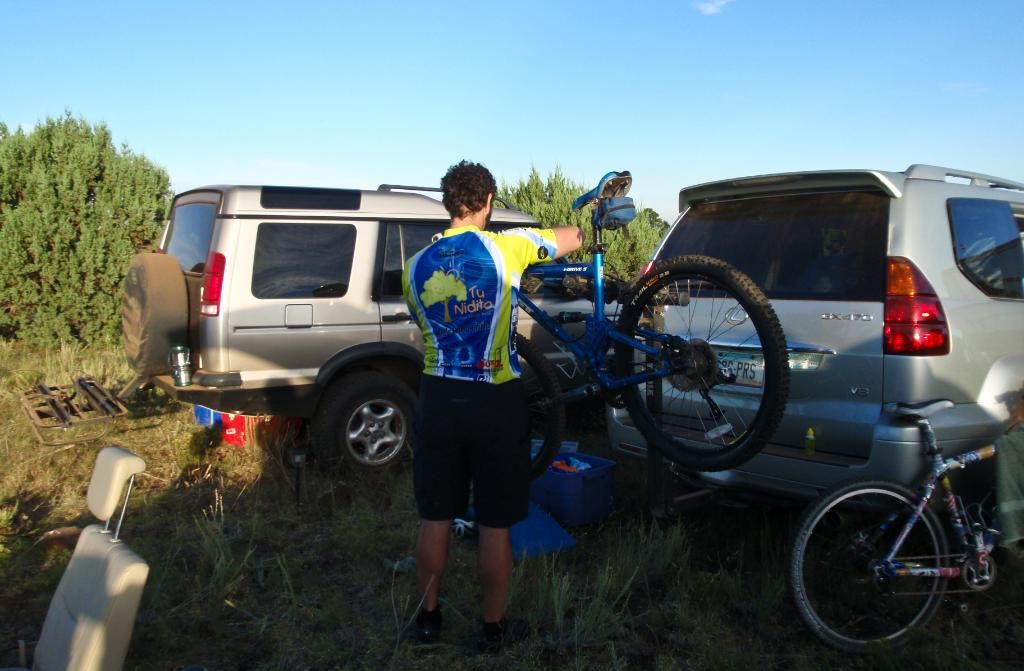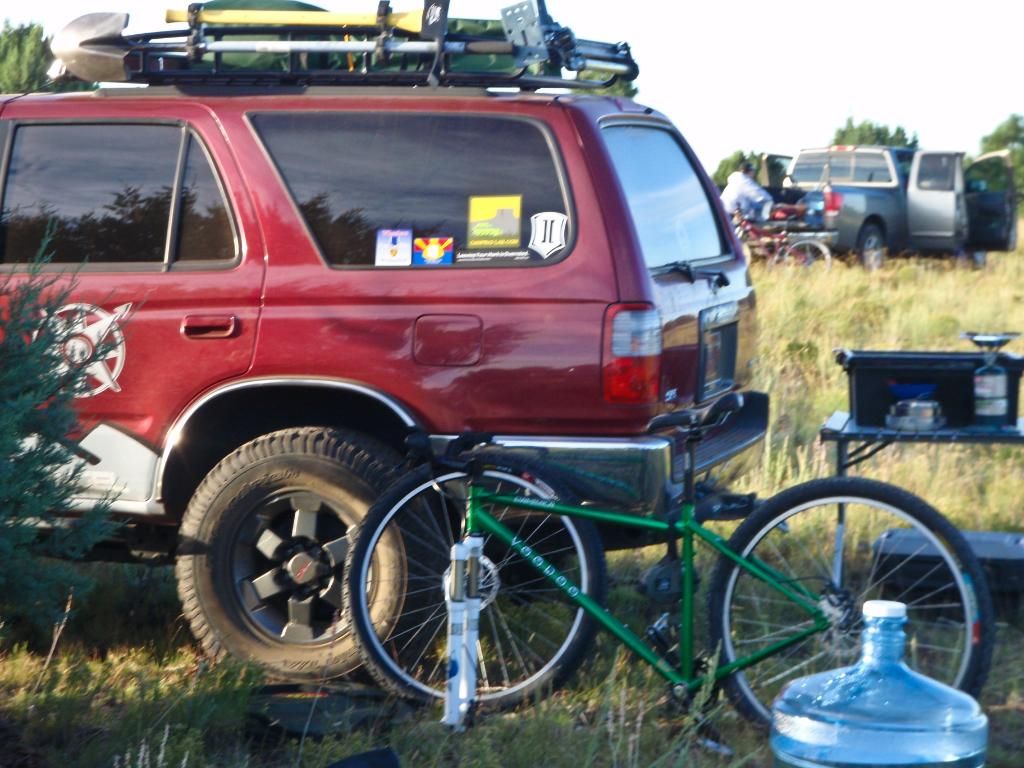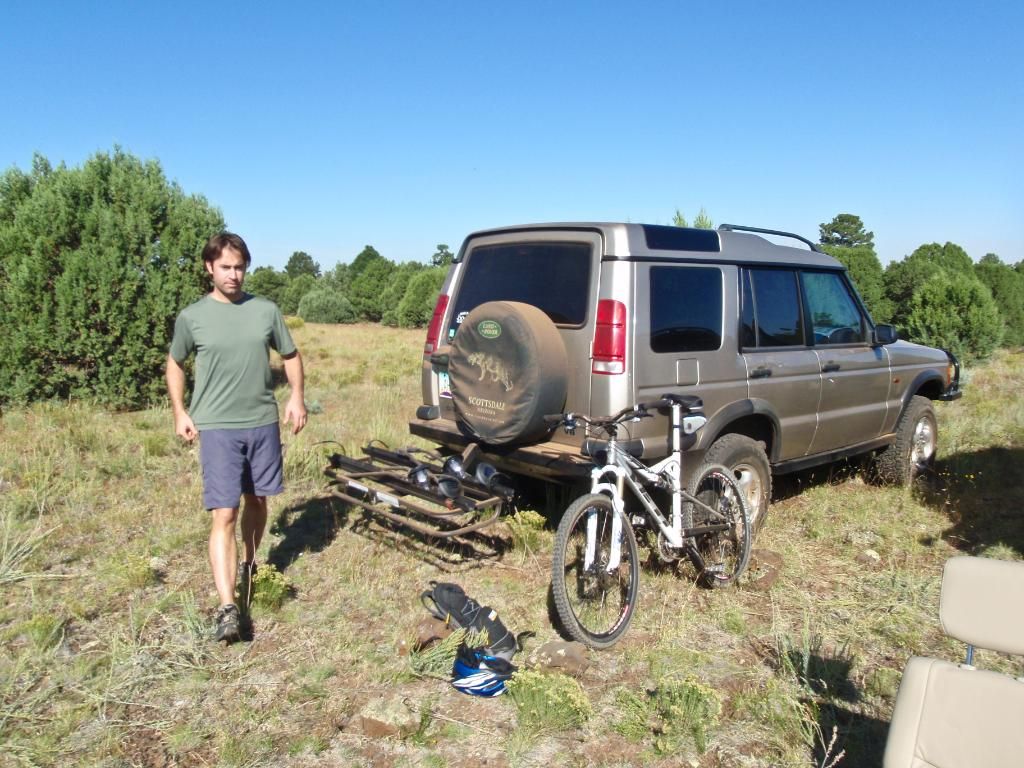 Brandt finished his race although I know his legs were jello from training for a marathon. Heidi had bike issues with her new bike and had to walk several miles to the finish and Damion finished in just over 7 hours which wasn't bad for missing the start and stopping for tons of photos!
The STICKER bike. Watch out for it!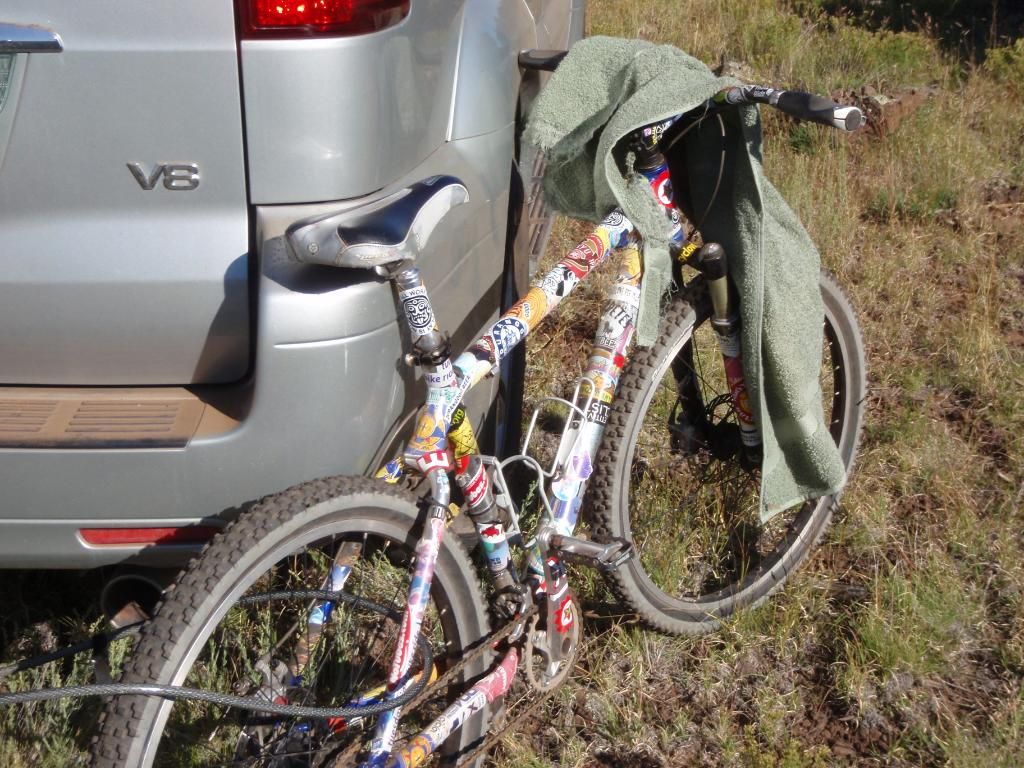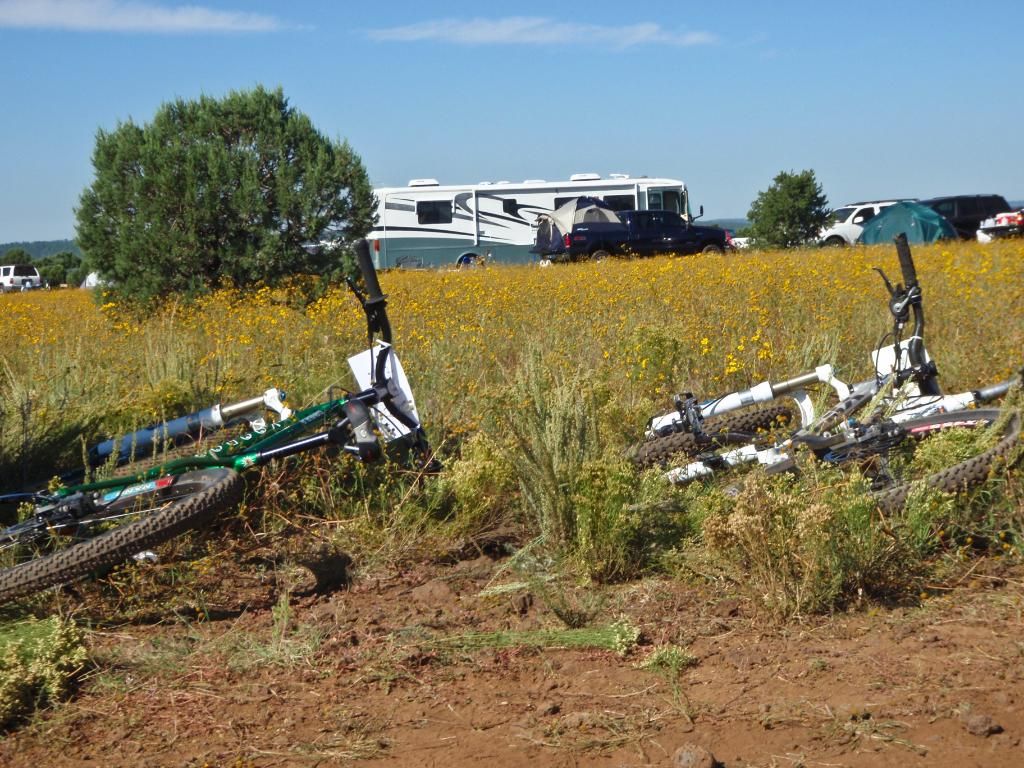 Camp!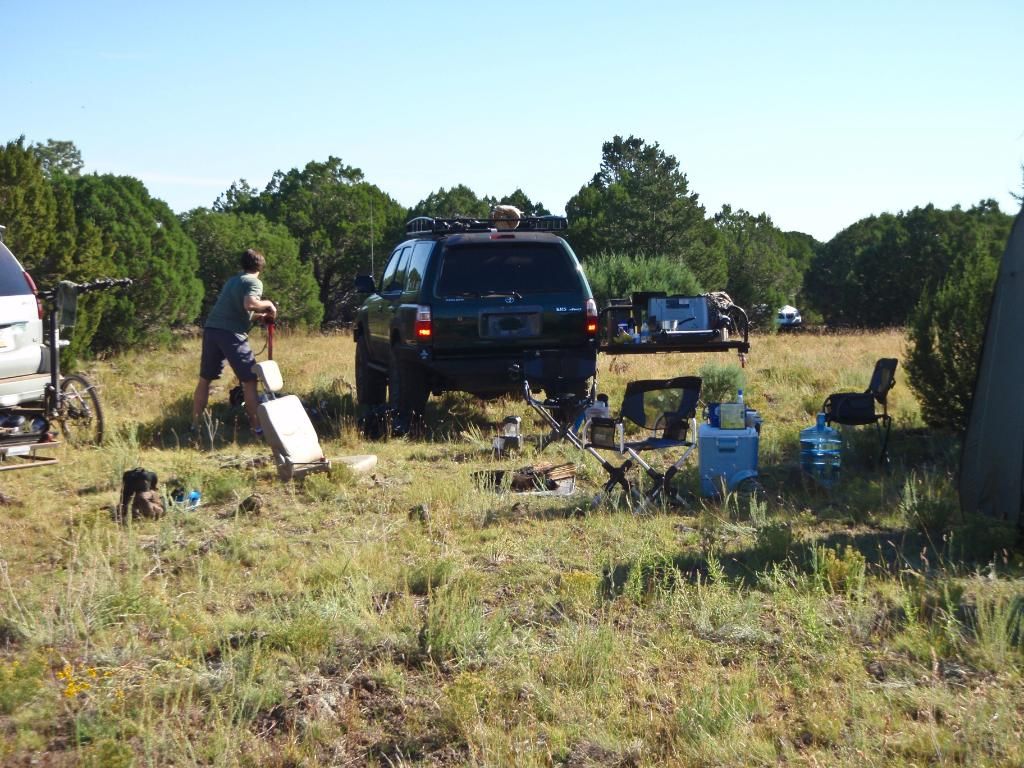 We hung out in camp and I tried to convince my friend Rachael that canned beer can be good or even GREAT with some Dales Pale Ale and Kiltlifter!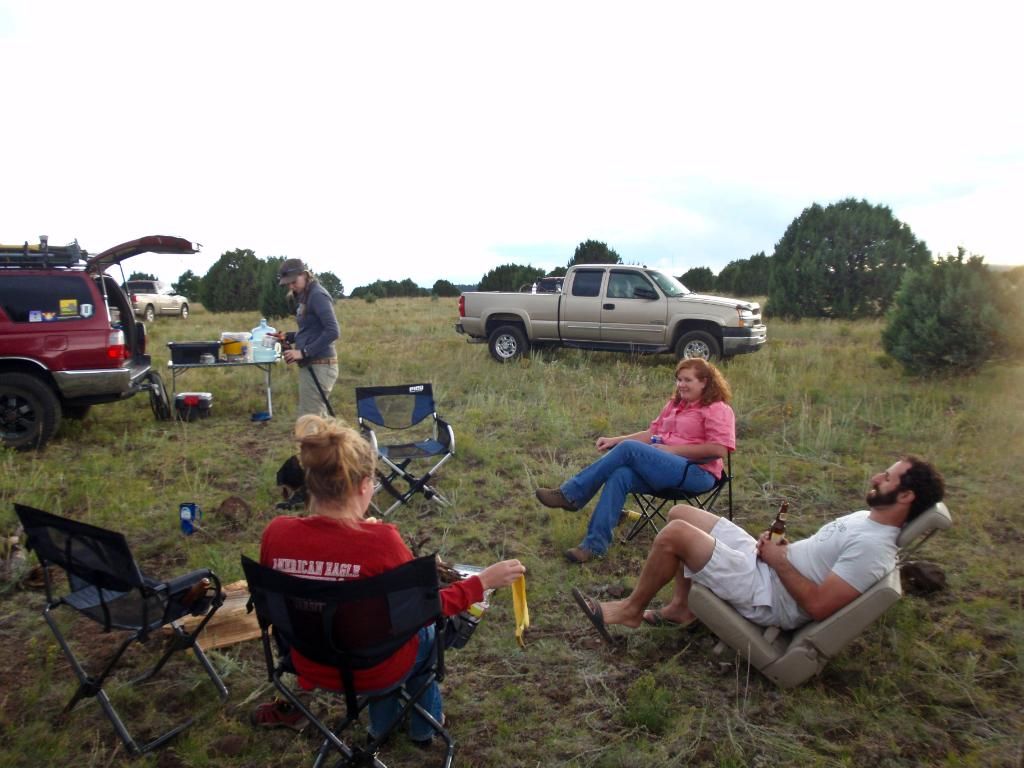 Killer sunset! Good fire! Good times!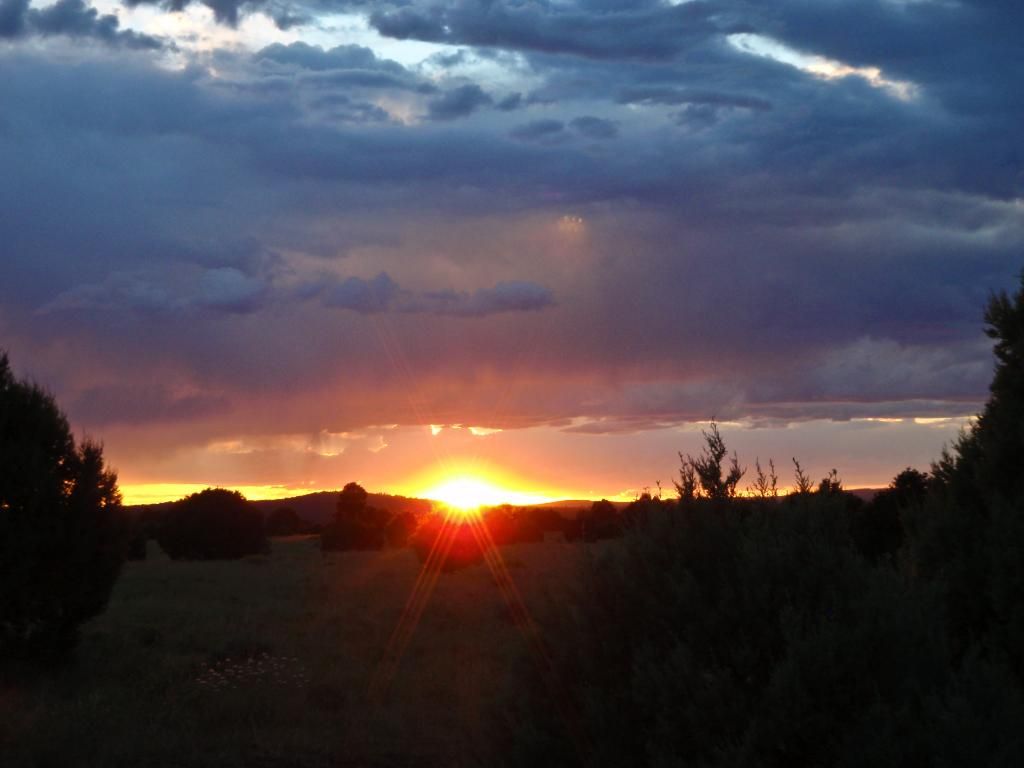 Gotta say, I love this heavy cheap bike! I decided that after 60 miles I finally earned a single speed bell so I gave some money to epic rides for a SS Bell!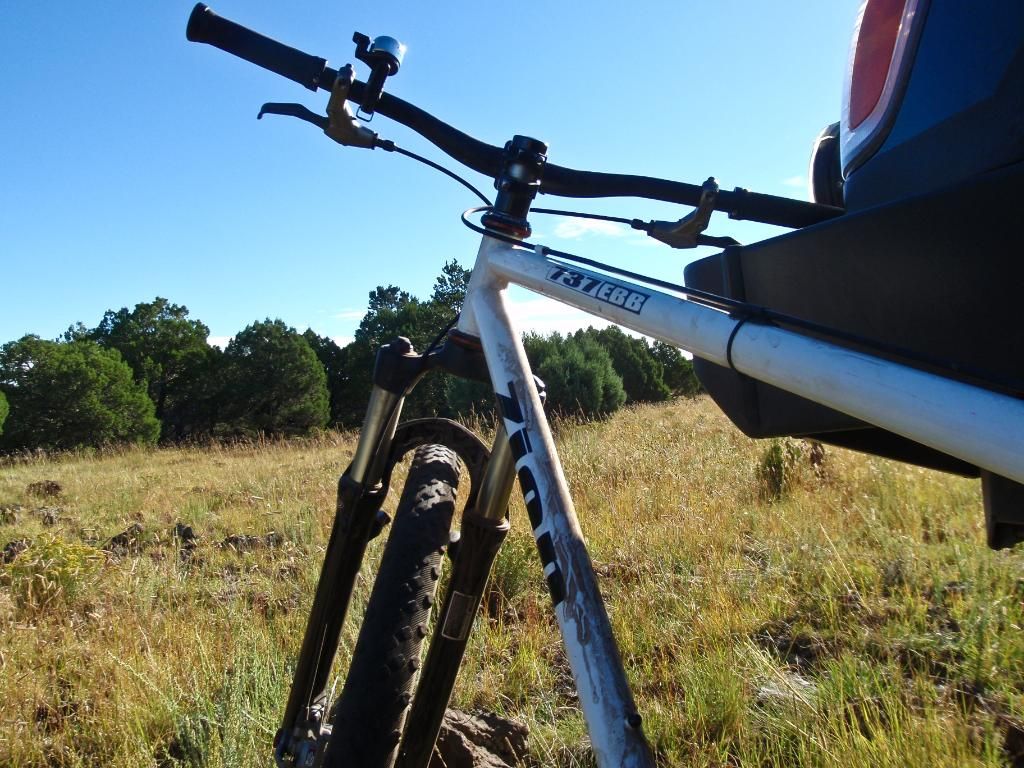 Thank you bike. The EBB (Eccentric Bottom Bracket) was mostly quiet, but it always let's you know it's still there.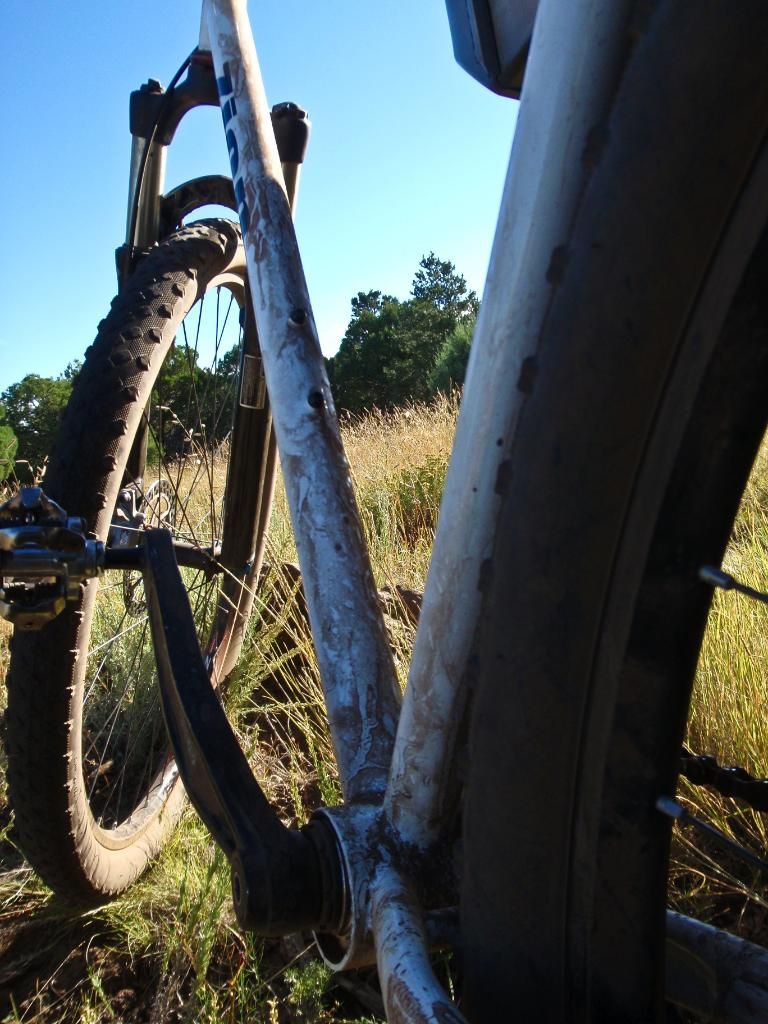 Thank you Seat! My butt hurt most of the ride, but it was tolerable which is A LOT better than any other seat I've owned! This VIGO made by WTB is pretty solid. Still gotta wear padded shorts of course.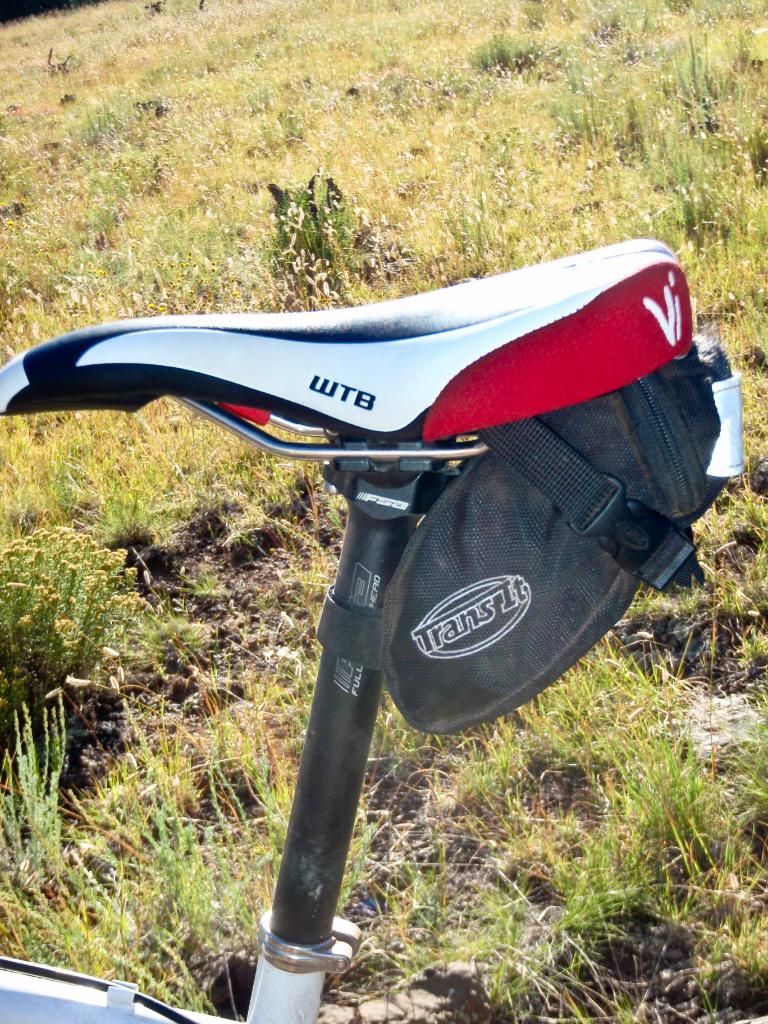 As a side note on the way home the next morning we saw a guy who had gotten a nice Elk. Looks delicious!
The drive home. Hmm. Good road for a future motorcycle trip report, eh?
Next up, the El Tour de Tucson on road. Dawn to Dusk on Dirt. Better start carb loading on HoHo's and Twinkies now!!