SCHEDULE OF EVENTS:
Saturday February 6th. 9am-3pm.
THE CLEANUP IS BEING HELD ABOUT 25 MINUTES FROM PHOENIX, AZ.
To get to the cleanup head towards PAYSON, AZ on the 87 (Beeline Highway). After you past the bush highway exit look for signs leading you to turn right on FOUR PEAKS RD. The sign in table/headquarters is less than a mile from the highway.
9am- Cleanup begins. (Most people come and go as needed. This is just the official start time to shoot for.)
1pm-3pm Hot dogs and pizza will begin being served for lunch. Drop by as you bring a load of trash to the dumpsters.
3pm- We will hand out one raffle ticket to EVERY volunteer present for the give away. You must be present and listening to your number being called out to win!! :)
4pm- We all go home very tired and satisfied with a great day behind us.
SUGGESTED ITEMS
1. Gloves
2. Hat
3. Long pants
4. Sun screen
5. Close toed shoes.
Optional
-Rake or shovel.
-Camelback or way to carry water.
-Pickup truck or trailer to carry trash bags to dumpsters.
Communication: I will be on CB RADIO Channel 4, FRS Radio Channel 4 and HAM 2 Meter Channel 146.460.
See you there and Thank YOU!
Tim Huber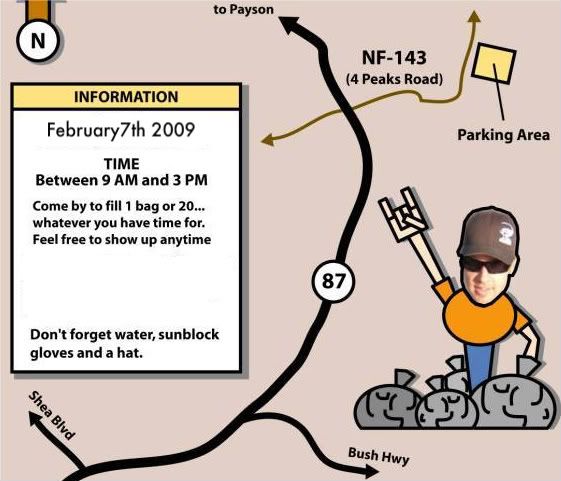 Say hello and thank you to all of our great sponsors like John Hunter for example.
John has been at every cleanup and in addition to building amazing offroad machines like his Sheriff's department rock buggy is also a volunteer Sheriff. He keeps everyone safe at the cleanup!!!'
Check him out at www.hunteroffroad.com