It's been a great and tiring 7 days. It all started on Saturday February 6th with the Four Peaks Pickup and it ended the following Sunday morning when I rode my final lap of the 24 Hours in the Old Pueblo.
The Four Peaks event is great, but after hundreds of hours before and a couple hundred more after the event of work I was ready for some fun.
I have found that there are two types of people in the world when it comes to fun. Those that like laying on the beach relaxing and those that put more work into their vacations than any job could necessitate.
Maybe it's some sort of feeling that life is a bit run of the mill or that normal work just isn't a challenge. Maybe it's just a deep seated drive to fill some hole or fix some mental gap. I've never really over thought it.
For Example: I do know that for me, triumphantly standing on the roof of a race car at 2am on a mostly deserted street in Baja after coming in last place on three wheels that cost me blood and brain cells does more to quiet my sole and make me feel alive than any amount of relaxing or umbrella filled drinks could ever.
Four Peaks was over. Thankfully. We took a break while waiting on trash tonnage numbers and dollar amount totals came in and I focused on getting ready for the race, finally.
In a perfect world I would have been down there Thursday prerunning the course. In this world I was headed down the night before just after work and I would run the race not seeing the course.
We enjoyed a nice sunset along the back way to Tucson.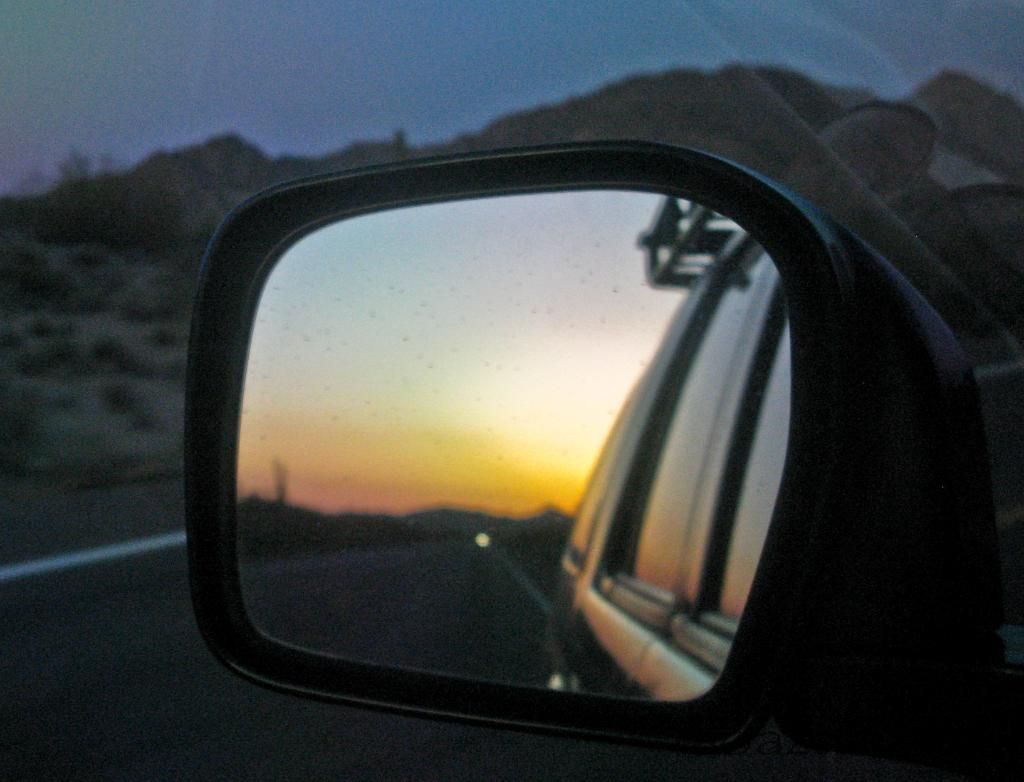 24 Hour town that sprouts up out of the desert each year.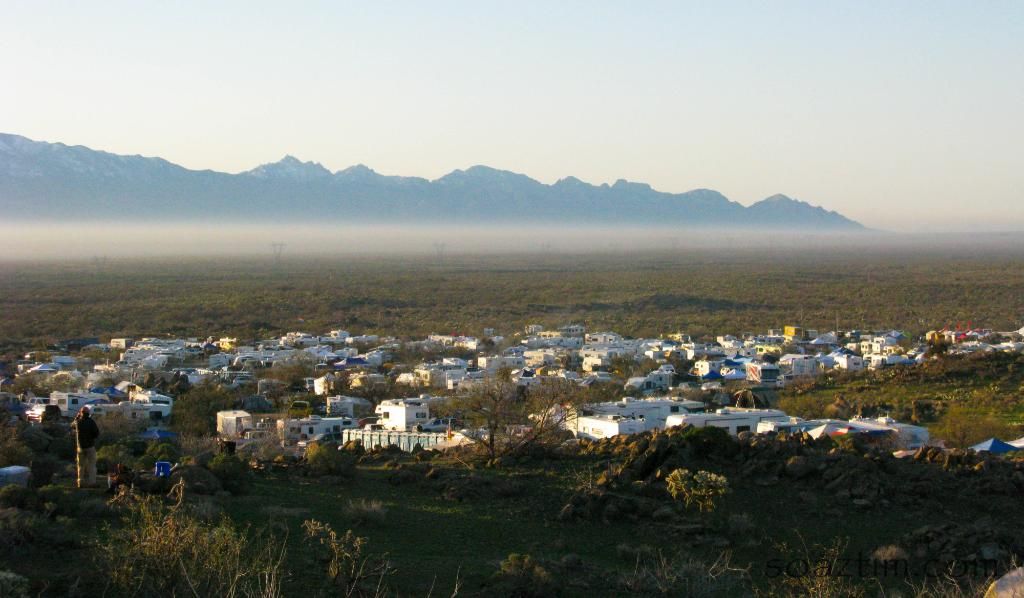 Camp for Team Molasses.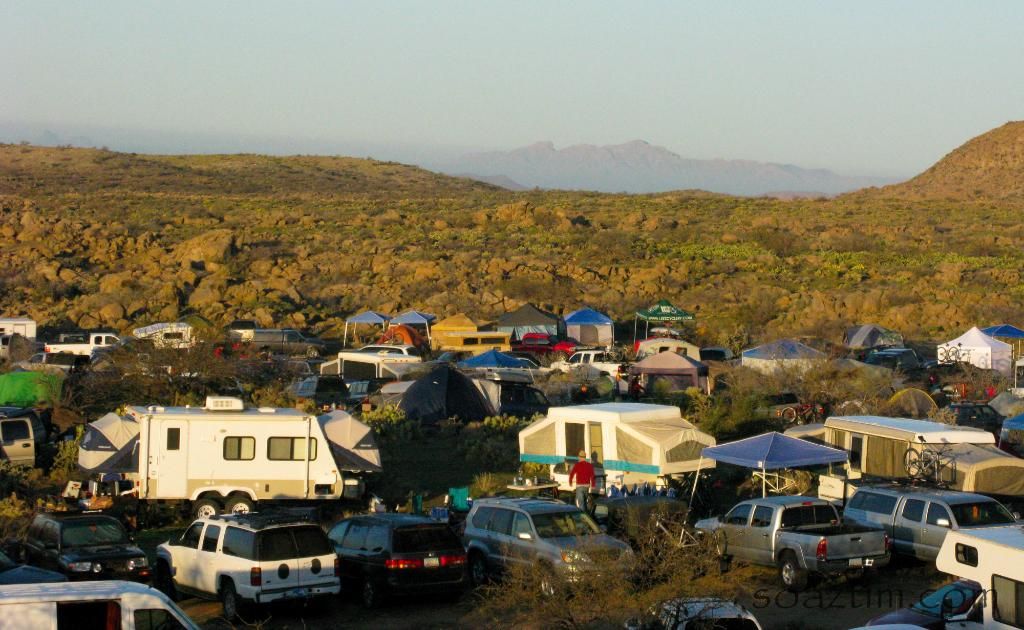 Start Finish line.
If you want quiet camping you better get off the main road. The desert was nice and green. Great winter as far as rainfall goes.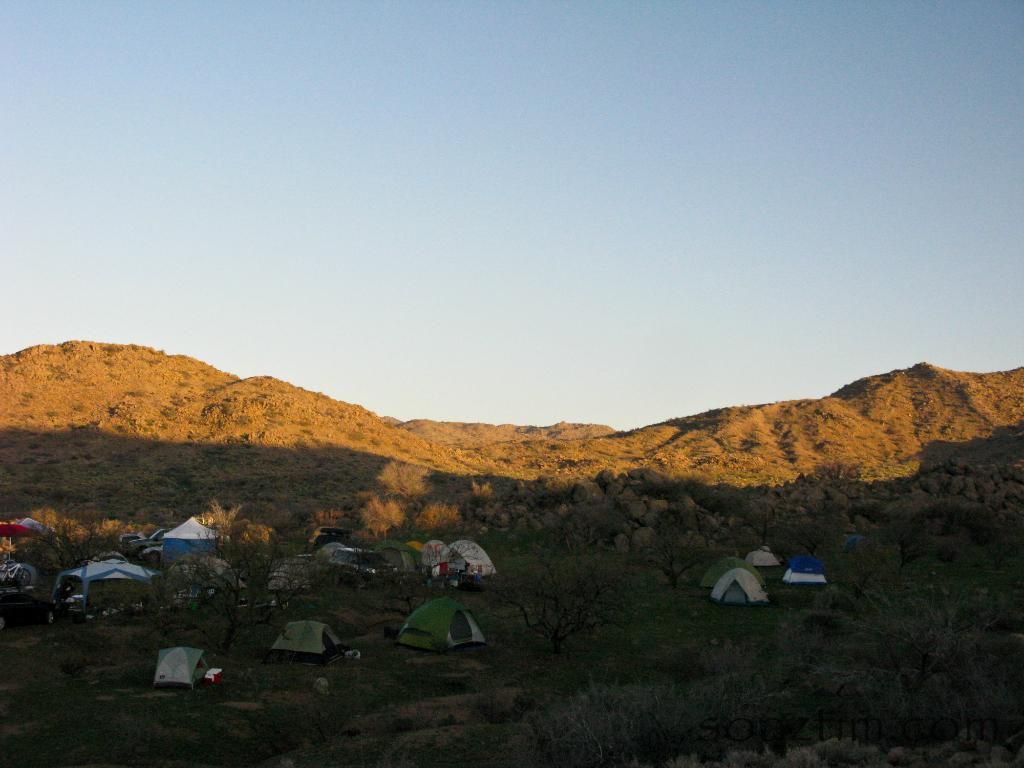 The misty morning fog.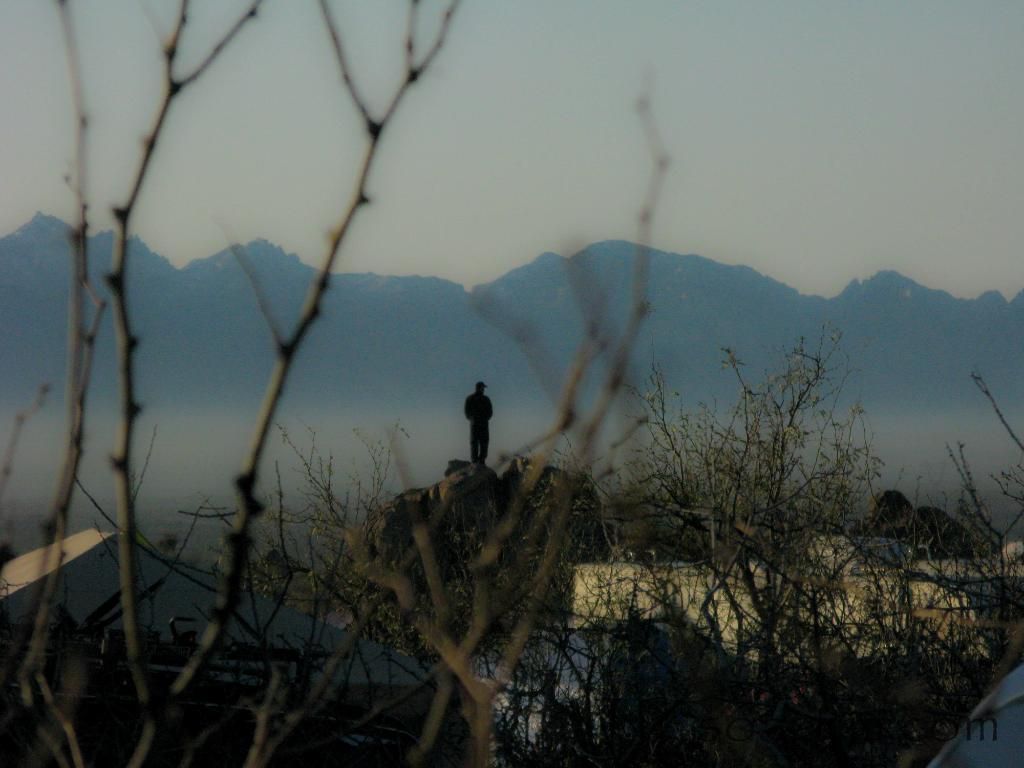 I couldn't seem to get the air bubbles out of the brake lines. So, who needs brakes anyway. I just had to remember to prepump the brakes before every turn. I only forgot every other turn or so.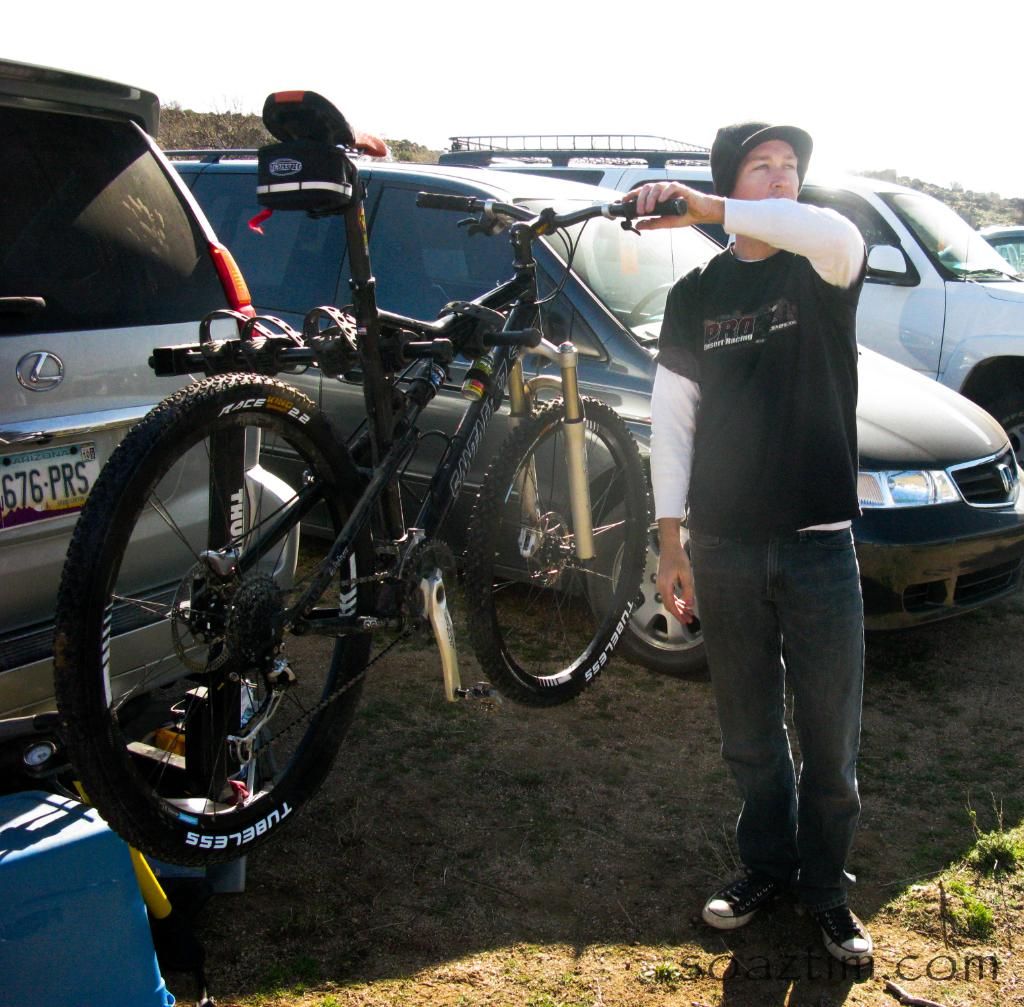 I'm horrible about stretching. Before I rode a 24 hour race I was all about it though!! Any little help I could get.
I was suckered, I mean HONORED by my fellow team mates into running the start of the race. When you have thousands of entrants and over 500 starting the race at the same time you need to spread them out. After all, the race course is mostly single track.
I borrowed some comfy shoes for the run!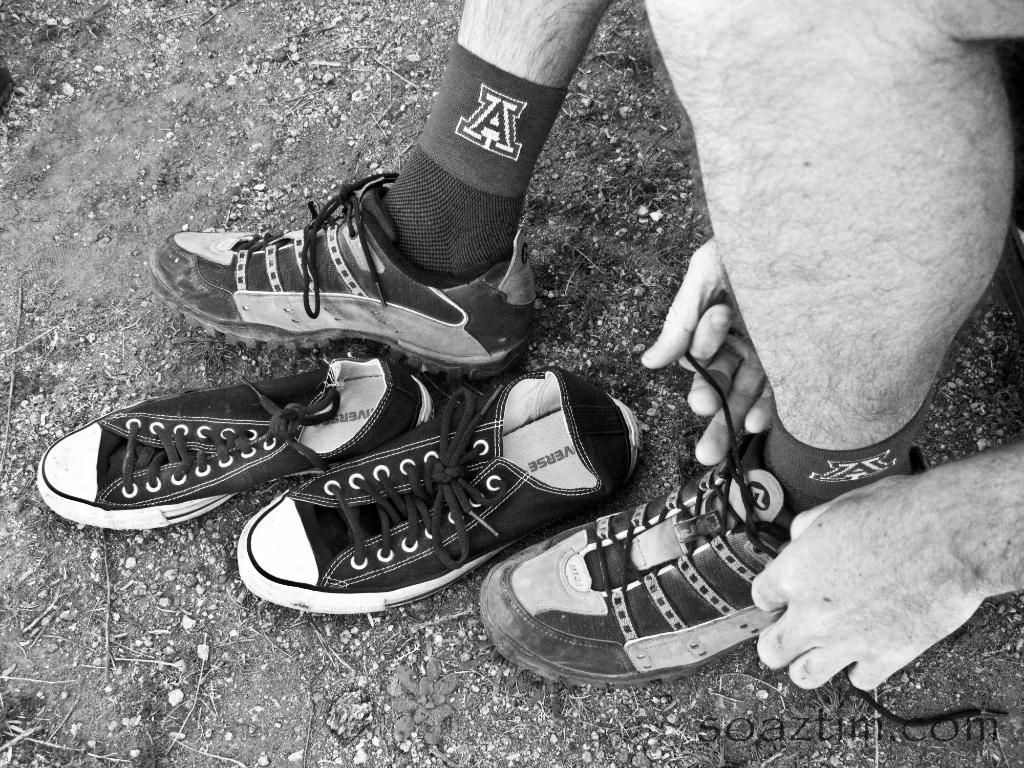 They had us set up on the top of a hill about a half mile from our bikes. When the gun goes off everyone starts running. (background: I gave up running in highschool and avoid it in most situations except bears and manson family people chasing me.)
Here is someone elses video. I was in the front... at the beginning.
I did have the benefit of riding the course one time 8 years ago while in College. I know it sounds silly, but I have this weird knack for remembering terrain. When I pulled into 24 hour town in my truck the whole course started coming back to me. Not where any rocks or cactus were, but which general direction the course went and where the fast sections were. I also remembered where the agonizing sections were.
Danica held my bike for me and made sure I grabbed the right one once I ran up and was a bit delirious.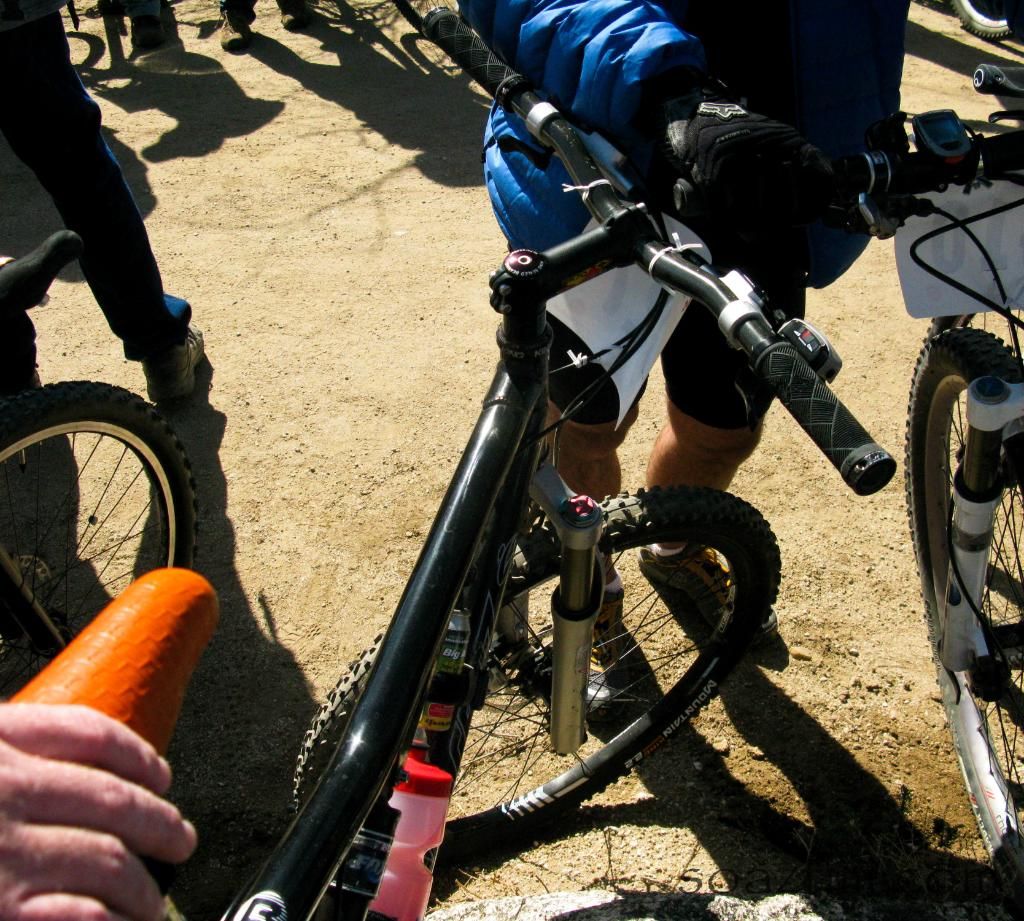 Off I went. I have to admit I pushed it pretty hard for the first lap. Because I ran so hard I got passed by a lot of pros in the first lap.
About a mile away from the end of the first lap I changed gears and BAM my chain got stuck. It was wedged in between two of the big sprockets worse than I'd ever seen it. DOH! I had almost all down hill between me and the finish line. I tried to keep my speed as much as possible by going too fast at times and then I unclipped and pushed my bike along like a scooter when I got too slow. Again and again I scootered along getting a lot of weird looks and yells until I crossed the finish line of the first lap. Phew!
All around the lap there are these cool sings of encouragement. There are some that name particularly evil cactus too.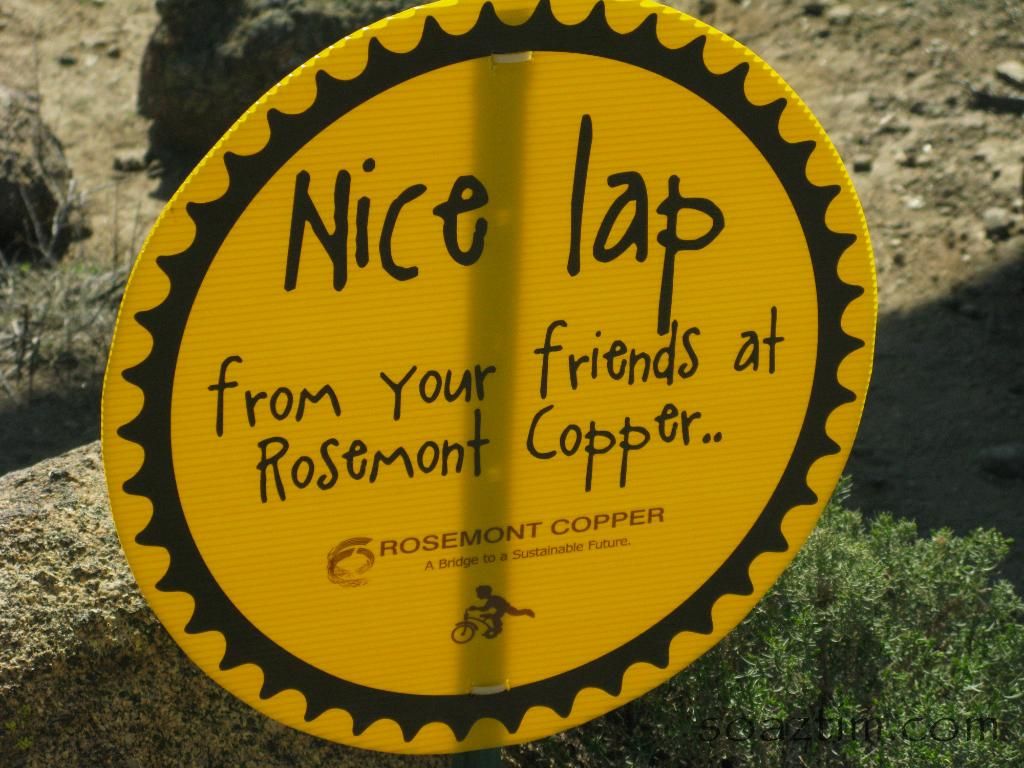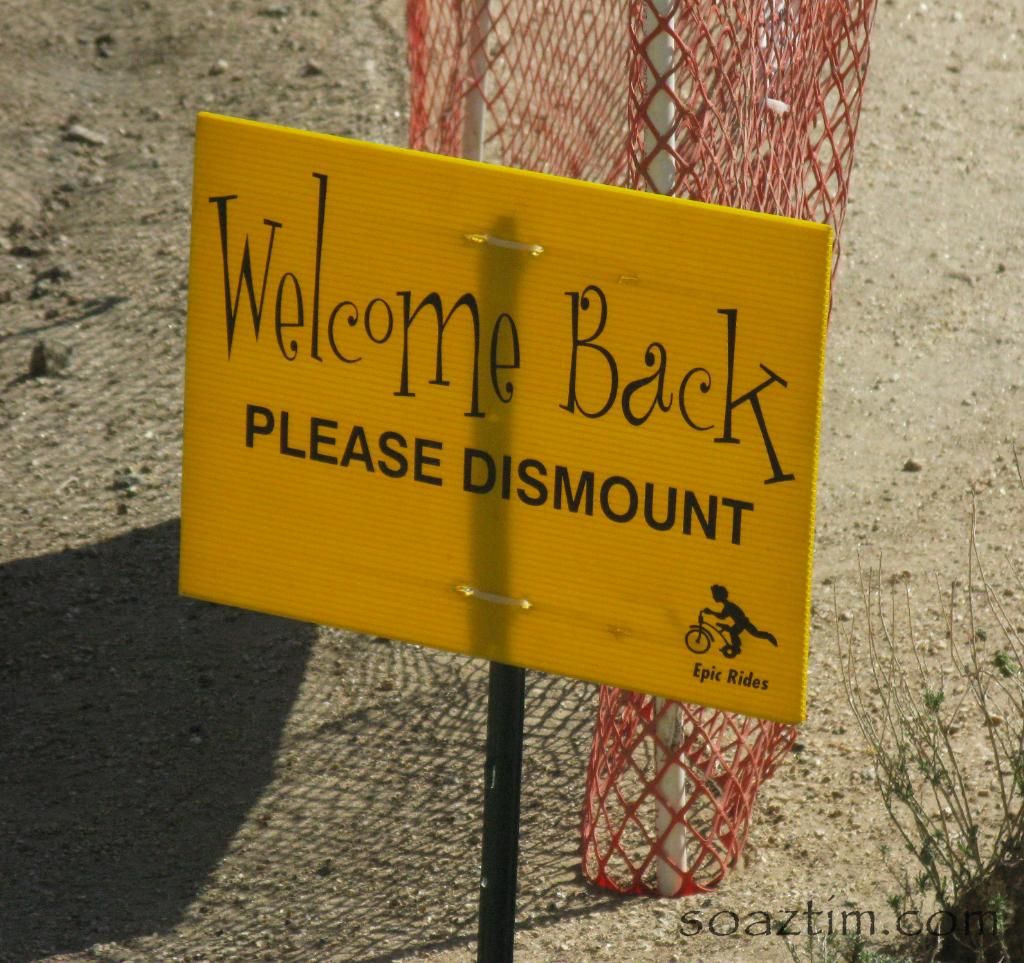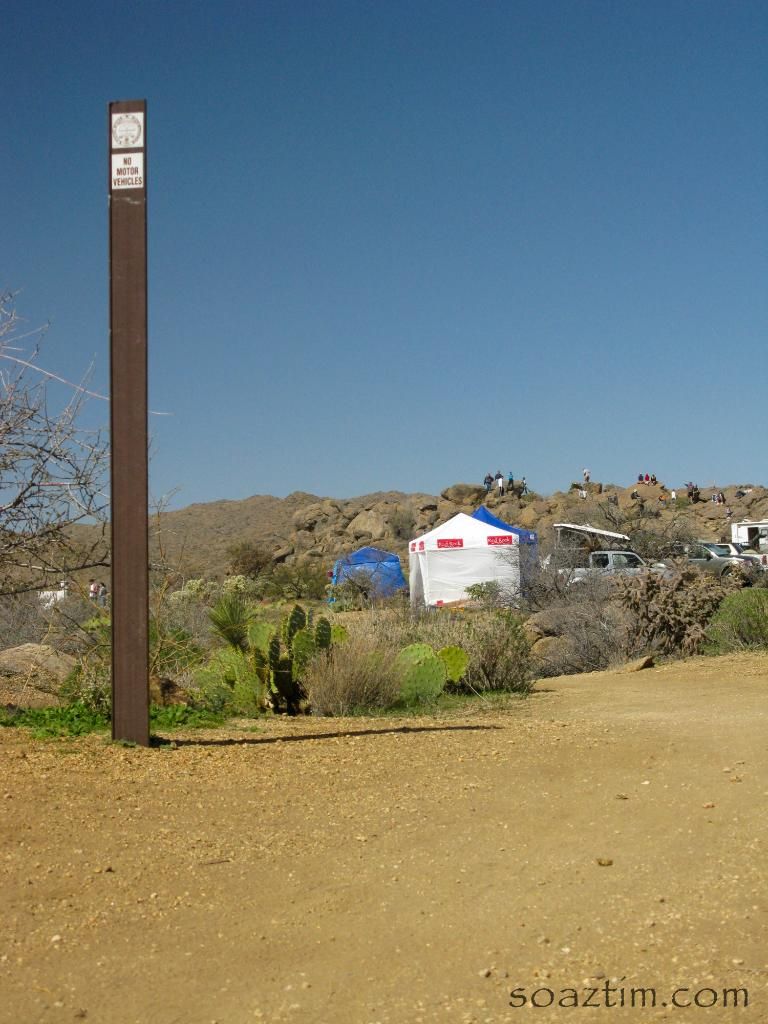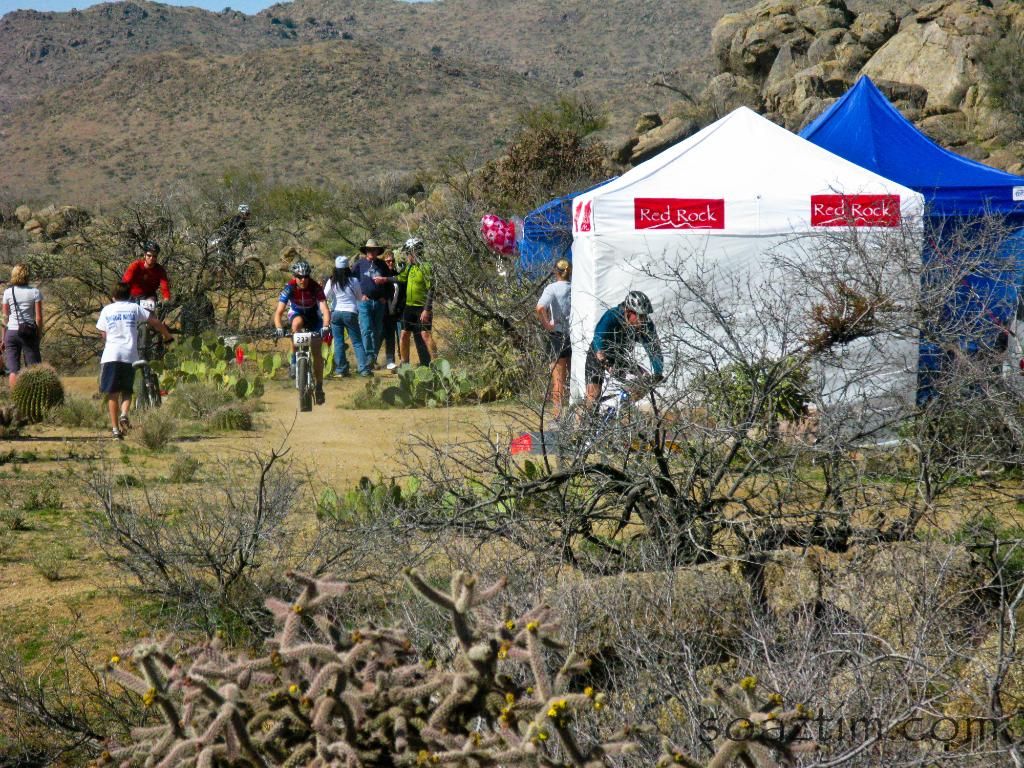 I brought every pair of riding shorts and jerseys that I own. Just in case I ruined each set as I rode! :)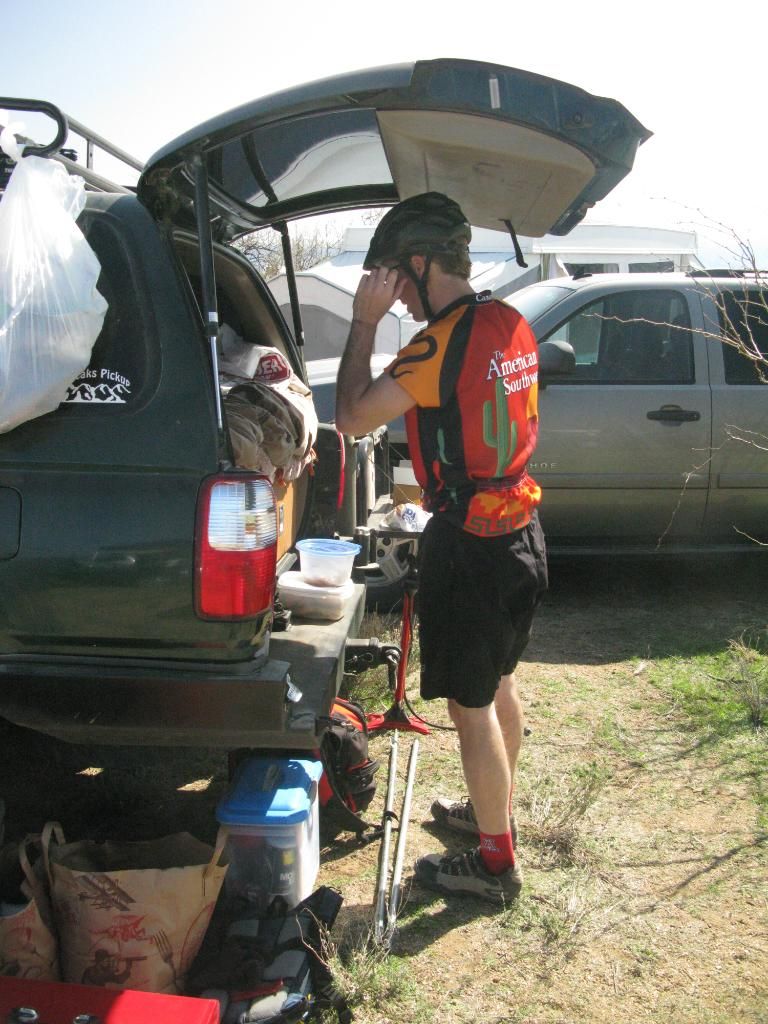 Here are some shots of the technical option towards the end of the course: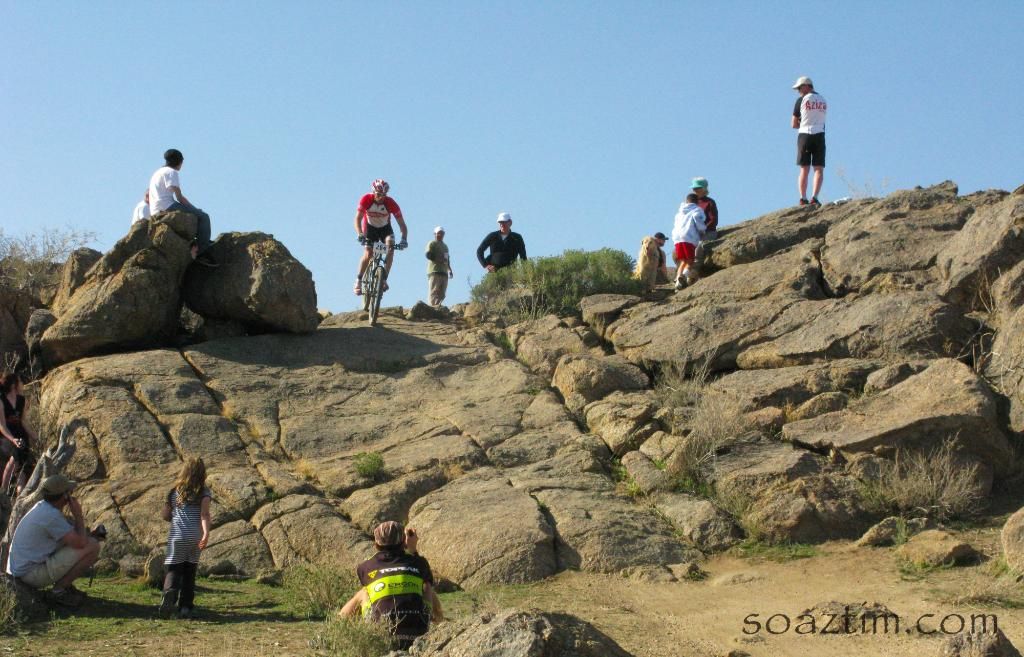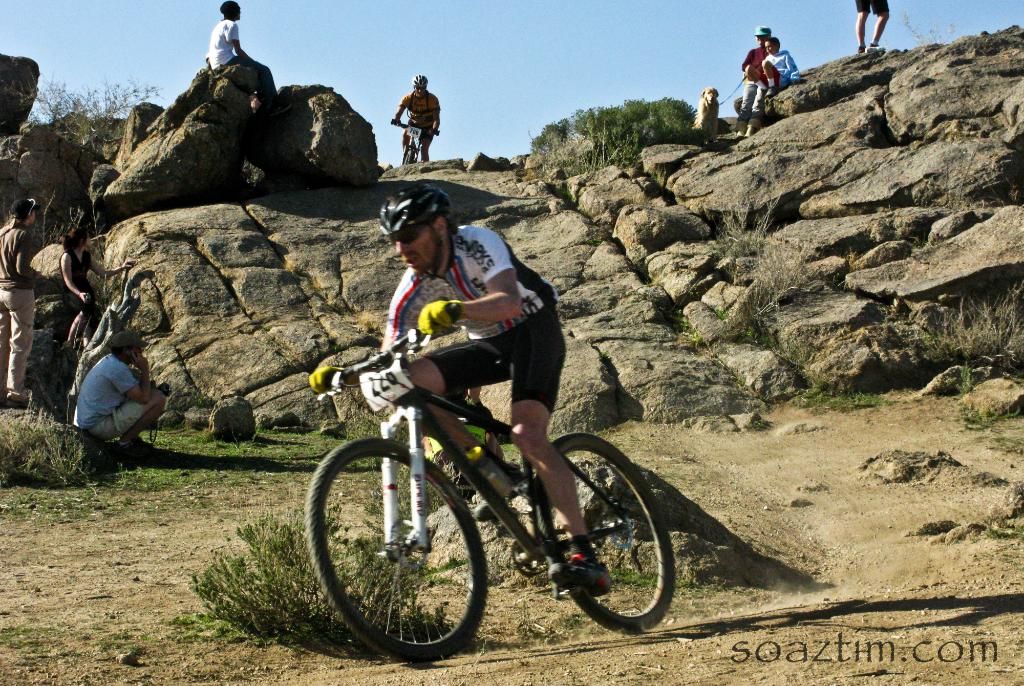 My bike waiting for me to exit the baton hand off tent!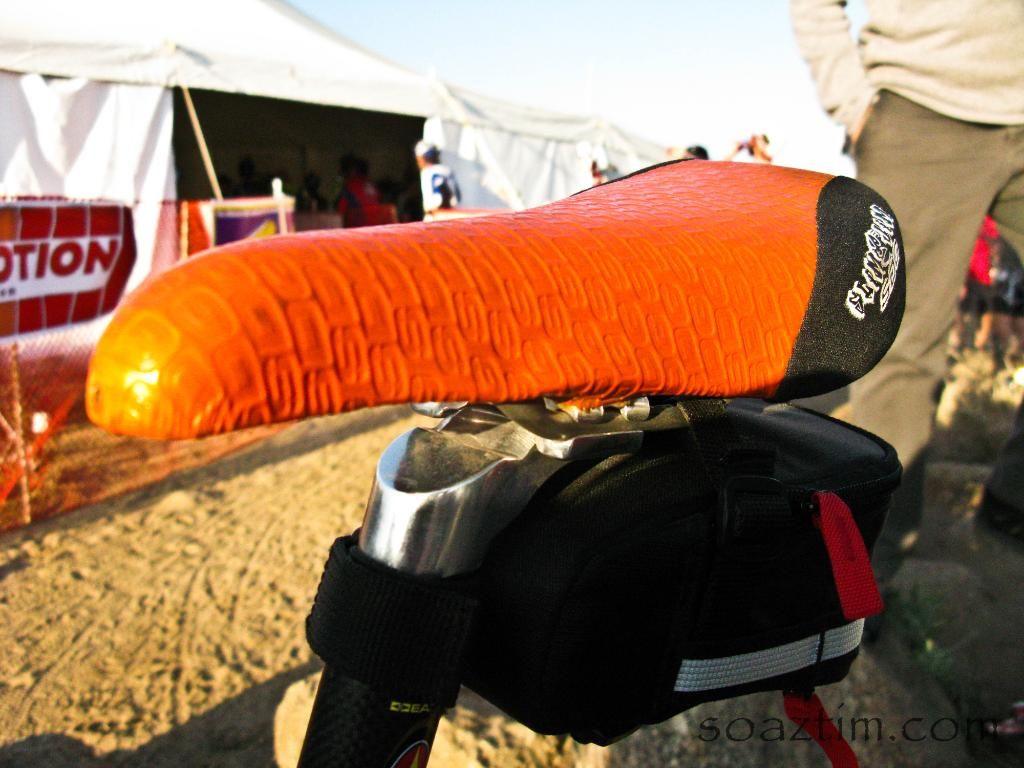 As the sun set I headed out for my first night lap.
This lap was going great. I fealt like I had a second wind. Flying along and as the sun set I went to turn on my light... DOH! It worked about 5 minutes before my lap when I tested it, but now... nothing. I road as fast as possible to try and cover as much ground as possvble before the sunlight faded.
Once the sun was gone I was screwed. :)
I tried to hang with other riders lights as they came by, but it was hard as I hit rocks and picked bad lines in the dark.
Finally after a lot of fumbles along this lap someone came up behind me about a half mile from the finish. I yelled out "THANK YOU whoever you are!" and I heard back "I'll be back here until we both cross the finish line!" Phew, that's exactly what I wanted to hear.
We road across the line and I gave the guy a high five and a big thanks. Very cool.
Getting ready for my second night lap!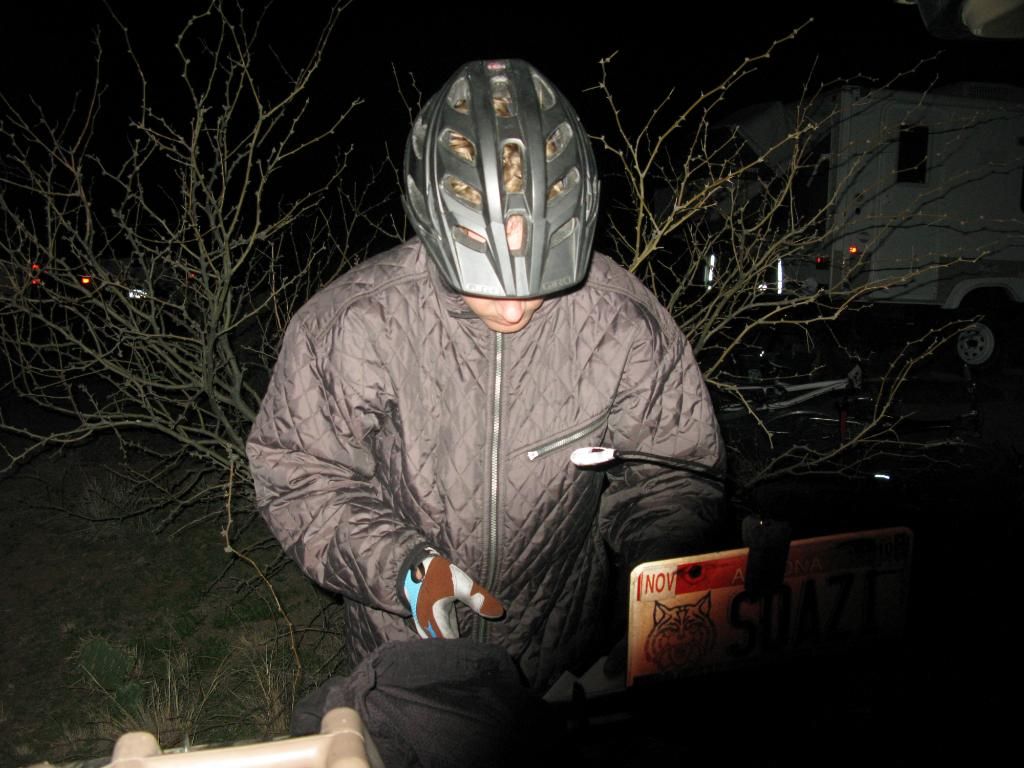 Suited up for a night lap! Real men wear tights! ...?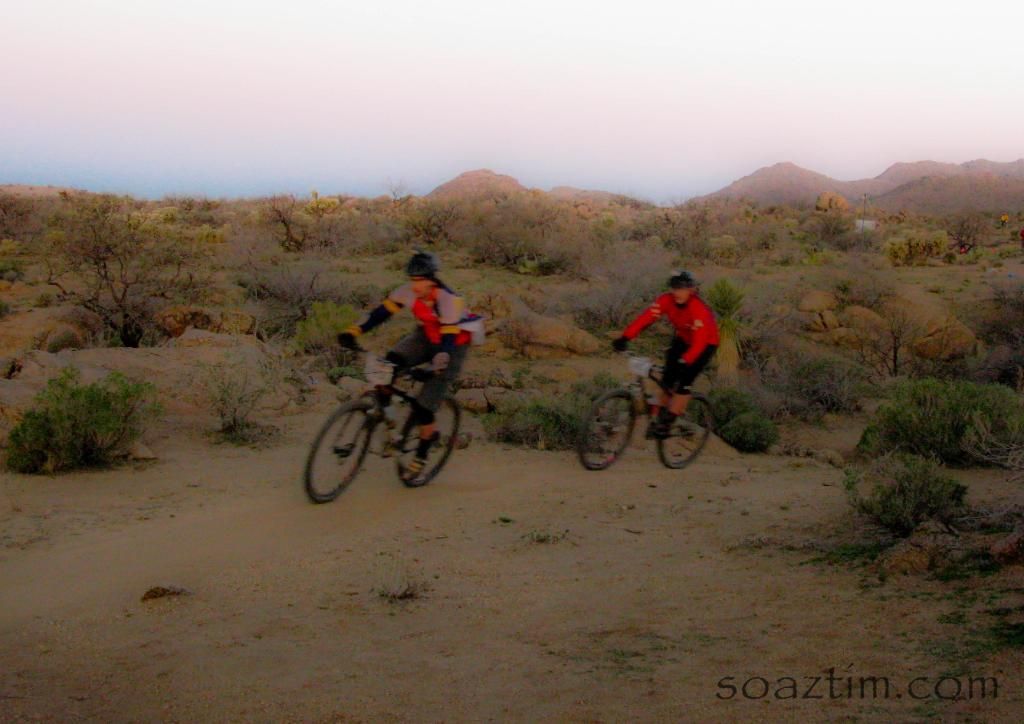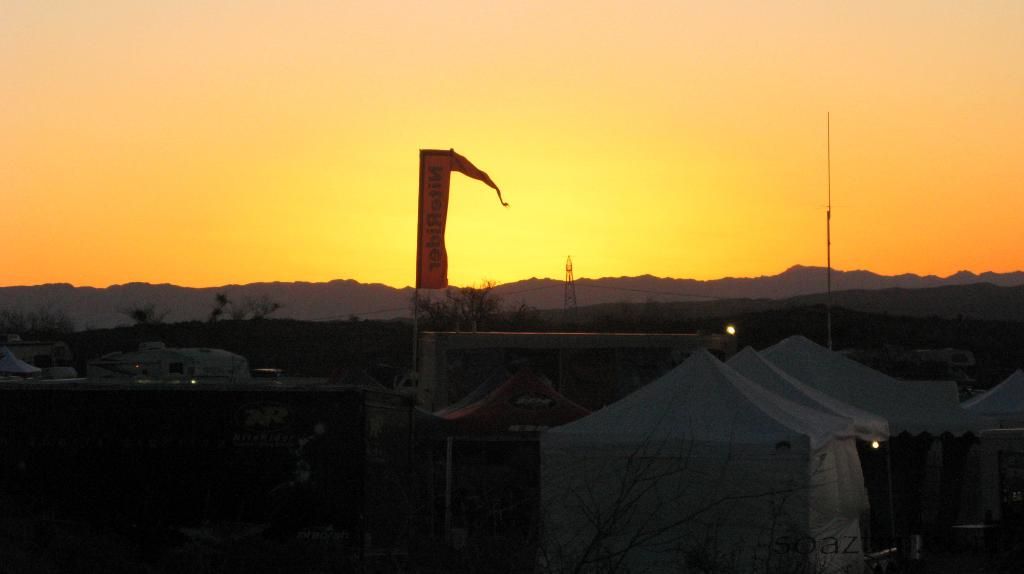 I was so glad to see the sun start to rise on 24 hour town!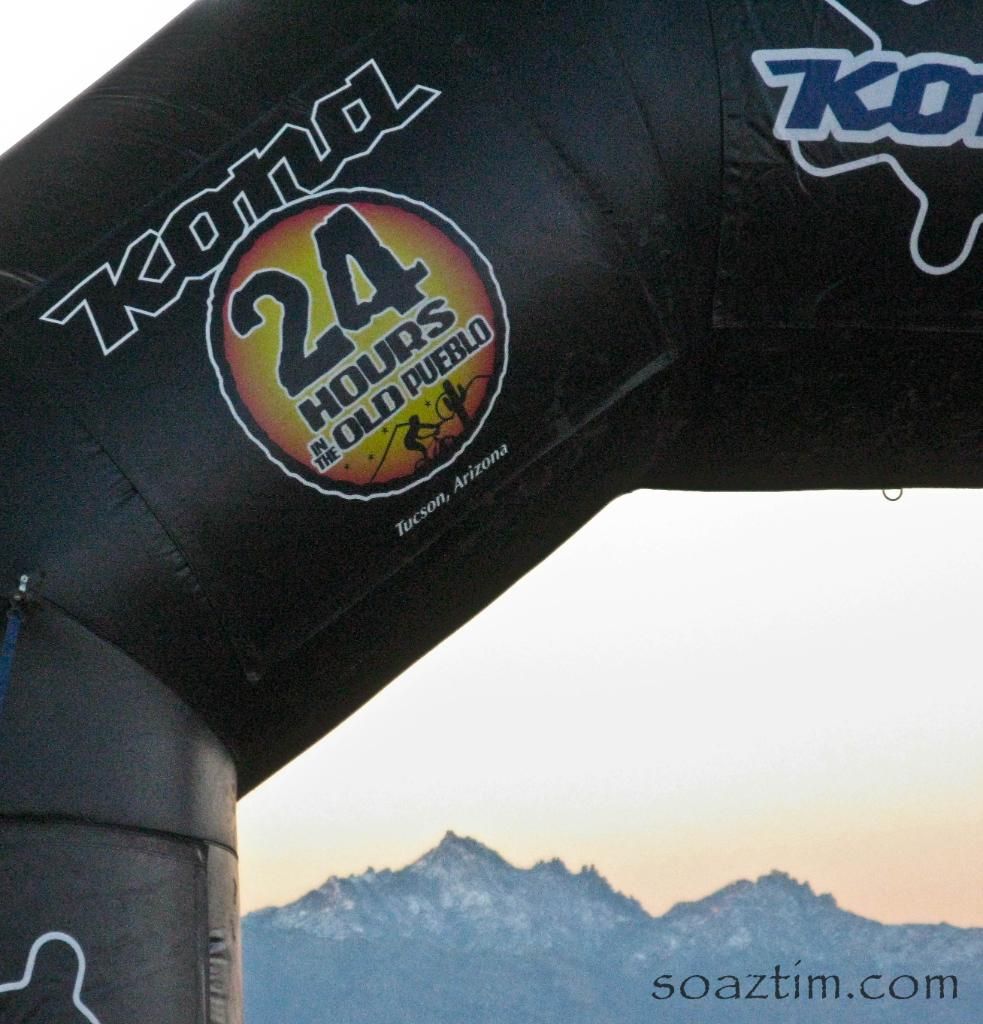 Talk about guts and glory!
This couple road the whole race on a tandem ALONE! WOW!!!
In the early morning I finished my final lap and got to start relaxing!! Woohoo!
I did 4 laps. Anywhere from 1 Hour 17 Minutes to almost an hour and a half a night.
Here I go crossing the finish.