Solo Single Speed Rigid.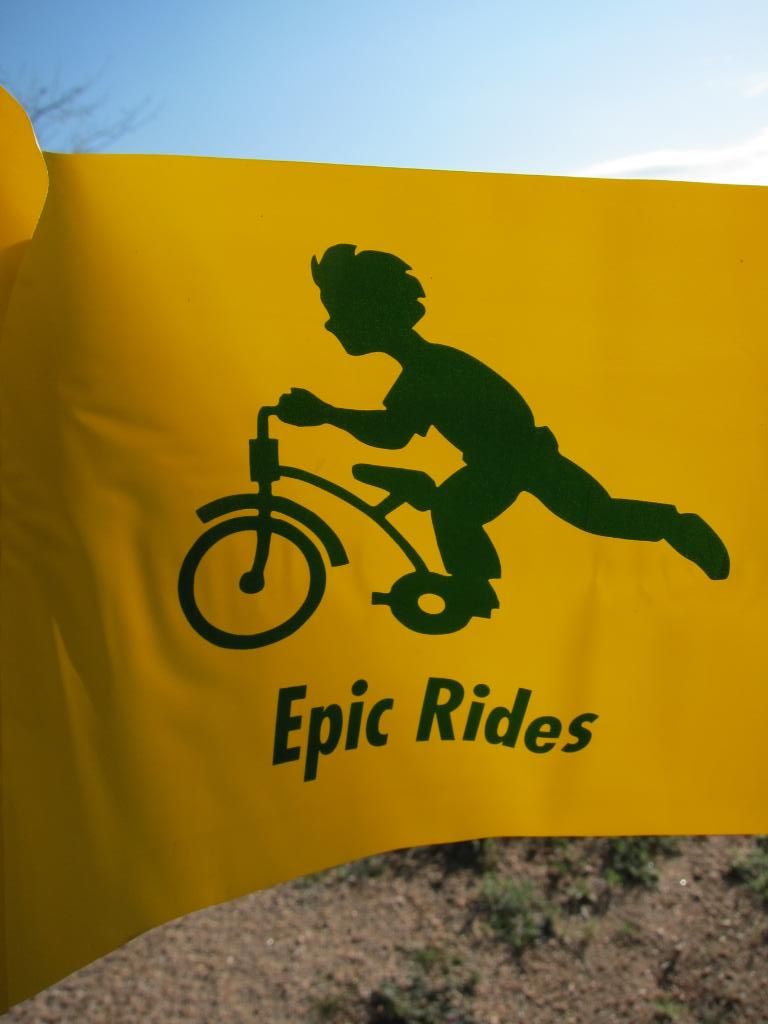 At the Epic Rides Tour of the White Mountains my buddy Jeff and I had a dumb idea. We were in line to check in and knew that they were letting participants sign up for the 24 Hours in the Old Pueblo race that night.
The 24HOP fills up so fast that that the solo mens category is generally filled in just a couple hours. Since we'd be racing another Epic Rides race on the day the application opened up Todd let anyone who wanted to do 24HOP sign up the night before. How do you look that gift horse of pain in the mouth? HOW!?!?
So, against our better judgement we signed up for 24 hours of singlespeed pain!
Soloist on a singlespeed.

(that ride is a whole other story in and of itself. WOW!)
Weather! Never mention it before or during a race. I shouldn't mention it now, but I'll take my chances. The weather came together for the best 24HOP in years!
We started at noon on Saturday. Most of the soloists walked or slowly jogged the start. We did have a lot of riding ahead of us so there is no need to push it now.
The first 2 laps melted by quickly. After lap 3 I stopped for a sandwich and a couple minutes to just relax while standing there eating away. As night fell it all got real. At this point you've been riding longer than most people have ever ridden a bike at one time, but your only ONE QUARTER of the way done. Best not to think about it.
During the night some laps go well and others are painful. I for one, realized my gearing was too tough. I was running 34x19 which was my normal gear. After almost 100 miles I could tell it was going to be too tough on my knees.
Later in the night I pulled into camp to eat more food. I was complaining about my gearing a bit and a couple friends offered to change it out for me. I shrugged it off not wanting to "give up" on my plan, but in the end I realized the sooner I changed the better chance I had of surviving the ride. I relaxed while a friend and some new friends I had met changed my gearing for me. I was going with 34x21, so just a bit tougher than the normal 32x20 gearing many people run.
(I have to say it was amazing that people that I had just met were willing to help me out. This is the culture of mountain biking that makes me love it so much. I love riding dirt bikes, shooting, 4x4's, camping, hiking, snowboarding and more, but for me cycling seems to have the most amazing people who are always willing to give encouragement, help or even a beer to complete strangers. THIS is the epitome of 24HOP)
Here are some pics of the pre-race.
The Tucson Pedaler on a much needed coffee run.
The steed ready to go. Niner SIR9 with their carbon fork. Just a hair under 19 pounds.
I spoke to this guy while I was riding. He had completed nearly as many laps as I had, but he was on a singlespeed Cyclocros bike. OUCH! Look at those tires! He had NO flats either. That's amazing and just makes me that much more sure that my next bike will be a cyclocross.
Cyclists have never been accused of having great style. Tiger Pants!!!
Bike tree.
The B team?
Yah, while checking these little guys out the owner offered me a beer. That's good people right there.
Lots of old school tow behinds.
Nice SAR Truck!
Doggie Singletrack!
Epic Rides is a family affair. Todd's dad selling t-shirts.
Here is the view of ending a lap. Except, add about a hundred or so people next to the course and another 300 inside the tent.
Now there is a cool old camper.
29er?
HA! Try 36er!
Some nice cokers.
Before you think it's hokey and stupid, ride with him. We rode a few miles with him at fantasy island and he moves! It was hard to keep up with this bike on the flats!
Here is the view of looking down the rock. At the end of each lap you have an easy or hard option. This is the hard option. Not really tough for folks who ride a lot, but after many laps or at night it can trip you up. Not to mention the hundreds of people yelling with cameras. That tends to psych you out a bit. On the rigid it was a bit rough!
Turn left!
Standing on top of my truck. YES, that's the course right there. We had an amazing course side camp.
Warming tent---> race course!
Course/pit! YES, in case you were wondering I thought about how much I needed to ensure I missed that Teddy Bear Cholla while pulling into camp each lap. Thankfully I succeeded.
Just another great sunset in the Sonoran desert.
Time to race. Ready to queue up.
Time to leave your bike and hike a half mile away for the Lemons start.
Here is a great video taken from a remote control helicopter.
I have to admit, in the middle of the night about 2:30 I sat down for a break. This was planned and i had been looking forward to it for at least a couple of laps. The problem was that most people were asleep so there was no one telling me to suck it up and keep riding. So I sat, I talked, I sat some more and next thing I realized it had been almost two hours. I freaked out realizing that I was letting the race slip through my wussy fingers. Time to suit up and get back out into that 28 degree weather. Brrrrrrrrr!
Don't let this one get you!
So, in the end the sun did rise thankfully. I thought it might never. During the night I saw several people crash. 1 poor guy even went back first into a cholla. He was covered. Ouch.
I saw the whiskey tree grow to have many more whiskey bottles on it. I even saw some signs appear that said "STOP" in the "GNOME" of "LOVE!" Next thing I knew there was a 3 foot tall creepy illuminated Gnome in the middle of a wash near the course. He had a little table where he was offering you chocolate or shots. I can't make this stuff up.
Later on at my most tired hour I saw a walking barrel cactus. These cactus uproot themselves and use the roots to slowly pull themselves along. The one I saw was pulling itself right across the course so it looked like the roots were splayed out trying to trip me! How dare he!
As the sun rose I saw a man in a furry jump suit like in "Where the wild things are." He just stared at me while standing about a foot off the course in the middle of nowhere. Creepy...
Then I saw a gorilla handing out shots as well. All in all it was quite a trip, but I'm so thankful for all of these weirdo's keeping my interest and mind occupied!!
Once the sun rose I decided I was satisfied with how I had done so far so I slowed down and decided to do some cruising laps. My buddy Jeff who I had not seen once the entire race rode with me for a lap and then Matt joined us. We enjoyed our last two laps in slow style and had fun!!
In the end I rode 12 laps and was very pleased!
This write up is only a brief summary of the many things that took place in that 24 hours. Some I already forget, some take too long to explain, and some I want to keep for myself. All in all, it's a stupid ridiculous test of ones mind and body. If you are sick and enjoy a bit of self torture and want to see what your made of. Sign up ASAP for next year. :-)
Now enjoy some amazing videos that do a great job to set the feel of the weekend.
This should be good when it's done!
If you want an idea of how hard these Cholla with their barbed hooks are to remove. Enjoy.
The rock ledge done well.
And lastly for possibly the best video of this years race check out Devon's here: