D and I headed down straight from work. The course is about 2 hours away just north of Tucson.
We decided to make it interesting and drive the back way from Florence, AZ on dirt back roads to the race site. Thanks to the Team Captain and buddy Jeff we had a nice spot near the start finish line waiting for us.
I can't emphasize how important it is to have a good spot. If you're solo you can camp just about anywhere. If you have to run down to the exchange tent to wait for your teammate every lap the closer the better! We were twice as close this year so I was happy!
Saturday morning I woke up early. On a race morning, no matter what kind of race I can't sleep in. Heck, I can barely sleep at all. This morning I decided to hike up the small mountain next to "24 Hour Town."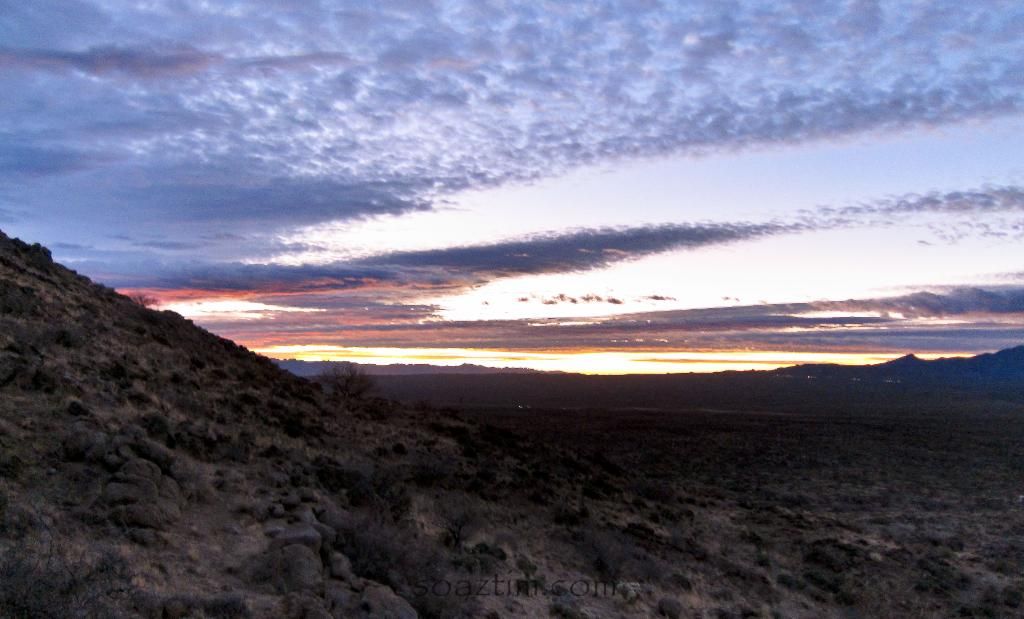 A section of 24 hour town. I couldn't get the whole thing into one shot.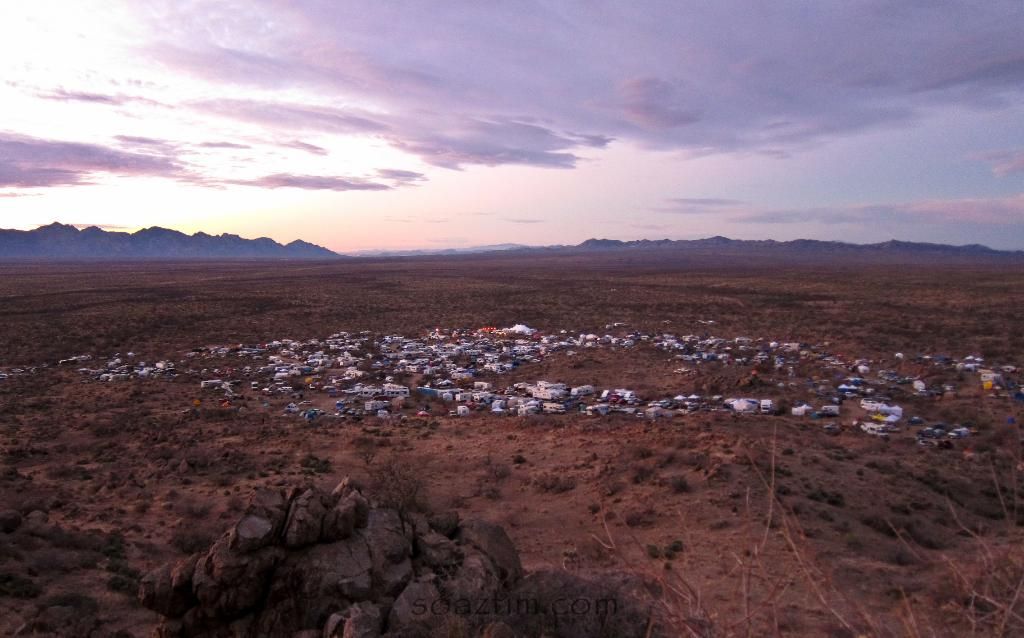 Looking to the south at Mt Lemon. It's always cool riding through cactus in shorts while looking up at snow capped mountains.
The sunrise kept getting better.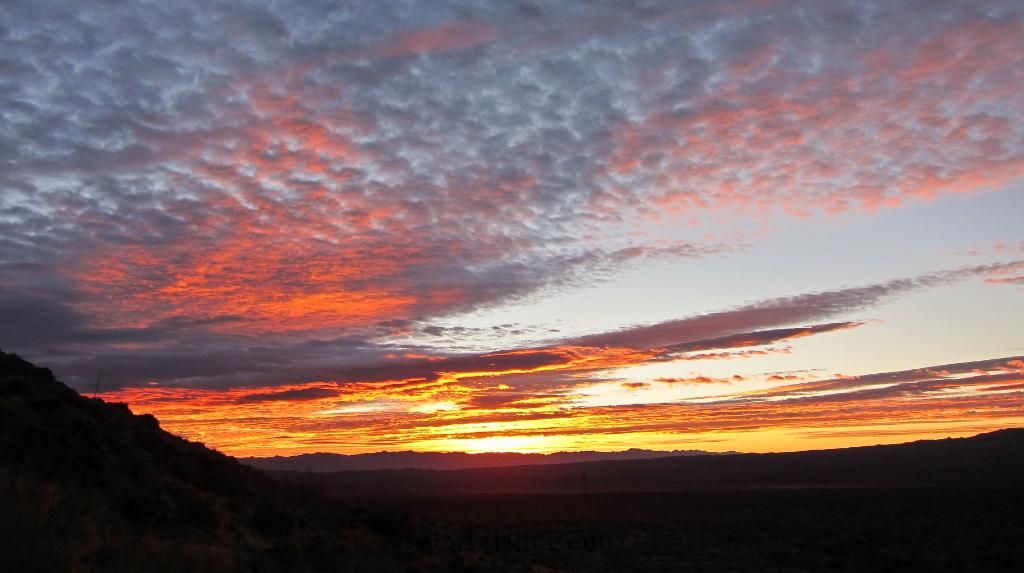 Had to drop by and see my friends at the OJ team camp.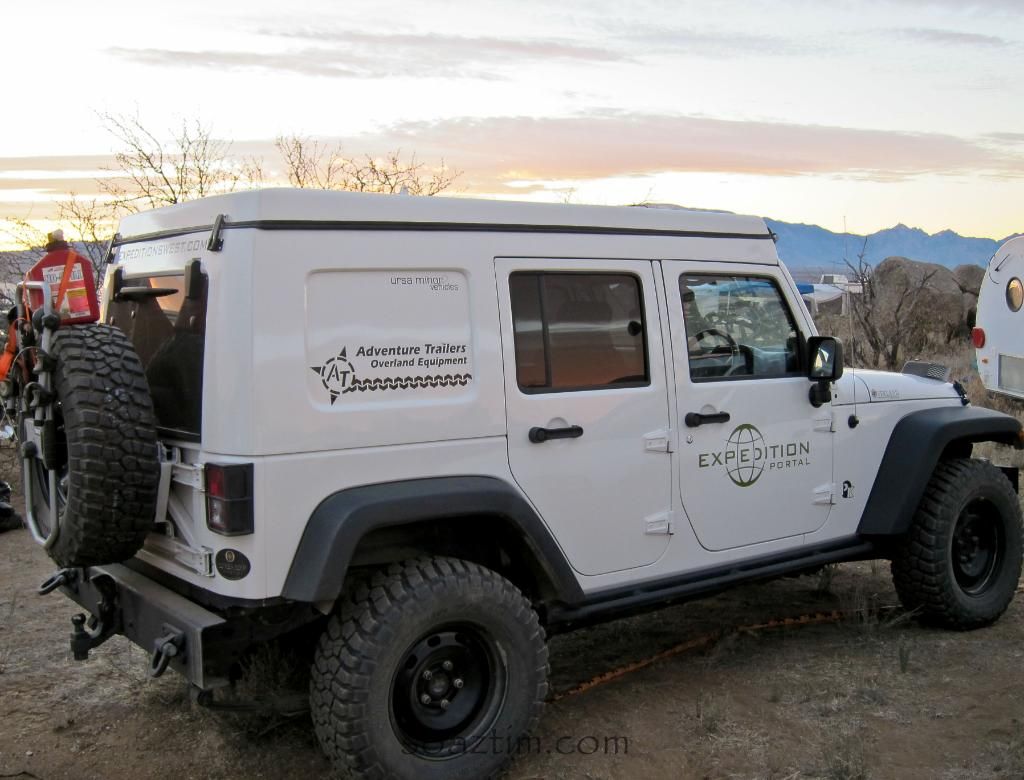 Earthroamers have a way of making a camp seem exotic and foreign.
More people were starting to stir. I have to say it was pretty cool to ride around at the crack of dawn at a race I've only done one other time seeing so many friendly faces. After bs'ing with friends I noticed the sky was showing sings of what was to come.
My camp. Easy to find at these cross streets!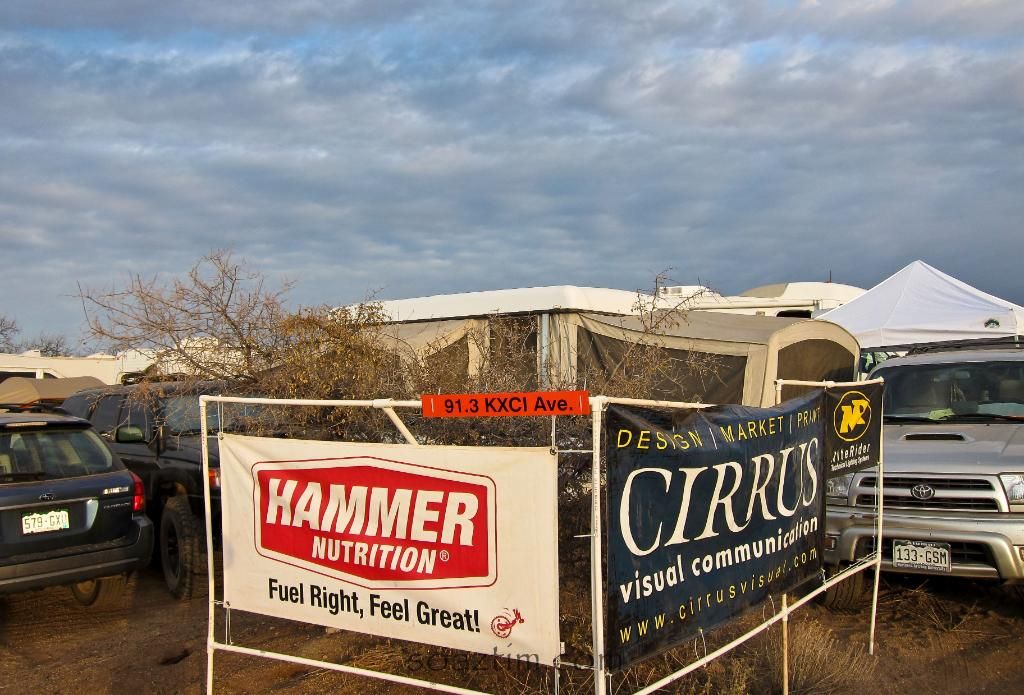 The more I race the more I am able to eat before a race. Nerves used to make it so I could barely eat anything. That of course just contributed to me "bonking" during the race. From here on out I think blueberry pancakes and maple sausage are the new race fuel!!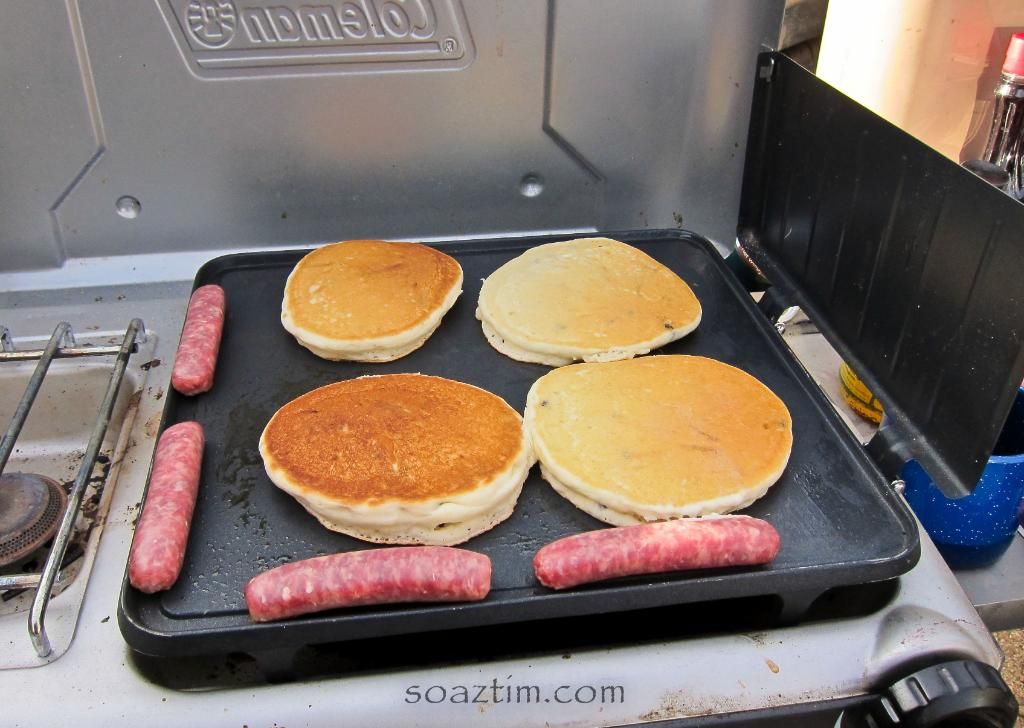 Todd giving his speech at the riders meeting.
New no speed racer.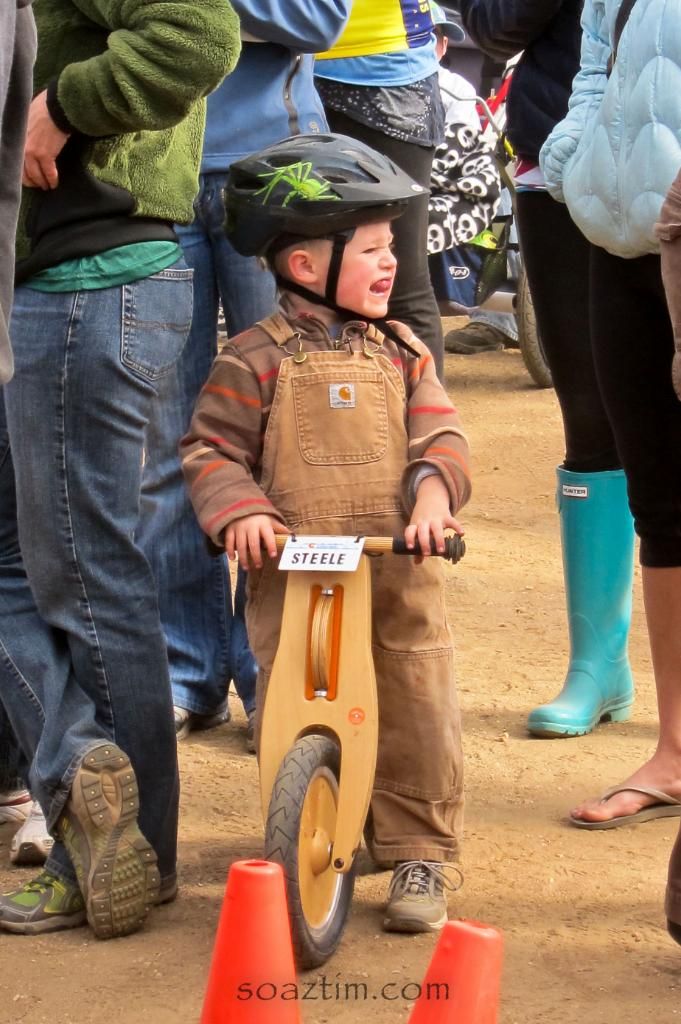 I had no idea my buddy Damion would be wearing a kilt the whole race. I went to take a picture of this nutjob and then realized it was him.
Just imagine a guy in a kilt and nothing else riding a mountain bike down a rock face. That was what his last lap looked like.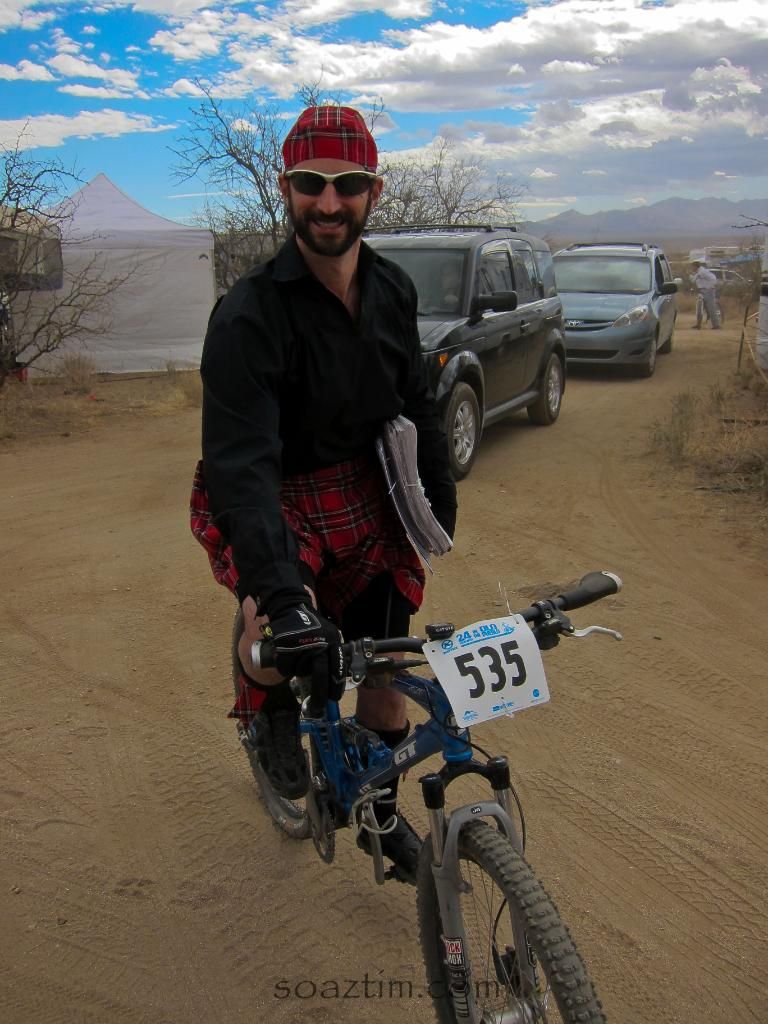 Angela was our first rider on Team AARRRR!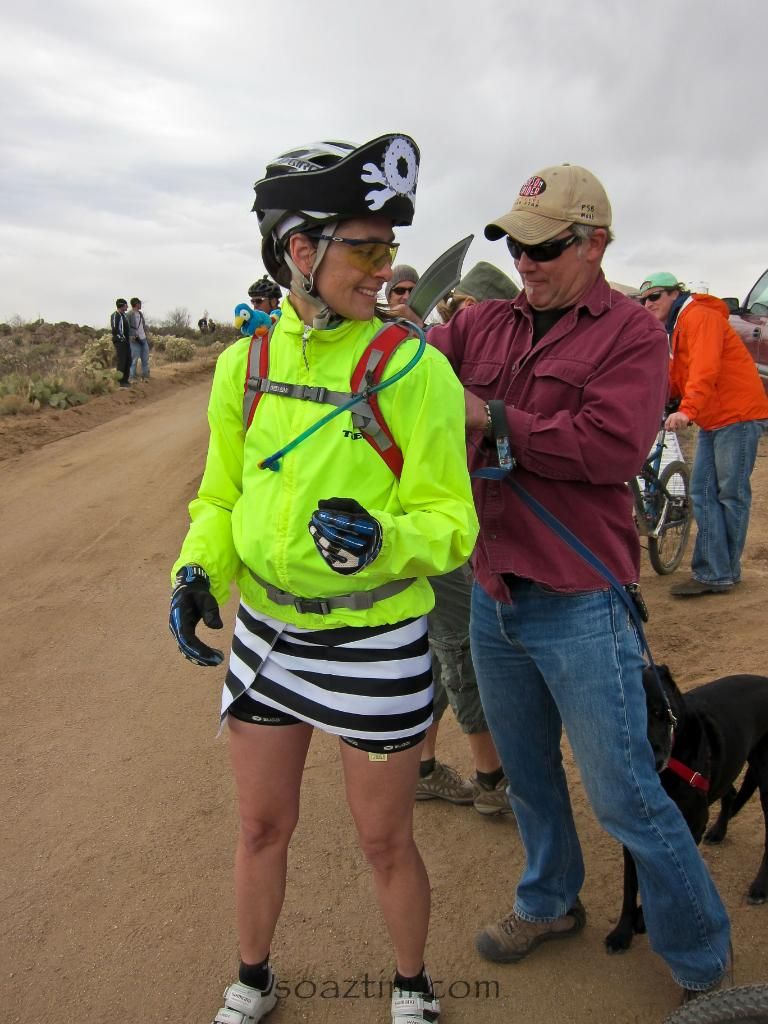 Yes, I road with that sword every lap. I got a lot of compliments which helped to boost my ego and lap times. Ha ha!
The elite racing machine that is Team Arrrr!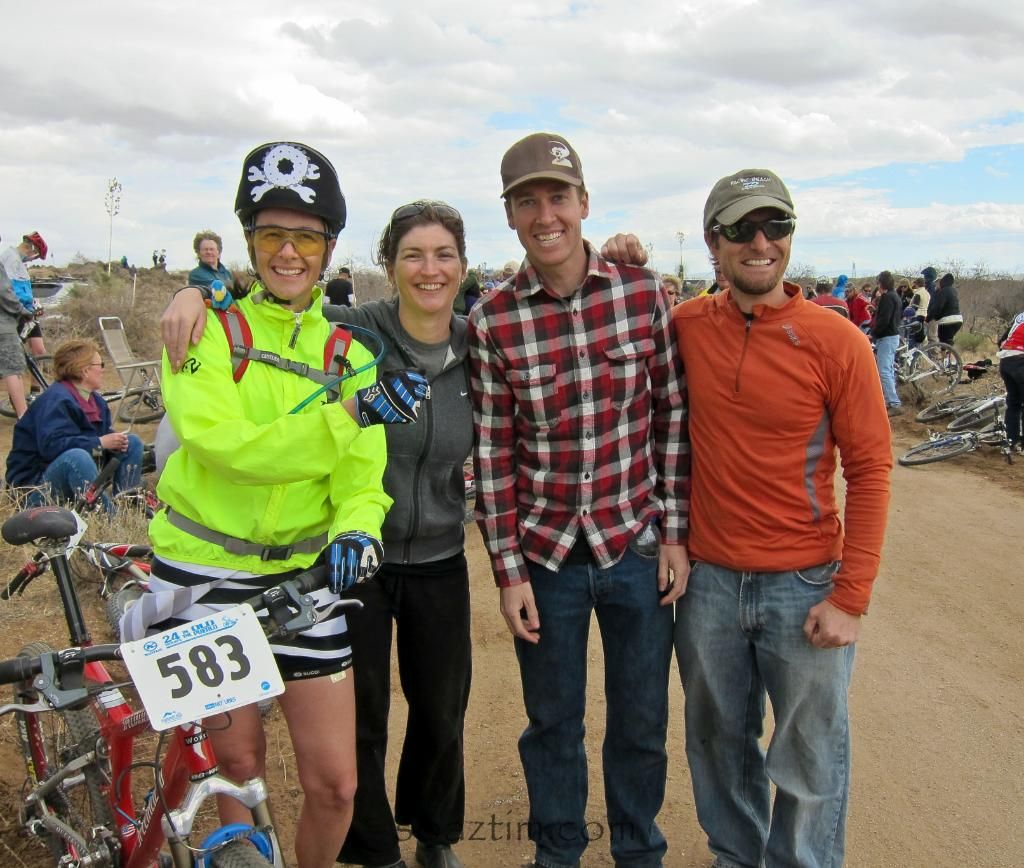 Or was it AAAAr...
I ran down this path last year, but I was happy to be just taking photos for the start thisyear. I hate running and it is only for getting away from bears when no bike is in sight as far as I'm concerned. The last time I ran was in high school and those runs were punctuated by a cigarette break about half way. Yah, stupid huh. The smoking part too.
Here is the whole start of the race. Less a couple REALLY slow guys who must have crawled the quarter mile start to the bikes.
I love the variety of campers. I now want several different westfalias, a eurovan, an E-camper, a pop up trailer, an earthroamer and a flippac.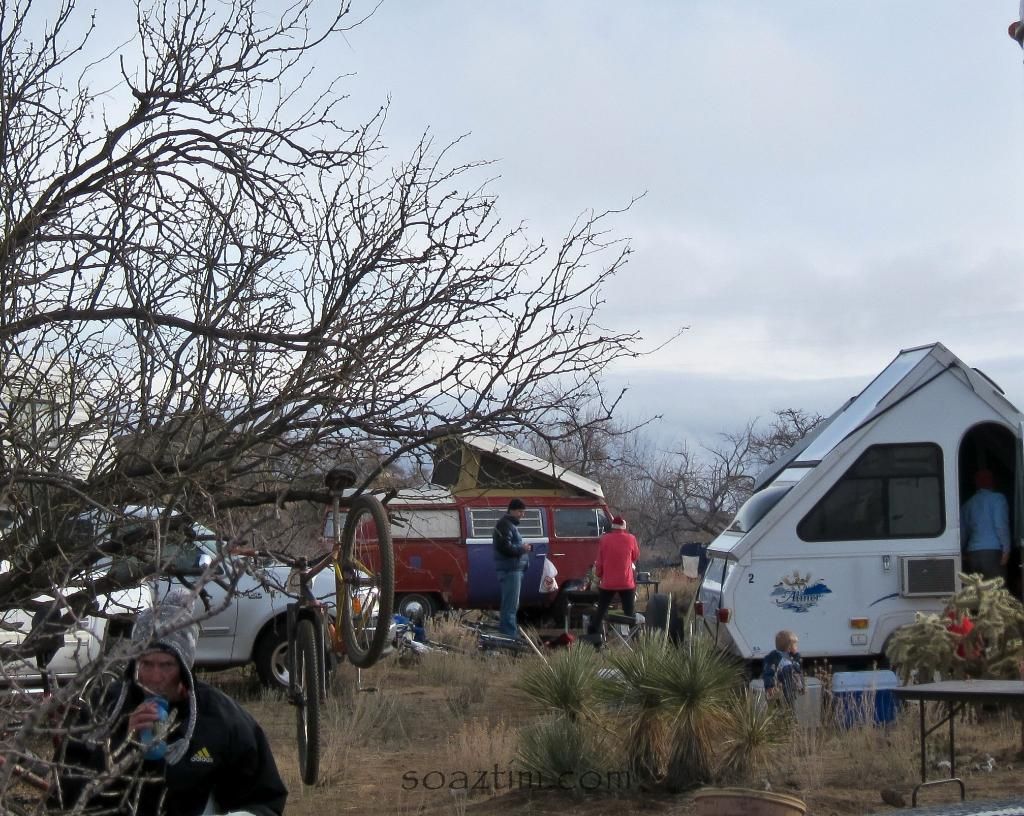 We all had a great first lap except for Jeff. He came back looking like a wet dog and he was shaking for hours... brrrrr. Angela suited up and decided to go out into the sideways rain, 30 MPH wind, 25 degree weather and... darkness. This is extra impressive because this lap was going to be her very first time riding at night... ever.
We were worried she might not make it back. Sure enough about two hours later she came in looking a little wet and cold, but with a smile. That earned some respect in my mind.
We had taken a team vote and although I'm really competitive I kept repeating to myself "this is just for fun, this is not serious." The vote came out that we should stop racing to see if the rain or wind stopped. We went to bed and then I woke up to some pretty nice weather. It was cold out, but the wind had almost stopped and the rain was taking a break.
I went out and had the best lap of my life. Every one of the very few riders on the course pulled off before I even reached their rear tire. The course was tacky and packed in making it faster than ever. I pulled around the course faster than I thought I should, but it seemed to be working so I stuck with it.
I finished my great lap and knew I had done it in just about 1 hour, but I wasn't sure yet. I asked the exchange tent people what my lap time was and they said it was 11 hours and 35 minutes.... DOH! So then I remembered the clock keeps running the whole time since our last lap so I just did an 11 plus hour lap on the records...
Haha! So D tells me I did an hour and 3 minute lap. I think it was an hour 5, but either way my best lap ever will forever be recorded as an almost half day lap. :-)
We went back to camp and I changed and cracked open a celebratory breakfast beer. We walked around saying hello to our friends and I was happy to have my laps over. I even ate a giant tri-tip sandwich. MMMM!
Then a little later one of our teammates wasn't feeling that great... So, I suited up. With two frosty Kiltlifters and a slab of tri-tip I got on my bike and went to meet Jeff at the exchange tent. This lap went different. The course was packed with tired riders and no one seemed to want to get out of the way.
About half way through I carelessly cased the front tire on a sharp rock and tubeless sealant went spewing everywhere... Uh oh. I left my pump back at camp because I ran off to do this last lap so fast... I kept riding and kept hearing the front tire leak. After about 3 minutes that felt like an hour I stopped hearing it, but my front tire was so low at this point that I couldn't lean on it in turns without it folding over.
So, I tried to ride as fast as I could without hurting it further. I was convinced it was still leaking slowly so every mile I completed was a mile less of walking! As I was passing a section of riders I found that I was headed straight for a cactus with an already compromised front tire. I tried to judge how close to the guy I was passing I could get without hitting him or the cactus and going flat. I knocked bars with him and said sorry as I finished the pass. Imagine my surprise when he shouted out my name!!
Haha, It was Christophe from the OJ solo team. Oops! Sorry buddy!
I daintily road the rest of the lap and even opted for the rock face on the flat tire. (that poor poor front wheel was taking some HITS)I was so glad to finish that lap.
So NOW I was done. It was time to pack up and head home. Great adventure as always. Solo for next year? Duo maybe? Hmmmm. We'll see.
Up next is the Whiskey Offroad. 50 miles of riding and over 7000 feet of climbing!!!
Wooohoooooo!!!!!